Sometimes stock prices and business fundamentals don't line up. A company might be doing well, but its share price could soar to unjustifiably high levels. That's when savvy traders pounce, turning the market's error into triple-digit gains.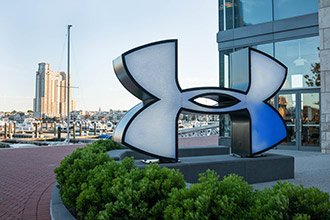 And that's exactly what Money Morning Special Situation Strategist Tim Melvin has for you today.
Our target for this bearish play is Under Armour Inc. (NYSE: UAA), a popular clothing and sports apparel brand. We see the brand everywhere from in TV commercials, to in favorite retail stores, and even on professional athletes.
But that's just the company. Melvin says that the stock price is too high.
This stock has the potential to create a 300% winning trade for savvy investors who know how to bet against it.
Here's why.
Why Under Armour Stock Could Sink
For starters, UAA sports a price/earnings ratio (P/E) based on its last 12 months of profits of 1,713.57! Think about what that means. For every dollar you spend to buy this stock, you get $0.00058 of earnings. Put another way, it would take almost 5 years to make your money back via the dividend.
Compare that to the trailing P/E of the S&P 500 at just 15.02, and you can see how irrational investors have been.
And even if we evaluate the stock based on next year's more optimistic earnings forecasts, we still get a P/E ratio of 46.15.
$1 Cash Course: Tom Gentile is offering a rare opportunity to learn how to amass a constant stream of extra cash - year after year. And he's going to teach you how to do it entirely on your own. Learn more...
It gets worse too. Melvin also points out that the company is very dependent on overseas sales. In light of Thursday's surprise rate cut by the European Central Bank, we know that overseas growth, in Europe in particular, is not very strong.
Further, 18% of Under Armour's products are sourced from China, adding a big element of risk should the current tariff battle escalate into a full trade war.
In short, this stock is flying too close to the sun, and there are some major catalysts that could send it tumbling back to earth.
Here's how to turn this situation into 300% profits...
How to Potentially Quadruple Your Money