The Dow Jones today is in a holding pattern as investors await an announcement from this week's FOMC meeting.
Today, the central bank will release its decision on interest rates at the conclusion of the FOMC meeting. If Powell hints toward a rate cut in July, expect stocks to surge higher. But if he hedges, stocks could fall into the red. More on what to expect below.
Here are the numbers from Tuesday for the Dow, S&P 500, and Nasdaq:
| | | | |
| --- | --- | --- | --- |
| Index | Previous Close | Point Change | Percentage Change |
| Dow Jones | 26,465.54 | +353.01 | +1.35% |
| S&P 500 | 2,917.75 | +28.08 | +0.97% |
| Nasdaq | 7,953.88 | +108.86 | +1.39% |
Now, here's a closer look at today's Money Morning insight, the most important market events, and stocks to watch.
The Top Stock Market Stories for Wednesday
Investors will pay attention to an announcement on interest rates by the U.S. Federal Reserve. Fed Chair Jerome Powell will likely say the central bank will not cut rates this afternoon; however, markets expect the central bank will set the path for a rate cut in July. The other drama today centers on whether U.S. President Donald Trump will push for Powell to resign if the central bank doesn't reduce rates in the coming weeks to provide assistance to the economy. When asked if he wants to remove Powell from the Fed by the press Tuesday, Trump replied, "Let's see what he does."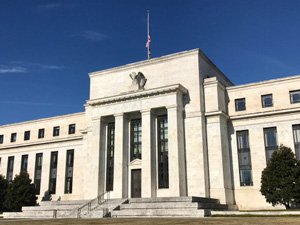 While interest rates make the headlines, look for additional updates on trade discussions between the United States and China. President Trump tweeted Tuesday that he and Chinese President Xi Jinping will hold an "extended meeting" during the G-20 summit in Osaka, Japan, in late June. According to reports, North Korea will be a very important discussion point between the two leaders. Ahead of the G-20 summit, Xi said that North Korea was heading in "the right direction" and failed to mention the country's nuclear weapons ambitions.
Oil prices were aided by the ongoing developments on trade between the United States and China. Hopes for a deal between the two nations offset pessimism fueled by a smaller-than-expected decline in U.S. crude inventory levels. The American Petroleum Institute announced that U.S. crude stocks declined by 812,000 barrels for the week to 482 million. That was below expectations among analysts. Later today, we'll receive the official inventory report from the Energy Information Administration.
Money Morning Insight of the Day
Thanks to an obscure law, over 100 government agencies are required to pay rent, including the DOJ, FBI, and NASA.
This money is being funneled into the Treasury. And it's helped create an enormous $11.1 billion pool of money.
If you add your name to a special distribution list, you could begin collecting $1,795 or more every month from this powerful investment income stream.
Stocks to Watch Today: FB, ORCL, AOBC
Facebook Inc. (NASDAQ: FB) unveiled plans for its global cryptocurrency on Tuesday, and Congress is already trying to regulate it into the ground. Democratic Rep. Maxine Waters, chair of the House Financial Services Committee, asked Facebook to stop development of the Libra project, which is planned for release in 2020. Waters raised concerns about the company's data privacy problems in the past and asked for Congress to have additional time to explore the project and examine potential regulation.
Oracle Corp. (NYSE: ORCL) will lead a busy day of earnings reports. Today, analysts are focused on the company's cloud computing revenue and increasing competition in the space. Although analysts anticipate an uptick in earnings per share, Wall Street expects a dip in revenue. One other factor to consider is the strength of the U.S. dollar, which could also weigh on the firm's global profits and revenue.