Stocks took a beating in May, with the Dow falling over 6% through the month. But the best penny stocks to buy today still brought investors big gains.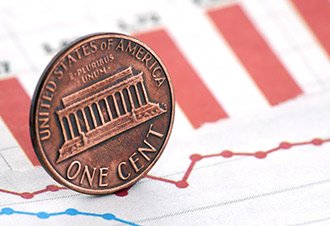 In fact, Colorado-based industrial metal company General Molly Inc. (NYSE: GMO) rose by as much as 107% in just seven days.
And that's because the best penny stocks can perform well regardless of the ebb and flow of the market. As market uncertainty continues to plague investors, we've found one of the best penny stocks to watch.
But before we get to that, we'll look at why penny stocks thrive in a volatile market.
The Advantages of Penny Stocks
Since penny stocks are defined as any stock trading below $5 a share, even the slightest change in share price can turn into triple-digit gains for you.
For example, a $0.10 return on a $1 stock is a 10% increase - meaning shares can move drastically higher when dealing in pennies. This is especially true when you consider that penny stocks are often purchased in the thousands.
SIT THIS ONE OUT and you could miss an American economic revolution that could send three little pot stocks soaring up to 1,000%. Click here to see why...
However, the same low prices can also be a downside as well. Penny stocks are among the riskier assets to own as an investor. It's a good idea to never use more than 2% of your portfolio on penny stocks.
Still, penny stocks potentially offer huge upside. Just look at Outlook Therapeutics Inc. (NASDAQ: OTLK). Back in May, it shot up 75% to $2.10 per share. Meanwhile, another penny stock, Ascent Capital Group Inc. (NASDAQ: ASCMA), rose 45% to $0.90 per share.
But those are just a few examples from a long list of penny stocks that all saw gains of over 25%. And while it's certainly impressive, our best penny stock to buy today is poised to rocket even higher.
In fact, this penny stock is forecast to rocket up by 100%. Plus, our Money Morning Stock VQScore™ system gave this penny stock a score of 4.75 - meaning it has massive growth potential.
And it's only trading at $3.01 per share today...
The Best Penny Stock to Buy Today