The Dow Jones today could be off to a hot start thanks to the Fed. Dow futures surged over 250 points higher before trading after Jerome Powell left interest rates untouched.
But the Fed abandoning its rate hike plans may be a troubling sign...
Here are the numbers from Wednesday for the Dow, S&P 500, and Nasdaq:
| | | | |
| --- | --- | --- | --- |
| Index | Previous Close | Point Change | Percentage Change |
| Dow Jones | 26,504.00 | +38.46 | +0.15% |
| S&P 500 | 2,926.46 | +8.71 | +0.30% |
| Nasdaq | 7,987.32 | +33.44 | +0.42% |
Now, here's a closer look at today's Money Morning insight, the most important market events, and stocks to watch.
The Top Stock Market Stories for Thursday
On Wednesday, seven of the U.S. Federal Reserve's 17 policymakers said they anticipate at least two rate cuts (or a cut by 0.5%) by the end of the year. An eighth policymaker projected a rate cut of 0.25%. That sentiment complemented more dovish language around its plans to handle monetary policy.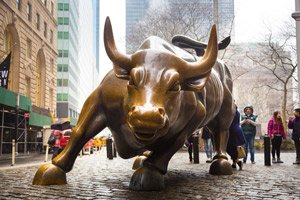 On the trade front, the news isn't so much centered on China as it is on Mexico. A week after the United States avoided tariffs with Mexican imports, Mexico's Senate voted to approve a new trade agreement with its North American trade partners. The legislative body voted almost unanimously to approve the deal that would replace NAFTA. Mexico is the first of the three countries (the others being the United States and Canada) to pass the bill through its legislative arm. The nation's president, Andres Manuel Lopez Obrador, called the passage "very good news" and said the deal represents more jobs and investment in the nation.
Gold prices rallied to more than $1,360 per ounce in response to the growing sentiment that the Fed will cut interest rates this year - and that the threat of inflation is increasing. Silver prices popped above $15 per ounce and continue to climb as well. This morning, the yield on the U.S. 10-year Treasury bond fell to 1.99%. This is the first time that the 10-year bond has fallen below 2% since November 2016.
Finally, oil prices are up sharply this morning after Iran shot down a U.S. drone in international airspace. U.S. officials say that an Iranian surface-to-air missile hit the drone over the Strait of Hormuz, raising new concerns about the escalation of tensions in the most important waterway for oil shipments on earth. U.S. officials consider this an unprovoked attack. WTI crude added 2.7% to hit $55.29 per barrel, while Brent crude gained 2.5% and hovered at $63.41.
Money Morning Insight of the Day
You may only have a few months to prepare.
Because a market signal that showed up before the Great Depression... before the dot-com crash... and before the 2008 financial crisis has just appeared again.
Each time this signal appears, investors only have a few short months before chaos strikes.
Which means if you want to protect yourself and your family, there is no place for fear, panic, or mistakes.
You must act now. Click here to discover how.
Stock to Watch Today: ORCL, WORK, AAPL, SPOT