One of the biggest fears for people heading into retirement is making sure their money lasts as long as they do. But a new report shows that fear is the new reality for most Americans.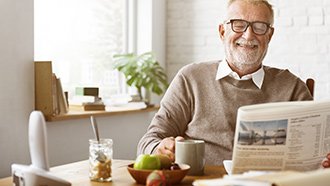 According to the World Economic Forum, the average U.S. man will outlive his retirement money by 8.3 years. Women might expect their money to run out 10.9 years short of their average life expectancy.
And that's just for the 58% of Americans who have any retirement savings at all.
That's a scary prospect. But it does not have to be you.
You can take control of your retirement without having to get a job greeting customers at Walmart. And we'll show you one simple way to do that below.
Sign up for SMS so you never miss special events, exclusive offers, and weekly bonus trades.
How Did It Get So Bad?
Living longer is a good outcome for anyone, of course, but it does come with some costs. The longer you live, the longer you will need money to pay your rent or mortgage, utilities, food, entertainment, and healthcare.
Thanks to modern medicine, agriculture, and technology, people in the developed world have fewer obstacles in the way of a long life. But that's expected to push the global retirement savings gap above $400 trillion in just 30 years' time. The U.S. share alone is expected to be $137 trillion.
Don't Miss Out: The Treasury is sitting on an $11.1 billion cash pile, and a loophole entitles Americans to a sizable portion. Some are collecting $1,795, $3,000, or $5,000 every month thanks to this powerful investment...
More responsibility for retirement finances is now on the collective shoulders of the retirees themselves thanks to the shift away from employer-funded pensions. Plus, social security very well might be insolvent by 2035.
In addition, simply saving for retirement cannot get the job done when interest rates are chronically low. Since the financial crisis in 2008, the yield on the benchmark 10-year U.S. Treasury note has mostly been between 1.5% and 3.0%. Even with the low inflation we've had for the past few years, you are not going to fund a comfortable retirement at these rates.
And money market and savings accounts are worse. They hovered near zero interest for several years, before just barely improving last year. But they still offer a lower return than the 10-year Treasury note.
Of course, the stock market has performed much better, but that won't last forever. In fact, Morningstar Investment Management predicts a mere 1.8% nominal return for stocks over the next decade. That means bonds and savings account would outperform stocks. And that simply won't cut it for most Americans' retirement plans.
Fortunately, there's a way to add income to your portfolio and boost your returns.
Here's How to Have Enough Money to Retire