Earlier this month, rival defense contractors Raytheon Co. (NYSE: RTN) and United Technologies Corp. (NYSE: UTX) announced a merger to create the world's second-largest defense contractor, Raytheon Technologies.
The Raytheon-United merger, worth $121 billion, made waves on Wall Street. Since the merger's announcement, Raytheon stock has shot up nearly 4%.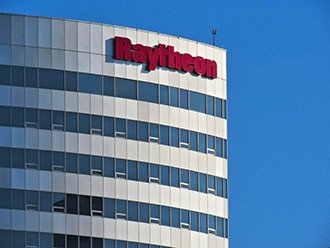 That has investors wondering if now's the right time to pick up Raytheon stock.
And it certainly is. With a Money Morning Stock VQScore™ of 4.45, Raytheon is sitting right in the "Buy Zone." Once the merger is complete, the stock could see another pop, too.
But the merger won't finalize until the first half of 2020 and is still subject to approval from government regulators. That's no guarantee either, just look at the fight Sprint Corp. (NYSE: S) and T-Mobile US Inc. (NASDAQ: TMUS) have had to get approval for their merger.
Instead of worrying about the merger going through, we have an even better defense stock play.
Money Morning Chief Investment Strategist Keith Fitz-Gerald has uncovered another defense stock with the potential to break out.
Today, we're taking a close look at why Keith isn't following the herd over Wall Street's favorite merger - and how his little-known defense stock is on the verge of making savvy shareholders a killing...
Raytheon's Monster Merger Is Just the Tip of the Iceberg
Have no doubt: The Raytheon--United Technology merger is going to revolutionize the defense industry.
After all, Raytheon has been one of Money Morning's favorite stocks for years, locking in a 386.54% gain since we first recommended it in 2011.
Must See: The defense industry is a gold mine - you can't afford to miss this $6 company...
And Keith estimates this growth isn't going to slow down if the merger goes through - combined sales are likely to break $74 billion following approval.
Not to mention the fact that Boeing Co. (NYSE: BA) will be the only firm larger than the new firm - and not by much. In fact, Boeing's revenue is likely to exceed that of Raytheon Technologies by about 28%.
That's a slim margin - one the new firm could easily eclipse under the right market conditions.
But the real news here isn't the numbers; it's the revolutionary potential the merger has for the defense industry.
As Keith explained on FOX Business Network last week, the weapons produced by companies like Raytheon aren't independent developments - they're part of an ecosystem that integrates state-of-the-art weaponry into a larger, collaborative network.
In other words, weapons aren't stand-alone products. Instead, they're designed to work with a range of other kinds of weaponry. After all, designing a new bullet isn't much help if it can't work with the rifles our military already relies on.
Keith believes that Raytheon's merger is going to do wonders for this integration process.
As Keith notes, "The Raytheon/United deal is particularly appealing because it will further the more effective and more lethal integration of increasingly data-dependent systems needed in today's threat environment."
In fact, that's why Keith is so excited about one of his top defense stock picks - it's perfectly positioned to make a killing off of the windfall of integration that's sure to follow the Raytheon merger....
This Defense Firm Is on the Verge of Tremendous Profits