A potential interest rate cut has stocks surging, with the S&P 500 closing at an all-time high last week. That burst makes right now the perfect time to buy penny stocks. And that's exactly why Money Morning is bringing you our best penny stocks to buy today.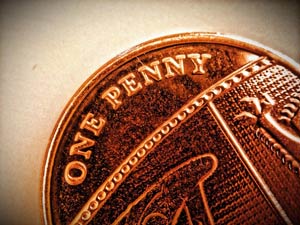 With the stock market roaring back to life, penny stocks could be your ticket to even more cash.
Penny stocks flourish in this type of strong market. Slight increases in share price could double, triple, or even quadruple investor gains.
And to find the best penny stocks, we use the Money Morning Stock VQScore™. This tool rates stocks based on their breakout potential. We've used it to find penny stocks that are likely to pop.
THREE STOCKS: Any one of these cannabis companies could potentially deliver a 1,000% windfall. Click here to learn more...
That's left us with the best penny stocks to buy today.
And our favorite pick could return 277%...
The 3 Best Penny Stocks to Buy Today, No. 3: ASE Technology
Our first penny stock to buy today is ASE Technology Holding Co. Ltd. (NYSE: ASX).
ASE is a Taiwan-based semiconductor company. It specializes in packaging, testing, and electronic manufacturing services around the globe. Founded in 1984, ASE employs over 90,000 full-time employees.
Yet, the semiconductor sector is volatile by nature. And when the market goes south, shares often tumble. And ASE hasn't been immune to this volatility.
In fact, its shares are now below $5, making it a penny stock.
While this doesn't sound like great news at first, it's actually amazing for investors.
And this latest tech deal emphasizes its massive growth potential despite the volatility. In fact, in 2016, ASE invested $60 million into Cypress Semiconductor.
On June 3, Infineon Technologies AG (OTC: IFNNY) purchased Cypress Semiconductors for $10 billion, paying a 46% premium on Cypress shares. That's a great return on ASE's investment.
Yet, even without this new deal, its VQScore showed that ASE was one of the best penny stocks to buy today.
Over the next year alone, ASE's net profits are expected to grow 29% from $892 million to $1.15 billion.
This penny stock trades for 13 times the current year's estimated earnings at $3.86 and has a target price of $5.10. That's a 32.1% increase within the year.
But with a VQScore of 4.15, it could soar even higher...
The 3 Best Penny Stocks to Buy Today, No. 2: AK Steel Holding Corp.
AK Steel Holding Corp. (NYSE: AKS) is an Ohio-based steel manufacturing firm.
It has eight steel plants across the U.S. Midwest and is one of the largest steel suppliers for the U.S. auto market.
Yet, the biggest reason why AK Steel is one of the best penny stocks to buy today is its increased global growth and demand.
By 2020, the global demand for steel will increase 1.6%. But in countries like India, demand will jump 5% at the same time.
Plus, Washington's trade restrictions on Chinese steel means new opportunities for domestic companies. And AK Steel could gain the most.
This penny stock currently trades for $2.25 per share, and it's forecast to rocket 122.2% to $5 within the next 12 months. With a perfect VQScore of 4.75, this stock is very promising.
But our top penny stock today has even bigger upside...
[mmpazkzone name="in-story" network="9794" site="307044" id="137008" type="4"]
The 3 Best Penny Stocks to Buy Today, No. 1
Our best penny stock to buy today is Denbury Resources Inc. (NYSE: DNR). This is an oil and gas company based out of Plano, Texas.
Denbury has oil holdings in Texas, Mississippi, Alabama, Louisiana, Wyoming, Montana, North Dakota, and the Gulf Coast.
Denbury's biggest oil property spans across North Dakota and Montana. And in 2018, this region processed 25% of the company's oil.
By the end of 2018, Denbury produced 255 million barrels of oil. Plus, the oil firm also produced 43 billion cubic feet of natural gas.
What makes this firm unique is the way it extracts oil. Denbury refers to it as "enhanced oil recovery." It re-activates deactivated wells using carbon dioxide.
Taking oil from old wells lowers costs by removing the need to build new ones. And shareholders are reaping the benefits of these savings.
Last year alone, Denbury nearly doubled its profits.
This penny stock trades for $1.22 per share right now. But with $4.60 as its target price, investors could see a massive 277% upside.
Yet, it could go even higher. This penny stock has a perfect VQScore of 4.75, which makes it a leading breakout candidate.
See Why John Boehner Is Going "ALL IN" on Cannabis
Former Speaker of the House John Boehner just joined the cannabis industry's biggest players to cover everything you need to know about America's next unstoppable economic revolution.
At our live event, they explained how cannabis could become our next $1 trillion industry... every step to full legalization... how the average American can profit from this explosive phenomenon... and John Boehner's SHOCKING marijuana prediction.