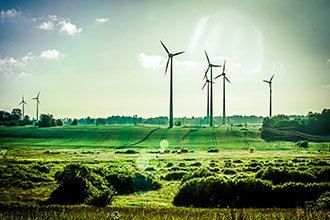 At Money Morning, we've been pounding hard on the table for renewable and clean energy stocks the entire year.
And if you've followed our recommendations, you've already pocketed some serious profits.
One of the biggest renewable energy stock winners of 2019 has been Vivant Solar Inc. (NYSE: VSLR).
In the six months since I recommended the company, shares have soared more than 72%.
And as the cost of renewable energy production falls, the entire industry is set to profit.
The momentum going forward means many countries will be nearly 100% renewable based.
It's becoming a matter of simple economics now that renewables can compete against fossil fuels. In fact, it's really no contest.
Factor in the growing concern for global warming, and renewable energy stocks are a no-brainer for long-term investors.
The latest forecast for Europe by the experts at Bloomberg New Energy Finance suggests that in two decades, the grid will be 90% sourced by renewable energy.
Who would have contemplated that only a few short years ago?
YOUR "TO-DO" LIST FOR TODAY: Wait for the mail. Cash the big, fat royalty check when it arrives. Learn More...
We knew the reliance on fossil fuels was problematic in numerous ways, with damage to the climate being front and center.
Given a reasonable and cost-effective alternative, it has become rather obvious where renewable energy is headed.
From an investing standpoint, owning renewable energy stocks is about as obvious as it gets.
The biggest challenge for any investor is uncertainty.
With respect to renewables, investors can now see the future more clearly.
In Europe, when almost 100% of the energy grid is fueled by alternatives, 80% of that will come from solar.
That's a ton of growth that investors can project in determining valuation.
That's why even with a near double in shares of Vivant, more gains are coming.
And it's not just Vivant that looks attractive from an investing standpoint today.
Here are two more "clean energy" stocks that will likely soar as renewable energy becomes the standard instead of the alternative.
The Best Clean Energy Stocks to Buy Now, No. 2
[mmpazkzone name="in-story" network="9794" site="307044" id="137008" type="4"]
Europe becoming renewable-reliant in the next two decades will put a huge amount of pressure on China to follow suit.
The amount of pollution generated in China thanks to its heavy use of coal is stunning.
When Europe is nearly fully integrated to renewable energy, China will be the neighbor with the ugly yard.
Something will have to be done - mainly China following suit to clean up its act.
And when that happens, clean energy stocks like JinkoSolar Holding Co. Ltd. (NYSE: JKS) will rocket higher.
Being based in China, Jinko will have a distinct advantage over competitors; thus the growth prospects here for the next 20 years are quite favorable for investors today.
As it stands, analysts expect Jinko to grow profits by 18% from the current year to the next.
At current prices, Jinko is cheap, trading for only 11 times current-year estimated earnings.
With renewables becoming the dominant choice in Europe and China following suit thereafter, 20%-plus profit growth is nearly baked in for Jinko.
You simply don't find growth opportunities trading at such low prices in today's market.
Buy Jinko immediately to take advantage of the opportunity.
The Best Clean Energy Stocks to Buy Now, No. 1
Diversification is a core principle for investing success. The same is true for companies in an ever-changing world.
That is most certainly true for industrial company Woodward Inc. (NASDAQ: WWD).
Woodward is an American aerospace, defense, and industrial company based in Colorado.
While the company offers industrial products for the traditional fossil fuel--based energy systems around the globe, a move into wind and hydro power most certainly helps manage the changes that are all but guaranteed to arrive in the next 20 years.
The risk profile for Woodward is going to be quite different than Jinko, which is solely reliant on the growth of the solar industry.
Diversification means stability of future cash flow.
Investors are willing to pay a premium for that stability today.
Analysts expect Woodward to grow profits by 13% from the current year to the next. At current prices, shares trade for 23 times current-year estimated earnings.
With "clean energy" booming, Windward's future growth is likely to inch higher.
Investors can expect even higher multiples to be paid for with that future profit growth.
You won't double your money quickly owning Woodward, but a solid 10% to 12% per annum appreciation in share price is likely. That makes this an excellent long-term stock to buy and hold.
Here's the Truth About the Great Oil Panic of 2019
You've seen how cutthroat Middle Eastern geopolitics could potentially bring massive volatility to the crude sector this year. But that's just one small piece of a very complicated, tricky puzzle. There's more - much more - in play in what Kent's calling the most "shocking prediction of [his] 40-year career." Get the details...