The best penny stocks to watch this week offer gains of up to 256%.
The top penny stocks can post enormous gains because their share prices start so low. By definition, they trade for $5 per share or less. That means a rise of just a few cents gives them enormous upside potential.
Of course, penny stocks are still a risky asset class - bad investments can lose money just as quickly as the good ones earn. That's why investors should reserve no more than 2% of their portfolio for an individual penny stock and no more than 10% of their portfolio for speculative plays.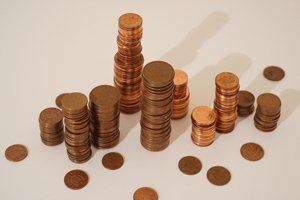 Our top choices are the penny stocks to watch, because they're the ones most likely to rise. We know this from our proprietary Money Morning Stock VQScore™ system, which find stocks with the greatest profit potential.
And it's important to watch these penny stocks in the current markets. While the stock market rose 14% between January 2019 and April 2019, both the Dow Jones Industrial Average and the S&P 500 fell about 6% in May.
Penny stocks can counterbalance these losses.
In fact, analysts predict our top penny stock could earn 256% over the next year - the stock also has a perfect VQScore of 4.75, which means that kind of gain is possible.
Plus, our first pick is also expected to soar with a VQScore of 4.15...
Penny Stocks to Watch This Week, No. 3: ASE Technology
Our first penny stock pick this week is ASE Technology Holding Co. Ltd. (NYSE: ASX), which is a semiconductor company. That's a booming sector, ripe for investment - 5G networks will require entirely new semiconductors to operate.
That's why this company has fallen into penny stock territory lately. It's had to spend more money as part of its heavy investment in 5G.
The Biggest Tech Rollout in History is set to create an expected $1.4 trillion boom for the economy. Not only will you be able to kiss your cable box goodbye forever - you can also make a fortune. Learn more...
And with the 5G semiconductor industry set to grow from $2.03 billion to $22.41 billion by 2026, ASE is almost certain to profit from this decision.
The VQScore gives ASX a 4.15, making it a "Buy." Profits next year are projected to grow 29%, but the shares trade at just 13 times earnings. That gives shares room to double or more going forward.
But this next penny stock has an even higher VQScore at 4.75, and some analysts expect a 120% price jump...
Penny Stocks to Watch This Week, No. 2: AK Steel
Steel stocks have fallen sharply because of the trade war between the United States and China. But the world will always need steel, no matter what the market does.
AK Steel Holding Corp. (NYSE: AKS) has a perfect VQScore of 4.75. It's also selling at just $2.28, with enormous growth potential.
AKS is forecast to report earnings per share (EPS) of $0.44 on the year. That means shares are trading for just five times earnings, meaning the stock is incredibly undervalued.
This company is poised to take off over the next couple years. It's likely to see a rise of nearly 100% in earnings, to $0.80. If the stock were to trade at 10 times earnings, we'd see a share price of $8.
But right now, analysts are only giving it a 120% price change - from $2.27 to $5 a share.
Our best penny stock is the big winner, though. Here's one with a perfect 4.75 VQScore and a 256% growth projection...
Penny Stocks to Watch This Week, No. 1
[mmpazkzone name="in-story" network="9794" site="307044" id="137008" type="4"]
Global trade and tariffs have kept crude oil prices low, but this won't be the case in the long run.
Once global trade tensions simmer down, companies like Denbury Resources Inc. (NYSE: DNR) will come out on top. DNR operates in a high-demand sector, but it also separates itself from competitors in a big way.
What separates DNR from other oil companies is that it uses a signature oil extraction method called "enhanced oil recovery." Using carbon dioxide, Denbury can extract more petroleum from fields that have already been extracted from previously.
That allows them to use fewer resources to extract more oil, raising revenue and profits. In fact, analysts have given DNR stock a price target of $4.60 from today's $1.29 - that's 256% growth.
The VQScore system also says that DNR is one of the best penny stocks to watch right now, with a score of 4.75.
This is a $600 million in market capitalization stock that sells for less than three times forecast earnings. It's a huge discount on a stock ready to soar in no time.
Mark My Words: If You Don't Invest in "5G" Right Now, You'll Regret It for the Rest of Your Life
Today, you have a rare chance to lock in a ground-floor opportunity from the biggest technology of the next decade.
I'm talking about 5G. Early investors in previous generations have seen windfalls like $51,000, $80,130, $113,660, and $565,640.
But this could be 100 times bigger than all the previous generations combined.
And we have a list of recommendations that can make you a fortune. Go here.