In May, the S&P 500 fell almost 6% after climbing 17% from January to April.
The solution to this kind of volatility is regular, reliable dividends. To help you find those, we're going to show you one of the best REITs to buy now.
This top REIT yields 9%.
We'll reveal our best REIT in a second, but to understand how top REITs can benefit investors, let's look at what's happening in the markets.
Why You Should Buy REITs Before the Recession
Markets tend to fall when investors get nervous. And right now, investors have some things to worry about.
First, we have global trade tensions. Tariffs are threatening to erode gross domestic product in China and the United States, which could send ripples throughout the world economy as long as they are in place.
This has coincided with an inverted yield curve after an unusually long bull market, which investors fear could lose steam at any moment. The best way to deal with the uncertainty from these events is to have a clear strategy that reduces your risk.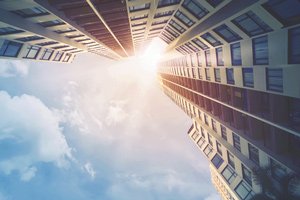 Change is a constant. Just look at interest rates. The Federal Reserve can raise and lower them, all within six months or less.
We're not saying a recession is certain, but the 10-year expansion after the 2008 to 2009 Great Recession has been the longest bull market on record.
But even if indices like the S&P 500 fall, that doesn't mean all stocks are hit.
And REIT stocks are good candidates to survive a bear market. They have the cash flow stability to help shield them from uncertainty. Plus, their dividends can be safe havens for investors in volatile markets. That's how the best REITs on the market attract investors, and this tends to keep the stock prices up and provide a cushion for any stock pullbacks
THREE STOCKS: Any one of these cannabis companies could potentially deliver a 1,000% windfall. Click here to learn more...
One way to find a stable REIT with great dividends is to use the Money Morning Stock VQScore™. It's our proprietary system that finds the stocks with the most imminent breakout potential.
It just gave us the best REIT to buy in June - and here it is, with a perfect VQScore of 4.75...
No. 1 of the Best REITs to Buy Now