When it comes to technical stock trading, it can take a long time before you finally see the "full picture." There are often tiny details hiding in the charts. But once you see them, the profit opportunity becomes clear.
It often reminds me of a stereogram. It's a 3D "picture within a picture."
At first glance the stereogram will appear to be static or gibberish, but as the eyes adjust, the image comes into focus.
It's a trip when you finally see that "picture within a picture."
STAKE YOUR CLAIM: Three pot stocks in particular could be poised for rare, wild gains of up to 1,000%. Click here to learn how you could see a $2 million "pot payday"…
The first time I saw a stereogram, it took me nearly an hour before my eyes relaxed. But finally, I saw the hidden picture.
Technical stock trading gives me a similar feeling.
Many investors can stare at charts and never see the picture within a picture. But those with a well-trained eye see something entirely different.
For example, take a look at this chart of popular cannabis stocks.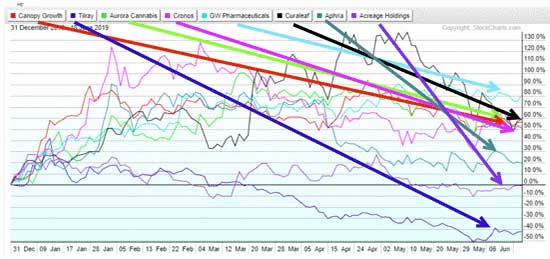 Clearly, there's a lot going on there.
To the untrained eye, it's all static with nothing of value to be discerned.
Fortunately, there is a simple tool that can be used to help you see the picture within the picture of a complex chart like the one above.
It's that tool and the ability to see the whole picture that can help you pad your portfolio with profits time and time again.
This is especially true for stocks with high volatility, like cannabis stocks.
In general, owning cannabis stocks is a good idea for the long term.
From a fundamental standpoint, the growth prospects are fantastic as legalization of marijuana spreads across the United States and the rest of the globe.
But there is more to it than just the fundamentals.
Cannabis stocks are extremely volatile as traders position in front or behind rapidly moving developments in the industry.
One day the sky is the limit and the next the sky is falling.
As a result, there is an opportunity to profit from trading the volatility moving in and out of cannabis stocks at just the right time.
But, how can we determine when the right time arrives?
That's where seeing the "picture within the picture" comes in handy.
When we specifically look at just one of the cannabis names in the chart above, a different picture emerges.
Here's what I mean…
Boost Your Profit on Cannabis Stocks Today