The best small-cap stocks to buy offer higher upsides than other sectors, especially the broader markets. In fact, our favorite small-cap stock comes from an industry projected to grow 122% over the next five years.
The S&P 500, by contrast, is up a mere 9.57% in the last year, largely thanks to trade war troubles.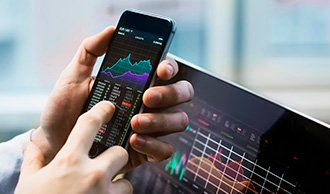 But, the trade war might actually be a potential catalyst for the 3D printing industry, the one expecting to see that 122% growth. This is also good news for the top small-cap stock to buy in July.
Investors want to ride the upward trajectory of a top small-cap stock while the market makes its biggest swings.
And here's why there's no better time to profit than now.
Why to Invest in the 3D Printing Revolution
Let's look at why the 3D printing industry might benefit.
If trade wars continue worldwide, some U.S.-based companies may exit China, which hosts a number of manufacturing facilities for U.S. companies. Reuters reported last fall that over 70% of U.S. firms operating in southern China could move their operations to another country due to the trade war.
SIT THIS ONE OUT and you could miss an American economic revolution that could send three little pot stocks soaring up to 1,000%. Click here to see why...
Now, the two countries recently made a truce at the G20 meeting in Osaka, but a comprehensive agreement on trade is still uncertain. U.S. companies may need a strategy to run cost-effectively in the United States if they're going to meet revenue and profit targets.
Domestic manufacturing is more expensive than international manufacturing. Analysts at MIT, for example, think that manufacturing an iPhone in the United States could add $40 to the cost.
In short, they'll need a faster, less expensive production mode. That's where 3D printing comes in - or, as futurists call it, additive manufacturing. It uses plastics, rubber, and metal, but not an assembly line.
Most people don't realize additive manufacturing has actually been around since the 1980s. And electronics companies and auto manufacturers use 3D printers, both large and small, all the time. The biggest printers are as large as a car.
Next year, this market is projected to be $15.8 billion. In 2024, it's forecast to hit more than $35 billion.
But, the trade wars could make it even bigger. As manufacturing resources are shut down in some countries overseas, companies are more likely to see the opportunities 3D printing represents - and the potential savings.
3D printing is responsible for an electric vehicle (EV) worth $7,500 - much less expensive than the usual EV price of $20,000. It's the LSEV, available in Europe and Asia. And get this: Engineers at BMW also brought Elvis Presley's 507 back to life by 3D printing parts that had long been unavailable.
It's not just cars, either. A wide range of materials and foods can be 3D printed - even parts of the body, down to minute details.
The top small-cap stock to buy today is poised to benefit from the maturation and growth of all these different aspects of the 3D printing industry.
This company eliminated 95% of its operating losses in five years, so it's likely that profits are straight ahead. Here's our pick for the best small-cap stock to buy in July.
The Best Small-Cap Stock to Buy This Month
[mmpazkzone name="in-story" network="9794" site="307044" id="137008" type="4"]
It's Stratasys Ltd. (NASDAQ: SSYS), one of the early movers in 3D printing. Currently, it's one of the biggest companies in the space, providing 3D printers to automotive, aerospace, and medical companies.
It's likely that traditional manufacturing will coexist with 3D for quite a while. However, 3D printing is going to prove its worth in significantly lower costs, especially in logistics. These lower costs will likely be felt by consumers.
For example, the company maintains that cost reductions on tooling for Volvo Construction Equipment via 3D prototypes hit 92%.
Rather than manufacturing at a central site and then shipping products, as traditional manufacturing does, 3D printing provides the capability for companies to send relevant data and then have objects printed where they are most needed.
Stratasys developed and commercialized its FDM technology during the 1990s. Then, it kept growing and making innovative moves. It bought International Business Machines Corp. (NYSE: IBM)'s intellectual technology for rapid prototyping, for example, and hired IBM engineers to work on it.
By 2010, Hewlett-Packard Inc. (NYSE: HPQ)'s brand of 3D printers was in fact from Stratasys (HPQ now has its own).
Stratasys' customers include Axon, NASA, McLaren, and multiple hospitals and universities.
Currently, the company enjoys a $1.21 billion market cap, big enough to deal with competitors. In fact, Stratasys bought a then-leader in the industry, Solidscape, in 2011.
Its stock currently sells for $27.75, but analysts say it could go up to $32 by the end of the year, for a 16% potential advance. That's impressive since it hasn't traded at $30 for four years.
A six-month climb of 16% is great. But Stratasys is a major play on the future of the additive industry, one of the strongest emerging sectors for the future. The company has the financial means, the ability to execute, and competitive products.
About the operating losses: In 2018, the company reduced it by 75%, to $8.8 billion from $30.5 billion. That's part of what brought about a 95% reduction in operating losses between 2014 and now.
Stratasys is on its way to profitability in an industry expected to grow rapidly. That's what makes it one of our best small-cap stocks to buy this month.
Did You See John Boehner's SHOCKING Marijuana Prediction?
At the American Cannabis Summit - the first-ever nationwide event for cannabis investors - former Speaker of the House John Boehner revealed why he's going ALL-IN on marijuana... and exactly how ordinary Americans can make a fortune from this hundred-billion-dollar industry. To see a special rebroadcast of this historic event, click here.