Digital health monitoring company Livongo Health Inc. just filed for its IPO on June 28. And it's one of the first companies in its niche sector to go public.
The company isn't a household name, but it is another startup "unicorn" holding a 2019 IPO.
While it already has a valuation of $2 billion, investors looking to buy Livongo stock after the IPO should be cautious.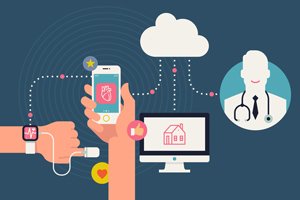 We'll show you everything you need to know about this health monitoring firm and why you should be cautious of the IPO for now…
In the meantime, we have an excellent alternative play on Livongo stock that will help you profit from the IPO hype – without the risk.
First, here are a few details about the company.
Livongo Stock: Everything You Need to Know
Founded in 2008, Livongo is a digital health monitoring company. Its products include hardware and software platforms that track conditions like diabetes. You can keep track of your health through the company's app on your mobile device.
Livongo is among dozens of smaller private digital health firms offering similar services. But it's one of only two digital health companies to go public over the last three years.
With strict regulations and health insurance hurdles, many of these firms fail.
But, Livongo's success makes it stand out from the saturated crowd. In fact, it's acquired over 680 enterprise clients since its founding. Beyond that, companies that use Livongo save almost $2,000 a year in medical expenses. This has helped the company maintain a high 96% retention rate with clients.
Since its founding, the company has raised over $240 million through venture capitals. Its shareholders include General Catalyst, Kinnevik Online AB, Kleiner Perkins, Merck Global Health Innovation Fund, and 7Wire Ventures.
In April 2018, Livongo's investors gave it a valuation of $800 million. It's expected to raise another $200 million through the IPO. And that puts it in unicorn territory with a value of $2 billion.
On top of that, between 2017 and 2018, its revenue doubled from $30.9 million to $68.4 million.
This success has caught Wall Street's attention.
Top 5G Stocks: Silicon Valley insider Michael Robinson has just released the most comprehensive 5G wealth report on the planet. We have a limited number of copies available. Learn how to get yours here.
But, despite its success, the company is still losing money. Between 2017 and 2018, its net losses almost doubled from $16.9 million to $33.4 million as well.
Plus, it's still operating in a very saturated sector. Its competition includes Andreessen Horowitz and Omada Health Inc. It's also up against Virta Health Corp. The latter of which updates its features and is targeting the self-insured market.
Despite everything we know about the company, we won't know the exact value of the shares until the stock debuts.
So, with no IPO price or date provided yet, we're holding off on our verdict with Livongo stock.
In the meantime, if you want to get in on 2019's hot IPO market, we have a great alternative play on Livongo stock. In fact, this play has skyrocketed 44% since the beginning of 2019 and is poised to continue outpacing the market.
Check out our favorite pick, below…
Here's Our Favorite Alternative Play on Livongo Stock
Join the conversation. Click here to jump to comments…
About the Author
Daniel Smoot is a Baltimore-based editor who helps everyday investors with stock recommendations and analysis. He regularly writes about initial public offerings, technology, and more. He earned a Bachelor's degree from Towson University.