Our latest list of the best stocks to buy now includes picks capitalizing on emerging trends like FinTech, legal cannabis, and commercial real estate.
Not only will we show you the best stocks, we'll also explain how to truly supercharge your portfolio and find the next big stock market success story.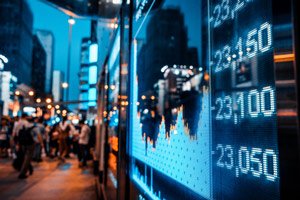 Here's a preview of what you'll find below:
Commercial real estate is booming, and we've got a quick and easy way to get in on the action.
One stock is generating double-digit earnings growth by incorporating the newest FinTech with traditional banking.
A regional bank has made a big move into the legal cannabis market, and it could mean a 140% gain in share price.
The U.S.-China trade war is good news for domestic rare earth miners, and we've got the best pick to capitalize on it.
If you're looking for life-changing gains, you need to find young companies about to take off. We'll show you how to find your "rocket stock" while limiting your risk.
And now our latest list of best stocks to buy now...
Best Stocks to Buy Now, No. 5: Here's the Easiest Way to Get a Piece of the Commercial Real Estate Boom
According to the Mortgage Bankers Association, commercial real estate lending in the United States hit a record $573.9 billion in 2018.
That's an 8% increase from 2017. And about three-quarters of lenders expect that 2019 will meet or beat last year's numbers.
It certainly doesn't hurt that delinquency rates have sunk to historic lows: 0.69% as of the first quarter of this year, compared to 2.67% in 2013 and 8.76% in 2010.
In other words, commercial real estate is booming. And you don't have to be a land speculator to capitalize on it.
Instead, you can buy shares of Ladder Capital Corp. (NYSE: LADR), a real estate trust that specializes in commercial properties and mortgages.
The 17 members of Ladder's senior management team have an average of 28 years of experience. And they also have plenty of skin in the game. Ladder insiders have $239 million invested in the firm, accounting for about 12% of its equity.
That one-two punch of experience and commitment has made this REIT not only an exceptional dividend stock (with an 8.20% yield) but also a solid growth stock. LADR's share price has grown 25% over the last two years, compared to 22% for the S&P 500.
This Could Be the Most Profitable Dollar You Ever Spend: Tom Gentile's Cash Course covers all the essential trading ideas you need to know to potentially make thousands in extra income every week. Get access for $1...
With the dividend representing just 60% of free cash flow, it's safe even in the event of any pullbacks. And if recent history is any guide, the dividend will increase considerably over time. It's risen 36% over the last three years, and the firm has added three special dividends over that time frame.
Another great sign: More than 50% of Ladder's loans are to repeat borrowers. That shows how loyal the firm's customers are, an indication of quality and long-term viability.
As Money Morning Technical Trading Specialist D.R. Barton says, "The bottom line is simple as can be: Add LADR to your income portfolio today, and watch your wealth grow."
Best Stocks to Buy Now, No. 4: Get the Profit Potential of FinTech with the Stability of a Bank Stock
Contrary to what you might have heard elsewhere, FinTech is not going to spell the demise of traditional banking anytime soon.
Just the opposite, actually. While "pure play" FinTech companies like PayPal Holdings Inc. (NASDAQ: PYPL) and Square Inc. (NYSE: SQ) have made a big splash in recent years, the real winners of the FinTech revolution have been traditional banks that incorporate tech into their services.
There's simply no replacement for the FDIC insurance that comes with bank accounts up to $250,000. Your Venmo account doesn't have that, and that's not going to change in the near future.
Banks are subject to regulatory scrutiny that PayPal and other FinTech companies aren't going to match. With that built-in competitive advantage, banks that adopt new technology to make their customers' lives easier have a lot of upside potential. That's where our next best stock to buy comes in...
[mmpazkzone name="in-story" network="9794" site="307044" id="137008" type="4"]
Bancorp Inc. (NASDAQ: TBBK) has been an industry leader in combining traditional bank credentials with new technology.
As its website states, "You may not have heard a lot about [it]. And that's by design."
You see, instead of focusing on branch-based banking, the company specializes in providing financial backing to private-label, non-bank companies.
Just like when you buy Aldi brand frozen pizza, which is actually made by Richelieu Foods, there are more than 100 different brands of financial products powered by Bancorp.
Thanks to Bancorp, mobile-banking services like Chime and Varo are actually able to provide that ever-so-important FDIC insurance to account holders.
Bancorp is also behind PayPal's prepaid Mastercard, which offers direct deposit and transfers from your PayPal account and is also easily managed via a mobile app.
With services like these, Bancorp has carved a niche for itself by encouraging innovation in the FinTech industry and providing the financial security that is sorely missing from many new financial products.
That's going to keep it ahead of its competitors for years to come. Money Morning Special Situation Strategist Tim Melvin says he expects double-digit earnings growth to continue for the foreseeable future.
Investors that get in on Bancorp now, Tim says, should see the price move "dramatically higher over the next several years."
Best Stocks to Buy, No. 3: As Legal Cannabis Goes Mainstream, This Backdoor Play Is Set for Triple-Digit Gains
Our next pick is another bank capitalizing on a major growth trend. But instead of FinTech, we're talking about legal cannabis, a market that Arcview Market Research projects to reach nearly $15 billion this year.
The banking industry has been dragging its heels on the rise of this new market. That's in large part because, even as U.S. states have increasingly legalized cannabis in one form or another, the federal ban remains.
So far, the U.S. Department of Justice has not interfered with legal cannabis markets on the local level. And between the legalization of cannabis in Canada and the resignation of drug-war hawk Jeff Sessions as U.S. Attorney General last year, many people in the cannabis industry are now breathing easy.
But it's still rare for U.S. banks to deal with cannabis producers. Which is why Maryland-based Severn Bancorp Inc. (NASDAQ: SVBI) is such an intriguing investment.
Severn has opened itself up to the medical cannabis industry since it went operational in Maryland in 2018. By staying local, the bank avoids the federal scrutiny that would come from crossing state lines.
Within a few months of medical cannabis companies launching in Maryland, Severn had $27.8 million in deposits and $15.3 million in loans to the industry. That represents 4.5% and 2.2% of the bank's overall totals, respectively.
Nearly every player in the state's industry banks with Severn, according to Jake Van Wingerden, chair of the Maryland Wholesale Medical Cannabis Trade Association.
"I don't know how else we would do business," he told The Washington Post.
THREE STOCKS: Any one of these cannabis companies could potentially deliver a 1,000% windfall. Click here to learn more...
Aided in part by this lucrative new industry, Severn's business has grown dramatically in the last two years. Annual growth in assets increased from 2% in 2017 to 20.7% in 2018. Deposit growth went from 5.3% to 29.4% in that time, and return on equity went from 3.1% to 9%.
This growth makes Severn a strong candidate for consolidation, which could easily lead to double-digit growth for shareholders.
Even without consolidation, there should be plenty of pent-up demand as SVBI's share price growth has not kept pace with the company's fundamentals: The stock is essentially flat over the last 12 months.
"As Severn cements its uniquely profitable position," Money Morning Director of Cannabis Investing Research Greg Miller writes, "the company should bump up to near its all-time high of $21.14 per share, a level not seen since before the financial crisis."
That would be a gain of more than 140% from its current share price.
Best Stocks to Buy, No. 2: The Trade War Could Bring Big Rewards for This Mining Stock
While the trade war between the United States and China has had a negative effect on a number of U.S. industries, there is one sector that stands to gain from the tensions: rare earth metals.
Rare earth metals like praseodymium, neodymium, and gadolinium - among others - are essential to our economy. A variety of industries, from electronics to transportation to medical supplies, would come to a halt without them.
But with 80% of U.S. rare earth supply currently coming from China, the trade war is an opportunity for North American producers to vastly increase their market share.
One of the best picks in this space is Ucore Rare Metals Inc. (TSXV: UCU). It controls the Bokan-Dotson Ridge prospect in Alaska, which is highly enriched with heavy rare elements like dysprosium, terbium, and yttrium that are used in sophisticated magnets. Its location on U.S. soil - and right on the Pacific Ocean for easy transport - gives Ucore a significant competitive advantage in the domestic market.
Ucore isn't focused only on mining, but also boasts an exclusive technology for separating metals called SuperLig. This system is based on green chemistry principles, with minimal waste, few chemicals, and very low energy requirements. All of that translates to low-cost efficiency and a higher margin for Ucore investors.
Ucore has exercised an option agreement to acquire Utah-based IBC Advanced Technologies, whose proprietary technologies make it a particularly valuable asset.
IBC is resisting the move and has attempted to cancel the option agreement. However, a Utah court dismissed a complaint from IBC in late May, and it appears Ucore has a strong chance to add IBC to its already impressive North American portfolio.
Beyond that, Money Morning Resource Specialist Peter Krauth notes that Ucore's next source of strong growth could come if it licenses out the SuperLig separating technology to other companies.
In other words, you can expect strong short-term gains thanks to international politics. But as this company expands its income opportunities, it should be a great long-term pick as well.
Best Stocks to Buy, No. 1: We've Got Two Ways to Find the Next "Rocket Stock" Without Taking a Big Risk
While a large portion of your portfolio will be dedicated to big-name companies that provide growth and stability, every investor wants the chance for supercharged gains that only younger, smaller companies provide.
One great way to access those opportunities is through the iShares Russell 2000 Growth Index ETF (NYSEARCA: IWO). This fund includes over 1,200 small-cap stocks, with a heavy focus on the high-upside tech and life sciences industries.
Diversification is key to limiting the risk of these investments. In fact, IWO has beaten the S&P 500 by nearly 10% since Christmas Eve, when last year's market sell-off came to an end.
IWO offers a "great, balanced portfolio," as Money Morning Defense and Tech Specialist Michael Robinson says, "that gives you broad access to high-octane firms without the volatility that often comes with individual small caps."
But if you're looking for more explosive growth potential in your portfolio, while still limiting your risk, we've got an opportunity for that too...
Famous Angel Investor Shares "1,000x Formula" for Finding Unicorn Startups
Neil Patel is one of the most successful angel investors on the planet.
Today, he's walking everyone through his "1,000x Formula" for finding the most successful startup investments - the ones with unicorn potential.
With this formula at your disposal... investing in startups is about to get a whole lot easier. (In fact, you can act now with as little as $50.)
Follow Money Morning on Facebook and Twitter.
About the Author
Stephen Mack has been writing about economics and finance since 2011. He contributed material for the best-selling books Aftershock and The Aftershock Investor. He lives in Baltimore, Maryland.