Ask any financial advisor worth their salt, and they'll tell you to invest in high-quality stocks in growing sectors. But you don't have to settle for buying and holding these stocks either. You can maximize your returns by trading them over the short term too.
Money Morning Quantitative Specialist Chris Johnson says that's exactly what you can do with Microsoft Corp. (NASDAQ: MSFT) right now.
Chances are you already own a piece of this tech giant, either through direct ownership of shares or in any number of major mutual funds or ETFs. You like the company because it's a leader and an innovator and its stock keeps rising as the company grows. We've been telling readers this stock is a buy for years, too. The stock is up 322% since we recommended it in April 2012.
But the best part is that we can boost our returns by trading around a core position in this stock. That means making short-term trades to slightly increase or decrease our exposure but never abandoning our long-term strategy.
Learn How to Trade Like the Pros: Tom Gentile just recorded all of his most potentially lucrative trading secrets in America's No. 1 Pattern Trader Cash Course. This could set you up for life – and it'll only cost you $1…
Chris projects Microsoft stock will hit $150 a share in the next few months, which is a 10% jump from current levels.
That makes it a great candidate to make us both short-term and long-term profits.
And with Microsoft's earnings report coming out next Thursday (July 18), there's no better time to set up a trading strategy on one of tech's hottest stocks…
Why Microsoft Is a Buy
We already know Microsoft is an excellent long-term investment. But it's a great stock to trade right now for three reasons.
First, software stocks as a group have been showing strength relative to the rest of the market. Remember what the advisors say – start with growing sectors in the economy. Software clearly is that.
Second, from the technical side, Microsoft held its ground fairly well in May, when the rest of the market fell sharply. And even better, its 50-day moving average continued to rise the whole time. With the stock price holding above the average, Chris calls that "riding the rail."
The 50-day average is simply the mean price of the stock over the past 50 days. Each day, the value is recalculated, so the window of data moves over time – a moving average.
The important point to make here is that the average serves as the proxy for the stock's short-term trend. It smooths out all the wiggles and gives us a clear picture of the stock's health. And as long as the current price of the stock remains above the average, we know Microsoft shares are in good shape.
Take a look at how Microsoft stock keeps pulling its average higher since hitting a "golden cross" in March.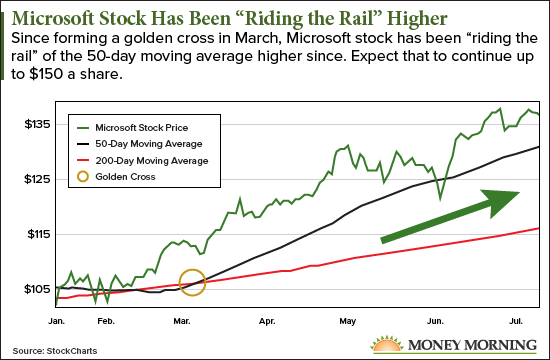 Finally, Chris expects another in a long series of good earnings reports, with growth being central to the company's story. And because that is no secret, he expects the stock to run up into its earnings report, now scheduled for after the close on July 18.
That's why Chris expects shares to hit $150 in just one or two months. And we can turn that 10% gain into even bigger profits by trading options on the stock…
Supercharge Profits with Options on Microsoft Stock