As tensions with Iran have grown over the past month, investors are looking for the best defense stocks to buy. And not only is our top defense stock poised to lead the industry, but it's also ready to break out, thanks to one big catalyst.
In June, Iran announced its military had shot down a U.S. drone and claimed its nation was "ready for war." The country has rejected accusations from the United States that it violated terms of a 2015 nuclear agreement, and it could once again be facing UN sanctions.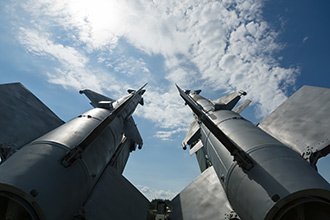 This is a critical time on the world stage, but it's also caught the attention of Wall Street and defense stock investors. When geopolitical uncertainty rears its ugly head, defense stocks tend to soar. And given the U.S. commitment to a strong defense, some of these investments can even be considered resistant to recessions.
While there are several defense stocks to choose from, the Money Morning Stock VQScore™ system has pinpointed the top contender.
Our favorite of the top defense stocks to buy today has a 4.45 VQScore, meaning it's about to see a big jump in price very soon.
One of the Best Defense Stocks to Buy Right Now
As tensions mount, Raytheon Co. (NYSE: RTN) is our pick for one of the best defense stocks to own. It is a Massachusetts-based company and is currently the third largest defense contractor by revenue.
It's set to become the second largest once a merger with United Technologies Corp. (NYSE: UTX) is finalized. This announcement resulted in a share price drop due to concerns about shareholder risk, synergies, and industry competition.
The Pentagon is currently reviewing the risks related to this proposed merger. If it goes through, it will propel RTN share prices even higher.
But regardless of the outcome of this merger deal, this stock is currently trading at bargain prices and has phenomenal upside potential.
You Have to See This to Believe It: Claim your stake in this 1,000X market phenomenon with just $50. Watch now...
Raytheon now trades at 15.3 times its anticipated profits for 2019 of $11.60 per share. This figure is a significant discount compared to industry peers like Lockheed Martin Corp. (NYSE: LMT), Safran (OTCMKTS: SAFRY), and Honeywell International Inc. (NYSE: HON).
The company's balance sheet is strong, with only $2 billion in debt. It has a debt-to-capital ratio of just 29.4%, which is low compared to the defense industry average of 68%.
Raytheon pays investors a 2.13% dividend, outpacing the 1.9% of its rivals. It also beats the industry averages in net profit margins, operating profit margins, and gross profit margins.
Standard financial metrics aside, this is one of the top defense stocks to own right now because it appears to be poised for a share price breakout, signaled by its high VQScore.
This company is about to gain some major headway in securing Pentagon funding for its unique technology.
The Biggest Catalyst for This Top Defense Stock