Can you think of a sector that has been beaten up more by the media than the retailers? Seriously, every time I hear the retail sector mentioned, it's in a very poor light.
Truth be told, the sector's poor reputation is earned. Year to date, the retail ETF has earned around 4% compared to the broader market S&P 500 Index, which has grown by almost 20%.
It gets worse. Since July 11, 2014, the SPDR S&P Retail ETF (NYSEArca: XRT) has lost 1% while the S&P 500 has given you returns of 52%!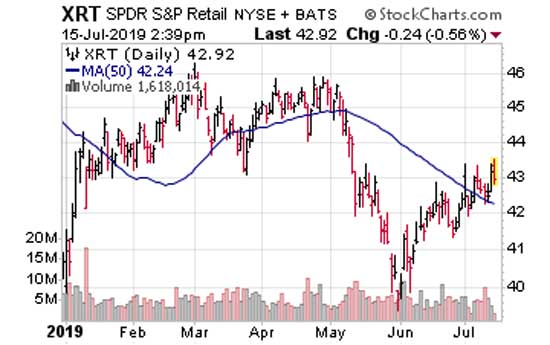 So, I've been talking about how this is a stock picker's market. Want proof?
Year to date, the 20 worst-performing stocks in the XRT have lost an average of almost 40%. The top 20 performers? They've earned an average of almost 50%. Polar opposites! Bottom line, if you pick the wrong stocks in the group, you get slaughtered. And if you get the right ones, you look like Gordon Gecko (minus the cheating).
I talk about my proprietary Best in Breed ranking system often. This system has scored the retail ETF as a sell for more than a year, which has been the right move, as the shares have lost 14%. While the XRT has been a great short, it's also a great example of how it's possible to make money as long as you've got the right tools to pick the stocks correctly every time.
Looking at the retail sector with the Best in Breed system right now reveals a number of companies that are among the top-ranked as we head into the middle of July.
Let's take a look at the two companies in the retail sector that are on my bullish radar…
Join the conversation. Click here to jump to comments…
About the Author
Chris Johnson is Quantitative Specialist for Money Map Press. He's obsessed with building and perfecting mathematical models that allow him to predict, with startling accuracy, the direction of the markets, entire sectors, and individual securities. For the last year, he's been researching and building a new system that lets him move swiftly in and out of the hottest stocks in the market for life-changing gains - entirely on his own terms. The results of his newly-minted Night Trader system are nothing short of amazing.