Investing in the best stocks is a proven way to build generational wealth. And there is no better time to start than when stocks are down.
Of course, taking that first step can be extremely daunting, especially today. There are a lot of unknowns with this COVID-19 crisis. How long will it last? How can you tell which direction the market will turn next?
Yes, there is much unknown. But it doesn't change the fact that this is the "buying opportunity of a lifetime," as Money Morning Capital Wave Strategist Shah Gilani puts it.
These are overwhelming times. But investing doesn't have to be overwhelming. Today, we're going to show you the best stocks to buy for beginners. We'll also show you how to build a portfolio.
You see, buying stocks is just the beginning. You also need to balance those stocks with an informed investing strategy that can maximize profits and limit losses.
Don't worry; we've got you covered. Here's how you can start building a stable, diverse portfolio with life-changing upside.
How to Invest in Stocks by the "50-40-10" Model
Investing in stocks can't begin without a strategy. You need to know the right stocks to invest in. This requires knowing the difference good stocks and bad stocks.
For example, Rite Aid Corp. (NYSE: RAD) and Walgreens Boots Alliance Inc. (NASDAQ: WBA) look similar. But their stocks are quite different.
Shares of Walgreens are up 53% in the last two decades, and investors right now can enjoy a dividend yield of 4.27%. Rite Aid shares, on the other hand, are down 92% in the same time period, and the company doesn't pay a dividend.
Both stocks are down more than 20% after the coronavirus crash. But Walgreens has still clearly been more profitable for investors. Rite Aid would have wiped out all your profit, had you bought it 20 years ago.
Get Your Buy List Ready: COVID-19 has crushed markets, but stocks will bounce higher. This is a once-in-a-lifetime chance to get into great companies at historically low prices, so put these stocks on your buy list now...
The investing strategy we're going to show you is meant to protect you from big losses like that and give you maximum upside. We'll even show you the best stocks to start with.
This is called the "50-40-10" strategy. It's simple and effective for managing risk while holding some of the most valuable stocks in the world.
The 50-40-10 investment strategy splits your investment capital into three tiers based on risk: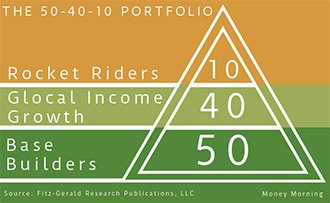 50%: Base Builders – These might be less "exciting" stocks, but they are the most consistent performers. While there is nothing sensational about them, they deliver consistent income over long periods of time.
40%: Growth & Income Holdings – These are usually the more alluring stocks, the perfect combination of growth and stability. Names like Alphabet Inc. (NASDAQ: GOOGL) and Apple Inc. (NASDAQ: AAPL) might be included in this group.
10% Rocket Riders – You're less certain of these stocks, but you know there's big profit potential. You can't live off of them, but having them in small quantities has a chance of paying off. These are your high-risk, high-reward investments. IPOs, small caps, startups, biotechs, and even options contracts.
This investment strategy can help you maintain a stable and diverse portfolio with breakout potential. But you still can't really begin investing without knowing what stocks to buy.
To help you get started, we're going to show you a stock that fits into each part of your portfolio. You'll want to keep adding stocks to each tier to stay diverse. But these stocks are a great building block to start.
Check out some of the best stocks for beginners below.
Best Stocks to Buy for Beginners: Base Builders
[mmpazkzone name="in-story" network="9794" site="307044" id="137008" type="4"]
One of the best base-builder stocks to buy is Vanguard Wellington Fund Investor Shares (MUTD: VWELX).
It's a fund that has existed for 90 years and is Vanguard's oldest mutual fund. If this fund survived the Great Depression, you could believe it will hold on through the coronavirus market crash.
Its 35% bond holdings help provide stability while its stock positions give investors growth potential over the long term.
The fund is 64.13% stocks and 34.86% bonds, covering everything from real estate to energy, finance, healthcare, and more. This fund has been agile enough to adjust to market conditions to survive the years.
Keep in mind that Vanguard Wellington is a mutual fund, not a stock, so you'll want to consult your broker about the best way to invest in it. That, or you can open an account with Vanguard directly.
This Vanguard Wellington can do wonders to steady your portfolio - a great investment in volatile times.
Best Stocks to Buy for Beginners: Growth & Income Holdings
Your first growth and income holding is the superstar tech company Microsoft Corp. (NASDAQ: MSFT). Money Morning Defense and Tech Specialist Michael A. Robinson urged our readers to buy Microsoft in 2012.
And it paid off big for anyone who listened. Shares of Microsoft are up 450% since that year.
Microsoft has been at the forefront of computer hardware and software since 1986. You've likely used its Windows operating system or Microsoft Office programs. At this point, it's nearly impossible to not have used its products in your lifetime.
But it also has hands in several other digital markets. Gaming is a big one. It makes the Xbox, one of the "big three" consoles (next to Playstation and Nintendo) that reportedly sold over $23 million in 2017. The Microsoft Azure cloud services has also become a $30 billion success.
One reason Microsoft is a great growth and income stock is that it's gained for 17 years. Revenue increased 13% in 2019, to $125 billion from $110,360 in 2018. The company is projected to make $138 billion annual for 2020, which would be a whopping 28% increase from 2019.
Continued innovation is helping Microsoft keep its edge. Its 2010 Microsoft Azure products is a large part of that.
Azure allows Microsoft to penetrate even more industries, like healthcare, finance, retail, government agencies, and gaming. Azure revenue popped 64% in Q4 2019, and it will only continue to become a larger part of Microsoft's income.
Azure is so powerful even Microsoft's biggest gaming competitors, Sony Corp. (NYSE: SNE) and Nintendo Ltd. (OTCMKTS: NTDOY), use it to host their games.
But so far, we've only covered some very basic investments. The next tier is where the fun happens.
This is where we swing for the fences with IPOs, options, takeover targets, and more.
To fill that 10%, here's one of our best high-risk, high-reward investments for 2020. It might come in handy during the COVID-19 crisis…
Best Stocks to Buy for Beginners: Rocket Riders
Zoom Video Communications Inc. (NASDAQ: ZM) is a great example of a stock that benefits from changing consumer behaviors fueled by the coronavirus lockdown.
It's a video conferencing platform in competition with Google Hangouts by Alphabet Inc. (NASDAQ: GOOGL), Slack Technologies Inc. (NYSE: WORK), and Teams by Microsoft Corp. (NASDAQ: MSFT).
There's been a surge of Zoom usage since millions of employees are stuck at home. Thanks to Zoom, companies have been able to meet their video conferencing needs. But friends and family have also been able to chat while social distancing.
Zoom reported 200 million daily users in March. Its previous record was 10 million. And the stock has rocketed 80% since the start of the year.
No one knows how long this crisis will last, but the longer it does, the higher this stock could go. It's a more speculative play than the other two, but that's what this 10% of your portfolio is for.
If the stock explodes higher, then you've grown your wealth immediately. If it doesn't, then it won't hurt your overall portfolio.
Action to Take: First, you need a solid investing strategy. The 50-40-10 model is great for maximizing upside and minimizing risk. Keep 50% of your portfolio in low-risk, long investments like bonds and mutual funds. Keep 40% in moderate growth and income stocks, then save 10% for high-risk, high-reward investments.
How One Formula Can Hand You the Best of Both Worlds
Tom Gentile has uncovered a low-cost, high-potential opportunity that's practically tailor-made for today's market.
Anyone can get started with as little as $371… and in just a few weeks, you could walk away with a fortune.
It's all thanks to one special formula…