Investing in the best stocks is a proven way to build generational wealth. And there is no better time to start than when stocks are down.
Of course, taking that first step can be extremely daunting, especially today. There are a lot of unknowns with this COVID-19 crisis. How long will it last? How can you tell which direction the market will turn next?
Yes, there is much unknown. But it doesn't change the fact that this is the "buying opportunity of a lifetime," as Money Morning Capital Wave Strategist Shah Gilani puts it.
These are overwhelming times. But investing doesn't have to be overwhelming. Today, we're going to show you the best stocks to buy for beginners. We'll also show you how to build a portfolio.
You see, buying stocks is just the beginning. You also need to balance those stocks with an informed investing strategy that can maximize profits and limit losses.
Don't worry; we've got you covered. Here's how you can start building a stable, diverse portfolio with life-changing upside.
How to Invest in Stocks by the "50-40-10" Model
Investing in stocks can't begin without a strategy. You need to know the right stocks to invest in. This requires knowing the difference good stocks and bad stocks.
Sign up for SMS so you never miss special events, exclusive offers, and weekly bonus trades.
For example, Rite Aid Corp. (NYSE: RAD) and Walgreens Boots Alliance Inc. (NASDAQ: WBA) look similar. But their stocks are quite different.
Shares of Walgreens are up 53% in the last two decades, and investors right now can enjoy a dividend yield of 4.27%. Rite Aid shares, on the other hand, are down 92% in the same time period, and the company doesn't pay a dividend.
Both stocks are down more than 20% after the coronavirus crash. But Walgreens has still clearly been more profitable for investors. Rite Aid would have wiped out all your profit, had you bought it 20 years ago.
Get Your Buy List Ready: COVID-19 has crushed markets, but stocks will bounce higher. This is a once-in-a-lifetime chance to get into great companies at historically low prices, so put these stocks on your buy list now...
The investing strategy we're going to show you is meant to protect you from big losses like that and give you maximum upside. We'll even show you the best stocks to start with.
This is called the "50-40-10" strategy. It's simple and effective for managing risk while holding some of the most valuable stocks in the world.
The 50-40-10 investment strategy splits your investment capital into three tiers based on risk: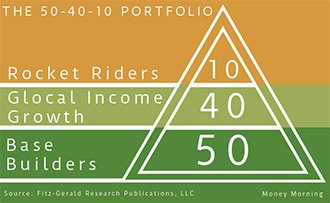 50%: Base Builders – These might be less "exciting" stocks, but they are the most consistent performers. While there is nothing sensational about them, they deliver consistent income over long periods of time.
40%: Growth & Income Holdings – These are usually the more alluring stocks, the perfect combination of growth and stability. Names like Alphabet Inc. (NASDAQ: GOOGL) and Apple Inc. (NASDAQ: AAPL) might be included in this group.
10% Rocket Riders – You're less certain of these stocks, but you know there's big profit potential. You can't live off of them, but having them in small quantities has a chance of paying off. These are your high-risk, high-reward investments. IPOs, small caps, startups, biotechs, and even options contracts.
This investment strategy can help you maintain a stable and diverse portfolio with breakout potential. But you still can't really begin investing without knowing what stocks to buy.
To help you get started, we're going to show you a stock that fits into each part of your portfolio. You'll want to keep adding stocks to each tier to stay diverse. But these stocks are a great building block to start.
Check out some of the best stocks for beginners below.
Best Stocks to Buy for Beginners: Base Builders