Last week, Federal Reserve Chair Jerome Powell said that the central bank would continue to provide accommodations to bolster U.S. economic growth.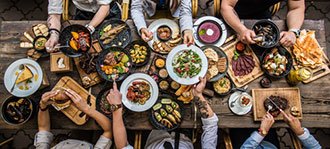 While the economy might be in the final stages of a bull run, central banks around the globe are set to offer rate cuts, new stimulus, and everything else to try to arouse consumer and business spending.
With the unemployment rate and jobless benefit seekers at multi-decade lows, markets anticipate that consumers will continue to see a boost in discretionary spending.
Watch Now: Robert Herjavec is helping everyday Americans discover the next Airbnb. Click here now...
With extra money in their pockets, consumers will start to go out more. People will go to movies, amusement parks, and - of course - go out to restaurants more often.
To find the top companies poised to break out from a rise in consumer spending, investors should turn to the Money Morning Stock VQScore™. This is a proprietary formula that tells you exactly when to buy, sell, or hold a stock.
Today, we are looking at the three best restaurant stocks to buy before the July rate cut.
Restaurant Stocks Sizzle in 2019
Restaurant stocks were on fire during the first half of 2019.
The sector averaged a six-month return of 25.2%, beating the S&P 500 rally of 18.2%.
New partnerships with delivery services like GrubHub, DoorDash, and UberEats have added a new avenue to expand their customer base and more importantly - margins.
Morgan Stanley (NYSE: MS) projects that food delivery services will account for 11% of all restaurant sales by 2020.
Picking the right breakout restaurant stock can be tricky. That's why we turn to the Money Morning Stock VQScore™...
Restaurant Stocks to Buy No. 3
[mmpazkzone name="in-story" network="9794" site="307044" id="137008" type="4"]
Every Fourth of July, Nathan's Famous Inc. (NASDAQ: NATH) headlines ESPN as gluttonous people from around the world gather in Coney Island, New York for the annual Hot Dog Eating Contest.
With the $10,000 that Joey Chestnut earned winning this year's contest (his 12th title), he should buy shares of Nathan's Famous stock. And so should you.
The restaurant chain is more than just the firm behind the famous hot dog brand. Incorporated in 1992, the company sells a wide range of products to more than 55,000 retail locations, while franchising restaurant units across the United States.
Now, a small-cap stock that focuses on hot dog sales might not seem like a company that everyone should own.
But NATH stock currently has a 4.75 VQScore, putting it squarely in the "Buy Zone."
The stock has pulled back since July 2018 highs of $102.70, but it has rallied strongly since the start of June.
And there's still more room to run...
Shares have a price target of $95, which represent 26% upside from Monday's closing price.
Restaurant Stocks to Buy No. 2
Ruth's Hospitality Group Inc. (NASDAQ: RUTH) operates and franchises more than 150 steak houses around the globe. It's the firm behind Ruth's Chris Steak House.
Founded more than 40 years ago with a single location in New Orleans, the company tells a remarkable story of risk and reward.
The company started after founder Ruth Fertel mortgaged her home for $22,000 and bought the "Chris Steak House" in Louisiana.
Today, the firm operates more than 130 locations in the United States and has 12 franchised locations in Mexico, Hong Kong, Taiwan, Tokyo, Aruba, and Canada. And while the menu might be expensive, the stock is cheap right now...
That's right.
Ruth's Hospitality trades at a discount to its industry peers. Its price-to-cash-flow (P/CF) ratio of 11.2 is well below the industry average of 29.4, according to Reuters.
It also pays a dividend yield of 2.36%, which is more than double that of its average peer figure.
RUTH stock has a 4.45 VQScore, making the pick a "Strong Buy".
The stock has a price upside of $30 per share. That price target represents upside of roughly 36% from Monday's closing price.
Restaurant Stocks to Buy No. 1
Finally, we recommend the cash-rich restaurant giant, Brinker International Inc. (NYSE: EAT).
This firm generated a lot of buzz last week after announcing the purchase of 116 Chili's Grill & Bar casual restaurants.
The Dallas-based firm owns and operates more than 1,700 Chili's locations and 53 Maggiano's Little Italy restaurants.
Brinker's P/CF ratio sits at a minuscule 4.78, a figure that makes the firm an attractive takeover target.
Strong cash flow allows the firm to pay a rock-solid dividend of 4% while the industry pays an average of just 1%.
With consolidation expected to continue in the years ahead, Brinker has positioned itself as a firm able to buy and sell profitable locations and treat individual restaurants like stocks in a portfolio.
Brinker also has a top VQScore of 4.75, which signals that it's time to buy this stock.
The stock has the highest-priced upside on our list. Shares could easily reach $58 per share over the next 12 months, a figure that represents possible gains of 51%.
Famous Angel Investor Shares His "1,000x Formula" for Finding Unicorn Startups
Neil Patel is one of the most successful angel investors on the planet.
Today, he's walking everyone through his "1,000x formula" for finding the most successful startup investments - the ones with unicorn potential.
With this formula at your disposal... investing in startups is about to get a whole lot easier. (In fact, you can act now with as little as $50.)