Some of the wealthiest investors on the planet have one thing in common: real estate. But you don't need to take out a mortgage to join them. Here's are two of the best REITs to buy in July 2019.
Real estate investment trusts (REITs) are an excellent way to invest in real estate because you won't have to shop for properties, take out a mortgage, or manage your assets. Instead, another company owns and manages a set of real estate assets, which can be specialized or diversified.
Specialized real estate might fall into areas such as office units, hospitals, rentals, hotels, and even cellular towers.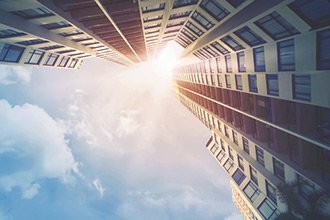 Historically, REITs have beat the broader market when it comes to delivering gains to investors. They have also become popular vehicles for investment because their dividends produce steady income.
These investments also deliver tax benefits to investors. More than 80 million people in the United States are investing in REITs through mutual funds and ETFs, often within retirement accounts.
In finding the best REITs to buy, we've whittled down the selections through the proprietary Money Morning Stock VQScore™.
This system ranks the 1,500 fastest-growing and most profitable stocks, assigning each a score that indicates the stock's breakout potential. As an additional filter, we've applied this system to identify the top REITs this month.
Both of the two best REITs in July have a 4.75 VQScore, the highest possible, meaning their value is ready to soar at any moment.
Best REITs to Buy in July 2019, No. 2
Urban Edge Properties (NYSE: UE) is a specialty REIT that deals in retail properties. While it might seem silly to recommend a REIT in retail, a struggling industry, this one is different.
Urban Edge is a spin-off company formed in 2015 from Vornado Realty Trust (NYSE: VNO).
This company primarily focuses on buying, developing, redeveloping, and managing real estate earmarked for retail use in urban areas, mostly in Manhattan. Currently, it controls 88 properties with 16.3 million square feet of gross leasable space.
The main reason this retail REIT is different from any other is its market. On average, 164,000 people live within a three-mile radius of the properties that it owns and manages.
THREE STATES just legalized marijuana, and these three stocks could potentially see a 1,000% boost. Click here to learn more...
UE's projects are targeted toward the highest-trafficked real estate markets in the world. It has plans to invest up to $500 million over the next several years, spread out over 21 additional properties. It also expects to net about $400 million through divesting roughly 39 smaller assets labeled as non-core properties.
As UE streamlines its portfolio, it also plans to replace any defunct retailers in its properties, which will produce additional income beginning late 2019.
This REIT also has a perfect 4.75 VQScore. The expectation is that we'll see the 2018 share price high of $25 again. This represents an upside of 47% from today's price.
But it still doesn't compare to our No. 1 of the best REITs to buy in July, which has a 4.75 VQScore and the potential to gain 56% this year.
Best REITs to Buy in July 2019, No. 1