Since last year's cryptocurrency crash, blockchain isn't getting nearly as much attention from investors.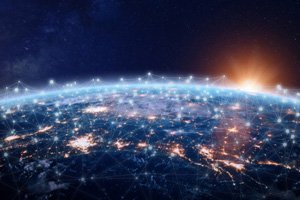 But make no mistake. Blockchain is now a billion-dollar industry, and it's on the cusp of a massive expansion. And now that many of the pretenders have been killed off, it's time for the real-deal blockchain stocks to shine.
We've got a pick in this space that might surprise you. That's because it has a reputation as a tech dinosaur that's been eclipsed by the more sprightly "FANG" stocks.
It's a classic turnaround story. This tech company has invested heavily in blockchain over the last few years and has positioned itself as a leader in this new industry. As a result, its financials have turned sharply positive.
There's plenty more growth to come, too. According to MarketsandMarkets, the blockchain market is ready to explode from $1.2 billion in 2018 to $23 billion by 2023.
That's a 1,817% rise in five years. And this pick stands to capture a dominant share of that growth.
Before we go any further, let's make it clear that we're not talking about one of any number of companies that have used blockchain as a gimmick to generate hype for their brands.
The most notorious of those is Long Blockchain Corp. (OTCMKTS: LBCC), which changed its name from Long Island Iced Tea Corp. at the height of the crypto craze. It briefly enjoyed a huge rise in share price and promptly crashed back down to earth.
Our pick today, in contrast, has built a robust blockchain division.
It delivers valuable services to multiple industries around the world. Blockchain's lightning-fast ledger system can ensure food safety, streamline supply chains, track data on mobile phone networks, and even help national governments access technology more efficiently - to name just a few applications.
No wonder the blockchain market is about to surge in value.
On top of that, our pick today just got a top score from our Money Morning Stock VQScore™ system.
By at least one metric, this pick is set for a 140% gain.
In other words, this sleeping giant is about to wake up in a big way...
After More than a Century of Innovation, This Tech Giant Is Entering a New Growth Phase
[mmpazkzone name="in-story" network="9794" site="307044" id="137008" type="4"]
You know International Business Machines Corp. (NYSE: IBM) as the company that invented the floppy disk, the hard drive, and the ATM.
Not exactly cutting-edge technology anymore. So, there was plenty of reason to be wary of Big Blue's future prospects in the Information Age.
But IBM is still a tech giant with operations in 170 countries and nearly $80 billion in annual revenue.
It's also a pre-eminent research institution, generating more U.S. patents than any other business in each of the last 26 years. And IBM's executives made the decision to put serious resources into blockchain technology - to the tune of about 1,500 employees working on 400 blockchain projects.
As a result, the company has taken the lead in what is projected to be one of the fastest-growing markets of the next few years.

Click here to see all of our top-rated stocks, and you'll automatically get free updates on our top stocks, based on our proprietary rating system, the Money Morning Stock VQScore™.
And it's already paying dividends...
IBM Food Trust - a blockchain-based product designed to make food production and distribution safer, more sustainable, and more cost-efficient - has signed up 80 brands as customers. That includes giants such as Walmart Inc. (NYSE: WMT), Kroger Co. (NYSE: KR), Tyson Foods Inc. (NYSE: TSN), and Nestle S.A. (OTCMKTS: NSRGY).
Food supply is just the tip of the iceberg when it comes to the efficiencies blockchain can create.
Another lucrative area IBM is diving into is finance - specifically, mobile payments and global payments.
Mobile payments now account for $8 trillion in transactions every year, largely by people who don't have bank accounts. But security is always an issue, and blockchain has the advantage of encrypted transactions that are instantaneously copied across a whole network of nodes. Even if someone had the resources to hack a majority of those nodes - which is unlikely - they wouldn't be able to even attempt it without drawing a lot of attention to themselves.
IBM is also working on bringing that security to global payments, while eliminating the hassle and expense of moving money across international borders. Thanks to blockchain, you'll be able to send $1,000 to the UK and have it picked up in the local currency without the hefty price tag (currently around $80) that The Western Union Co. (NYSE: WU) would charge.
Watch Now: Serial entrepreneur Neil Patel reveals how to achieve the American Dream... for as little as $50. Click here...
Money Morning Defense and Tech Specialist Michael Robinson says IBM's global payments system has the potential to be a "major disruptor."
That's why he changed his mind about IBM. "IBM was a losing bet." But now, Michael says, "IBM has become, or will very soon become, nothing less than a market leader in blockchain technology."
And you don't want to be on the sidelines when those profits roll in.
Now Is the Time to Buy IBM
IBM stock has been on the downtrend for a while now - down 26% over the last five years. But the signs of a turnaround are mounting.
For starters, analysts have been underestimating the company with startling consistency, resulting in 18 consecutive earnings beats.
In 2018, IBM boosted net income by 106%, up to $11.9 billion.
Shareholders are resting easy as the company returned $4.4 billion to them in share repurchases last year, and another $5.7 billion in dividends, which the company raised for the 23rd straight year. IBM's 4.52% yield is almost four times the industry average.
On top of that, the company had a positive net change in cash of $5 billion, compared to a loss of $630 million in 2017.
And nearly every valuation metric suggests that the stock is undervalued. Its trailing price/earnings (P/E) ratio of 15.12 is just 62% of industry average. Its price-to-sales ratio is 54% of industry average. And its forward P/E ratio and price-to-cash flow ratio are both well under half of the industry average.
In fact, if IBM's forward P/E ratio were to come in line with the rest of the industry, it would translate to a 140% gain.
No wonder people are changing their minds about Big Blue. You'll want to get in now before the whole market catches on.
Follow Money Morning on Facebook and Twitter.
About the Author
Stephen Mack has been writing about economics and finance since 2011. He contributed material for the best-selling books Aftershock and The Aftershock Investor. He lives in Baltimore, Maryland.