The U.S. Federal Reserve said it could likely cut interest rates two more times this year. And that could mean 460% growth for one of our top penny stocks to watch this week.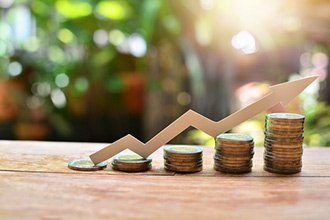 Fed Chair Jerome Powell recently indicated that the central bank may be leaning toward slashing interest rates thanks to the ongoing trade war with China.
It's a good scenario if you're a penny stock investor. Lowering interest rates will lead to money flooding the market, which can supercharge penny stocks by pushing them to higher highs (and lower lows).
But penny stock investing isn't for everyone. If you're looking for marketing-beating gains, this is just one way to achieve them. You have to know which penny stocks to watch, and this can be tricky…
Bonus:
Want to know how to find penny stocks with the most profit potential? Download our quick tutorial, 5 Steps to Penny Stock Trading Success – it's free! click here now.
So here are some basics about penny stocks. Then we'll show you our pick for the best penny stock to watch right now – our 460% winner.
Safely Investing in Penny Stocks
The currently accepted definition of a penny stock is anything trading under $5 per share. Beyond this, most of these companies have lower market caps, generally under $300 million.
What makes these stocks unique is their potential for significant gains with a small move in the share price. For example, if you have a stock trading at $5 per share and it goes up by $2, this represents a 40% gain. On the other hand, a stock that trades at $50 per share with a $2 price increase has only given you 4% gains.
Scams and fraud are of particular concern with penny stocks, but there are ways to keep your investment dollars safe.
First, stick to major exchanges such as the New York Stock Exchange (NYSE) and the Nasdaq. These have stricter reporting requirements and regulations that can combat false reporting and other scams.
You Have to See It to Believe It: Claim your stake in this 1,000x market phenomenon with just $50. Click here now…
Second, avoid investing in penny stocks based on random solicitations from strangers. These are rarely legitimate, aimed at creating enough hype around a stock for the scammers to earn some cash and then disappear.
If you want to invest in penny stocks, be prepared to do some research on the companies. Look for businesses that are growing their revenue and have some kind of catalyst for growth.
This research can be a great deal of work. That's why we use the Money Morning Stock VQScore™. It's a proprietary system that searches thousands of stocks to find the ones with the most breakout potential.
Our pick among the top penny stocks this week has a perfect VQScore of 4.75. That means the stock is a "Strong Buy" with the potential for massive gains.
And this affirms the analysts predicting 460% growth…
One of the Top Penny Stocks to Watch This Week