The price of silver went straight up since last week.
In fact, it just launched into a major breakout, surging to a new yearly high of $16.45 an ounce. And it's only getting started.
You see, it's often when an asset is nearly universally despised that it can begin a massive new bull market.
A cursory search for silver on Google Trends might sum it up. Unlike gold, almost no one seems the least bit interested in silver.
And if you look at the silver price action over the past year, it's been a roller coaster. Some investors are still disappointed from February's run-up and collapse, which is why they might be overlooking the metal now.
But I'm here to tell you it's different this time. There are a few key indicators that show silver's rally isn't a flash in the pan.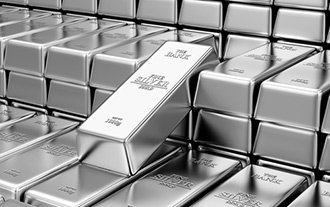 The first and most significant difference is that another metal - gold - has established a six-year breakout above $1,400. And, at least over time, silver follows gold.
The second difference is that silver is trading above its medium- and longer-term moving averages, which are now trending upward, suggesting this very recent strength could have legs.
That points to much more upside for the silver price.
The last time we saw these indicators, silver shot up to $50 an ounce...
Why the Price of Silver Has Been Overlooked
Here's a recent chart from Google Trends. It simply shows the worldwide level of interest in silver over time.
And as you can see, there's been no recent spike in interest.

And it's little wonder. The silver price is currently around $16, a level it was at 12 months ago, with a lot of seesaw action since.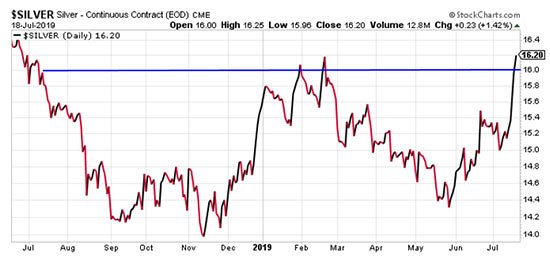 Despite the recent run-up, looking at a simple silver price chart shows the metal essentially moving up, then down, and repeat.
In fact, silver peaked at current levels earlier in the year, after what now appears to have been a "false start." In late February, silver ran up to $16.20.
If you look at a 10-year chart below, it's exponentially more depressing.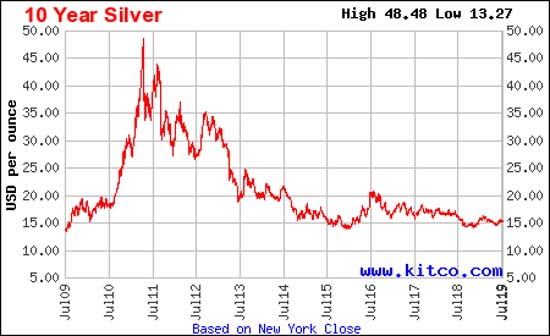 That's because the silver price is back where it was in September of 2009.
But there is good news too.
In late 2010 and early 2011, the price of silver went ballistic, peaking over $49 in April 2011.
You Have to See This to Believe It: America's favorite "shark" debuts the Angels & Entrepreneurs Summit. Watch now...
And we're about to see something similar happen.
To see why, let's look at the silver price through the lens of its technical action, fundamentals, and even gold's movement.
Silver Price Fundamentals Point to a Breakout
Silver's movement over the past seven weeks, up 14%, stands out for a few reasons.
The first, as I said earlier, is that gold has established a six-year breakout above $1,400. And, at least over time, silver follows gold.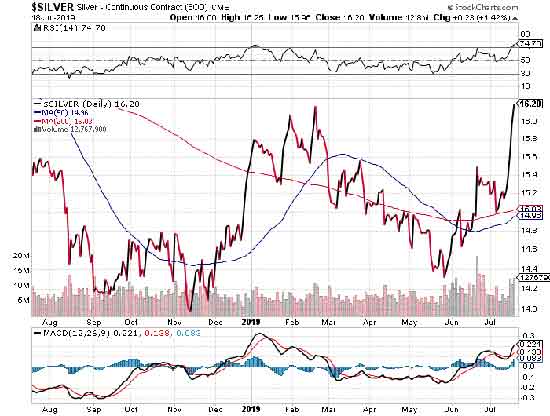 Although silver has reached its February high, this recent rally looks different. The 200-day moving average is now trending higher. Volume has exploded compared to the start of the year. And the relative strength index (RSI) and moving average convergence divergence (MACD) momentum indicators are both trending upwards, which was not the case in January and February. These help to confirm silver's motion upward and suggest it can go higher.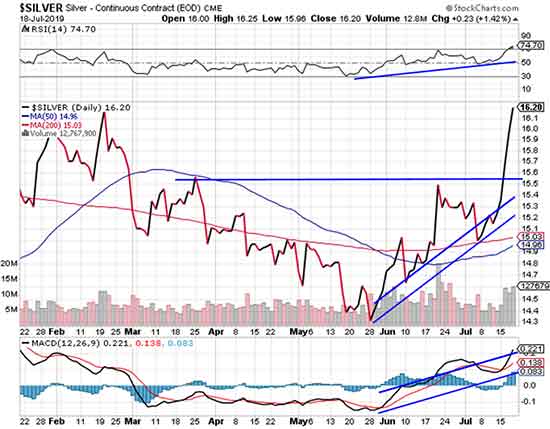 If we zoom in to a six-month chart, then we can see the price since late May has support from the RSI and MACD momentum indicators. Silver has also easily surpassed its previous March high. Last month, I suggested the first target was $15.50, which was easily taken out last week.
After such a dramatic rally, silver may be due for at least a small rest, which could mean a retreat to $15.50, or even $15. But the momentum indicators don't look too overbought yet.
Pictured below, long-term support appears to lie around the $15.75 - $16 range, going all the way back to mid-2016.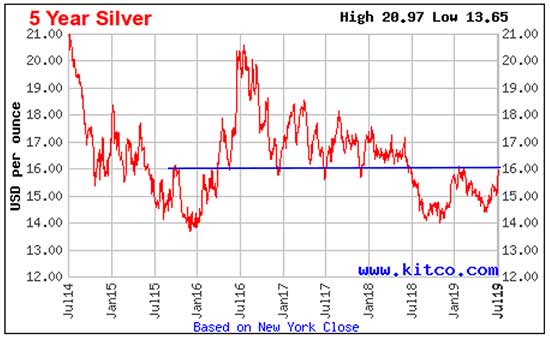 At this point, if silver holds $16, then it needs to decisively take out the February high of $16.20 as its next upside target and then maintain it.
And here's why it almost certainly will.
The Dollar Is Making Way for the Price of Silver to Hit New Highs
A look at the action in the U.S. dollar index is also pretty revealing, and there are several things to note here.
Clearly, the dollar has been trending lower since late May, when gold and silver bottomed. Since then, it has essentially remained below its 50-day moving average, which is bearish. However, it has formed an inverse head-and-shoulders pattern, which tends to be bullish.
See below: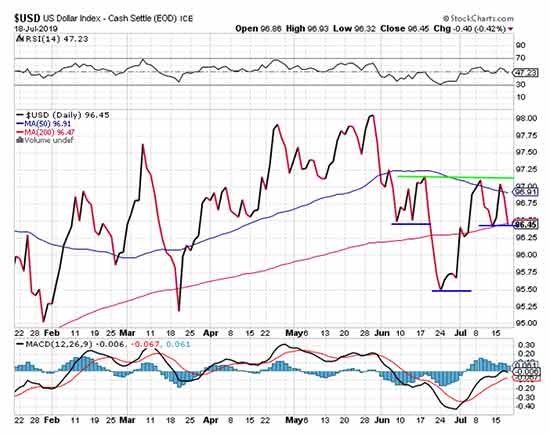 This is worth watching closely. Technically, the dollar looks like it could move higher based on the inverse head and shoulders. That would take a solid close above the green "neckline." But fundamentally, the dollar should weaken thanks to the pending July Fed meeting, when a rate cut appears to be a near certainty.
Looking at the gold-to-silver ratio is also pretty interesting.
Once again, it's too early to say, but we may have finally seen the peak in this ratio. As you can see in the below chart, since hitting a high of 93.44 earlier this month, the gold-to-silver ratio has rapidly fallen to 88.17.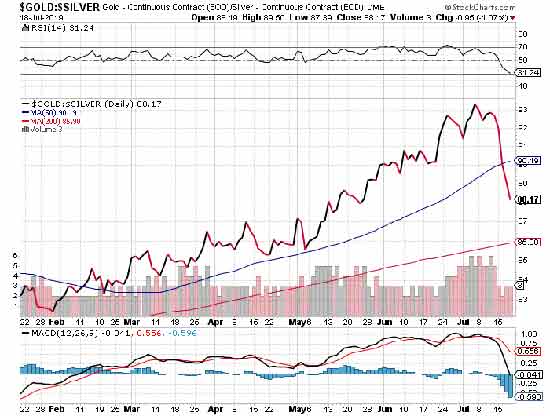 And here's another perspective, showing silver versus gold last Monday through Thursday.
The chart below shows that on Monday, silver burst higher as gold traded sideways. Then it jumped even higher as gold retreated on Tuesday. It then exploded along with gold on both Wednesday and Thursday.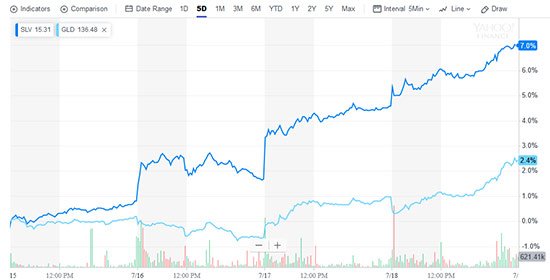 So the price of silver has quickly been playing catch-up to gold over the past two weeks. And with gold continuing strong in its own right, this looks very bullish for silver.
Now let's look at the recent performance of silver stocks.
The Price of Silver Vs. Silver Stocks
The most notable takeaway from the below chart is that the Global X Silver Miners ETF (NYSE: SIL) has had a bullish breakout above $27.50 after soaring off the $22 support level. It had also formed a double bottom since November. Also, note the outsized upside volume in early and late June, as well as in the last few days. Both the 50-day and 200-day moving averages have recently turned upwards, suggesting higher levels ahead.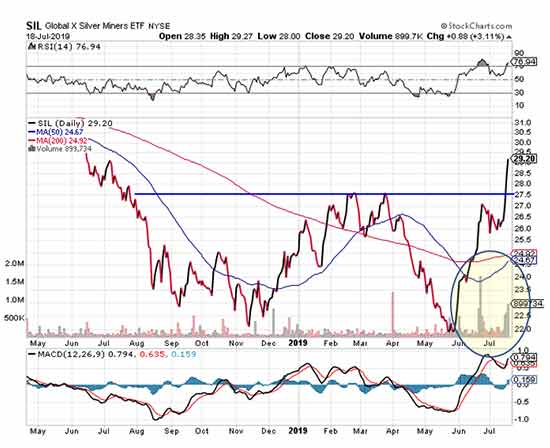 Momentum indicators are starting to look a bit overbought, but SIL could still run higher before resting or correcting.
Now, let's examine the silver-stocks-to-silver ratio.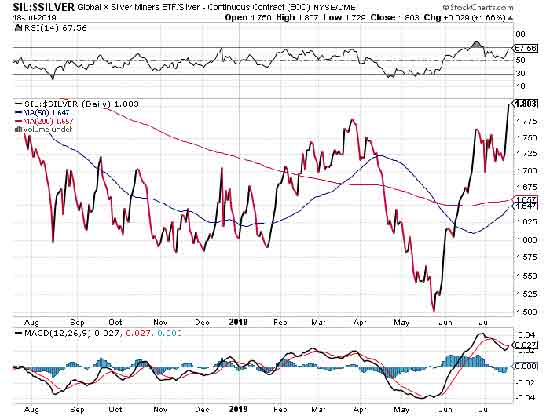 Silver stocks have rapidly outperformed silver itself since late May. There is some room for momentum to power higher, and the 50- and 200-day moving averages have also turned up. So look for the outperformance to continue, even if it's not immediately.
And if you're bullish on silver, here a three ways to maximize your profits...
[mmpazkzone name="in-story" network="9794" site="307044" id="137008" type="4"]
The SLV January 2021 calls with a strike price of $15 have continued to climb back dramatically and are now just 6.7% down since recommended. But they only expire in early 2021. These are a buy on silver weakness.
The 2x leveraged ProShares Ultra Silver ETF (NYSE: AGQ) were down 5.3% last month, and they are now up by 5.2%. It's an easy way to leverage silver prices, but buy on silver weakness.
Finally, the Global X Silver Miners ETF (NYSE: SIL) is now up a respectable 15.9%. SIL too is a buy. But again, look for weakness first.
While more and more signs are pointing to a veritable silver breakout, the most convincing signal will be a solid close above $16.20 for spot silver.
Meanwhile, with silver near four-month highs, the fundamental picture is bullish. Some significant silver miners and silver-producing nations are reporting lower output year over year.
On July 3, silver enjoyed its largest daily ETF inflow in a year of 5.55 million ounces, capping 5 days of gains, according to BMO Global Commodities Research. And on Monday, July 15, Commerzbank said this about silver ETFs: "Holdings were topped up by 267 tons last week, by a good 540 tons since the beginning of the month, and even by over 1,000 tons since the start of June, when the inflows began."
My next targets are for silver to hold $16, then make a run for $16.50. If momentum persists, we could see that in Q3. After that, there's little resistance to reach for $17 or even higher, perhaps in Q4.
Famous Angel Investor Shares His "1,000x Formula" for Finding Unicorn Startups
Neil Patel is one of the most successful angel investors on the planet.
Today, he's walking everyone through his "1,000x formula" for finding the most successful startup investments - the ones with unicorn potential.
With this formula at your disposal... investing in startups is about to get a whole lot easier. (In fact, you can act now with as little as $50.)