Even with stocks near all-time highs, the right penny stock can still skyrocket on the right news.
That's why we're back with the top penny stocks to watch this week.
You see, certain catalysts can deliver huge gains on stocks trading under $5 a share (the SEC's definition of a penny stock).
Just look at our top penny stocks from last week:
| | | |
| --- | --- | --- |
| Penny Stock | Current Share Price | Last Week's Gain |
| Guardion Health Sciences Inc. (NASDAQ: GHSI) | $1.62 | 62.63% |
| Novume Solutions Inc. (NASDAQ: REKR) | $3.03 | 51.50% |
| Tarena International Inc. (NASDAQ: TEDU) | $1.74 | 57.00% |
| Sharing Economy International Inc. (OTCMKTS: SEII) | $0.36 | 46.88% |
| Immunocellular Therapeutics Ltd. (OTCMKTS: IMUC) | $0.02 | 44.74% |
| Alexo Resource Corp. (NYSE: AXU) | $1.59 | 38.26% |
| Midatech Pharma Plc. (NASDAQ: MTP) | $1.86 | 29.38% |
| Endevour Silver Corp. (NYSE: EXK) | $2.36 | 27.56% |
You Have to See It to Believe It: Claim your stake in this 1,000x market phenomenon with just $50. Click here now...
It's not easy to identify the catalysts behind the top penny stocks - you have to keep a close eye on news and market fundamentals.
This might seem near impossible when you consider there are over 2,500 penny stocks trading on major exchanges right now.
To make it simpler, we use the Money Morning Stock VQScore™ system.
This proprietary system scours the markets for little-known stocks that have the potential for big gains. That's how we select our best penny stocks for each week.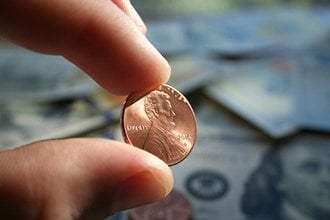 And this week, the VQScore revealed a potential 132% gainer.
That's right - this penny stock offers more than twice the profit potential of last week's top penny stock, Guardion Health Sciences Inc. (NASDAQ: GHSI).
So while last week's returns were strong, with a perfect VQScore of 4.75, our top penny stock to buy this week could more than double those returns.
It's drastically undervalued, trading at 2.53 times earnings, far below the industry average of 26.50.
So you know it has serious potential to pop that 132%...
Top Penny Stock to Buy This Week