Whether it's Virgin America or Virgin Atlantic, Richard Branson's startups have become iconic names.
Virgin Galactic will be no different. And that's exactly why investors are so eager for the Virgin Galactic IPO.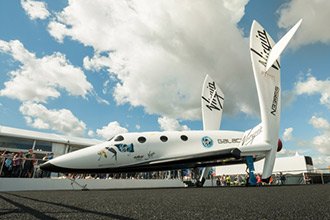 On June 9, Branson revealed that his 15-year-old space tourism startup was going public. Virgin Galactic's valuation is already up to $1.5 billion, and the sale of Virgin Galactic stock will send it even higher.
But whether you should own Virgin Galactic stock when it goes public is another question entirely.
While Branson's track record is impressive, the biggest profit opportunity for this startup might lie elsewhere...
Is Virgin Galactic Stock a Buy After the IPO?
Virgin Galactic has a pedigree of profitability.
Virgin Galactic parent company Virgin America Inc.'s 2018 revenue was $1.1 billion with a net income of $56.2 million.
Live Now: Robert Herjavec is helping Americans find new ways of investing to create generational wealth. Click here to watch...
And Virgin Galactic is on its way to matching its parent. Its revenue is forecast to shoot as high as $600 million by 2023. With 600 customers already paying over $80 million for the chance to spend 10 minutes in space, it's no wonder.
But there's a much bigger catalyst pushing Virgin Galactic stock to the moon. The Wall Street Journal reports that by 2030, the space economy will be worth $800 billion. Space tourism alone will hit $3 billion.
But Virgin Galactic isn't content with space tourism. In fact, it's already developed the technology to dominate the space market.
This startup has developed everything from unconventional launch systems to cheap rockets. It's even created satellites.
While Virgin Galactic hasn't given an official IPO date, it's going public in 2019. That means Virgin Galactic will be the first publicly traded space tourism company. But it most certainly will not be the last with stiff competition from SpaceX and Blue Origin.
That gives Virgin Galactic first mover advantage in the space IPO market. But that doesn't mean it's worth a buy. We won't know if it's a good investment until we know the IPO price and see the value it offers. Until then, we'll be following this startup as more information surrounding its IPO unfolds.
But as the Virgin Galactic IPO shows, the early investors are those who'll see the biggest profit.
Fortunately, you don't have to wait on IPOs any longer...
For a long time, investors couldn't buy into startups like Virgin Galactic. But that's no longer the case. In fact, you could buy $50 to $500 worth of startup shares that could create life-changing windfalls.
Sure, buying Virgin Galactic stock at the IPO could result in some solid gains. That was certainly the case with Dropbox Inc. (NASDAQ: DBX). IPO investors who bought Dropbox and sold at the right time saw peak gains of 51%. That's not too shabby.
But private investors who bought shares of Dropbox during its infancy could have seen profits of 336,000%. Those are the types of profits you could find by investing in the next Virgin Galactic well before its IPO.
Just imagine if you had invested $50 into Uber Technologies Inc. (NYSE: UBER) just a few years ago. By its May 2019 IPO, that $50 would have skyrocketed to $248,250.
Heck, if you had put $50 in Amazon back in 1997, you could have made a whopping $7 million by 2019.
This used to be an investment reserved for Wall Street's elite, but thanks to a law passed by Congress, just about anyone can get in.
Returns like those are examples of truly phenomenal successes. If you would like to see more about how people accomplished this, click here to learn more.
Follow Money Morning on Facebook and Twitter.
About the Author
Daniel Smoot is a Baltimore-based editor who helps everyday investors with stock recommendations and analysis. He regularly writes about initial public offerings, technology, and more. He earned a Bachelor's degree from Towson University.