Eighty percent of a stock's yearly moves happen as the market responds to earnings reports. And guess what? It's earnings season.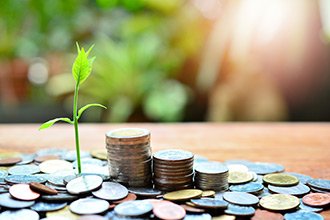 That means 390% growth for our top penny stock to buy today.
The best penny stocks have the benefit of a high return on a low share price. In fact, the SEC defines penny stocks as those selling for $5 or less. And the best penny stock right now may come close to quadrupling in share price.
Bonus:
Want to know how to find penny stocks with the most profit potential? Download our quick tutorial, 5 Steps to Penny Stock Trading Success – it's free! click here now.
Something similar happened with last week's top penny stock, Revolution Lighting Technologies Inc. (NASDAQ: RVLT). The catalyst for RVLT was news in mid-July that it had been given a listing extension by Nasdaq.
RVLT rose $0.17 per share on the news.
That might sound small, but it was a 64% climb in the stock price.
Then again, it is small compared to the 390% we're expecting from one of our top penny stocks this week.
Of course, the downside of penny stock investing is that bad penny stocks can lose big time. They're a volatile asset class, and investors should seriously assess their risk tolerance before diving in.
You should also do some thorough research.
We use our Money Morning Stock VQScore™ system to help with that. This proprietary system ranks stocks with high breakout potential, and all we have to do is select the ones trading under $5 to give you the best penny stocks.
And our top penny stock this week has a perfect 4.75 VQScore. That's the highest score possible, meaning that 390% opportunity isn't just talk.
So if you're willing to accept the risk associated with penny stock investing, we'll share our favorite penny stock with you.
You Have to See This to Believe It: America's favorite "shark" debuts the Angels & Entrepreneurs Summit. Watch now…
Our winner expects to benefit from a boom in the energy exploration industry.
In fact, just last year, natural gas consumption increased by 4.8%, the most rapid pace in eight years. The Energy Information Administration (EIA) projects that consumption could increase as much as 7% over the next few years.
And that clearly lies behind this stock's perfect 4.75 VQScore… It's also why analysts predict it will grow 390%.
Our Top Penny Stock to Buy Today