It's always great to find a stock tapped into a major growth industry like 5G technology, renewable energy, or industrial automation.
But if you can find one stock that's tapped into all three of those industries and pays you a nice dividend to boot, that's even better.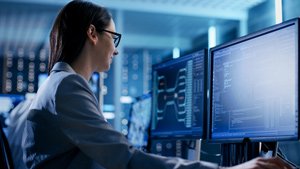 That's the case with our dividend stock today.
In fact, there are a whole slew of applications for its hardware and software for testing and measuring. Companies use these products to collect data efficiently, test prototypes, enable machine vision, and more.
Even if we just take these three industries that use its products – which is just scratching the surface – you'll get an idea of the profit potential:
The global 5G telecommunications market is expected to reach $277 billion by 2025, more than doubling in value every year along the way, according to a report acquired by ResearchAndMarkets.com.
The global solar energy market is expected to hit $422 billion by 2022, according to Allied Market Research. That's more than five times what it was in 2015.
Allied Market Research also projects the global factory automation to be worth $368 billion by 2025, up from $191 billion in 2017.
We're talking about three industries that are all growing exponentially and will be worth more than $1 trillion combined within the next few years.
And it's the dividend stock we're bringing you today that's making it all possible.
5G Is Coming: The Tech Breakthrough of the Century Could Rest on This $6 Stock – Get All the Details Here.
On top of that, this stock also just got a top score from our Money Morning Stock VQScore™ system.
Now, this stock did just pull back slightly after a recent earnings miss. But the market overreacted, and it missed how undervalued the stock was to begin with.
That opens up a nice short-term profit opportunity for investors who are ready to pounce.
Here's one of the best dividend stocks to buy today…
From a Garage to the Top of Its Industry, This Company's Rise Isn't Finished Yet
Join the conversation. Click here to jump to comments…
About the Author
Stephen Mack has been writing about economics and finance since 2011. He contributed material for the best-selling books Aftershock and The Aftershock Investor. He lives in Baltimore, Maryland.