Gold's been on quite a tear recently.
The "ultimate insurance" has grabbed the most headlines - and it's little wonder.
Since bottoming a year ago, gold is up by an impressive 20% and 11% year to date, hitting a six-year high near $1,420.
By comparison, silver is "only" up 12% over the last twelve months and just 6% this year.
But if you look at silver's action in the last month, a different picture emerges.
Since early July, gold has been essentially flat while silver has powered ahead by almost 10%.
Silver normally outpaces gold, leveraging it by two to one, but sometimes with a delay.
The junior metal is now surging upward, once again outpacing gold's gains and leading its more famous cousin higher.
That's likely to continue for several reasons. And two silver companies are poised to soar in the process...
[mmpazkzone name="in-story" network="9794" site="307044" id="137008" type="4"]
When This Market Gets Hot, It Scorches
Silver's annual demand at current prices is less than 10% that of gold's. In short, this market really knows how to heat up.
Here are a few reasons silver is set to soar once again...
YOUR tax dollars bailed out Fannie Mae and Freddie Mac over a decade ago... This government initiative could put it back in your pocket.
Silver producers have been getting hit pretty hard over the past three years. All of the 10 largest silver-producing nations have seen silver output drop. This isn't rocket science, just basic math. Multi-year low prices, below cost for many, decimates production.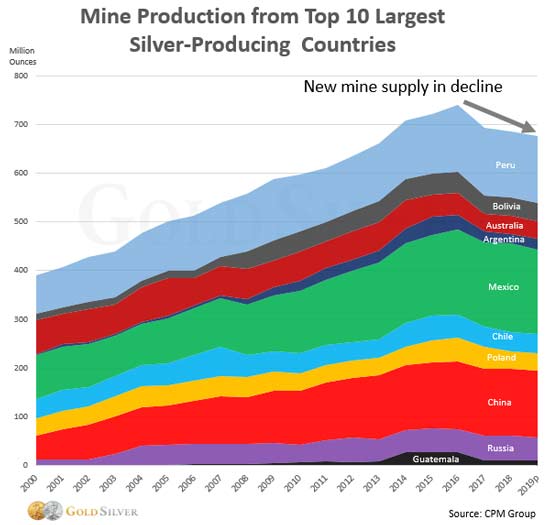 Meanwhile, demand from both fabrication and investment has been soaring.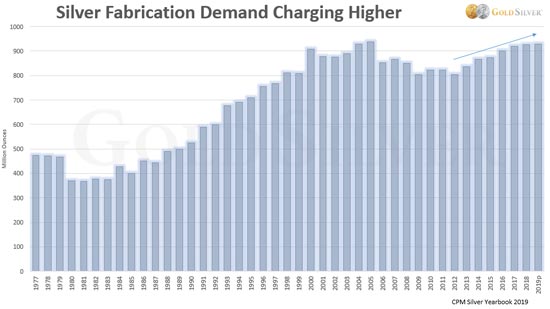 Over the past six straight years, silver used in the manufacture of things has been up, and forecasts for this year also point higher. Thanks to silver being indispensable to the solar panel and electronics sectors, I expect that trend to continue.
IMPORTANT: More than 10 years after the housing collapse, Americans have the potential to regain their stake of a $72 billion pool.
People forget that silver is a monetary metal, much like gold. And with essentially all central banks in easing mode, it's not hard to see why gold's come roaring back.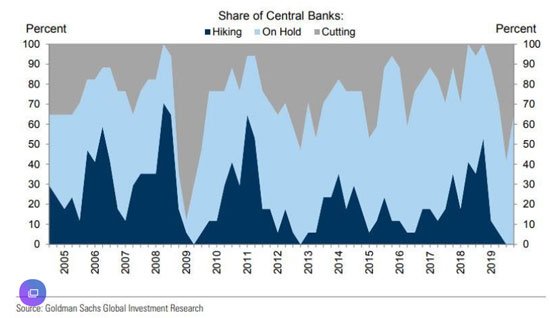 And usually, where gold goes, silver goes further. Here's how the two compare lately: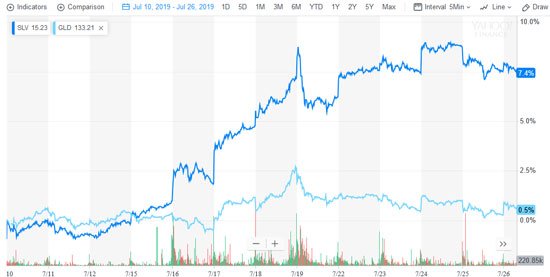 It's clear as day that silver has dramatically outpaced gold since early July.
The interesting thing is how much money has been flowing into silver ETFs.
On July 3, silver enjoyed its largest daily ETF inflow in a year of 5.55 million ounces, capping five days of gains, according to BMO Global Commodities Research.
And in mid-July, Commerzbank made this statement in regards to silver ETFs: "Holdings were topped up by 267 tonnes last week, by a good 540 tonnes since the beginning of the month, and even by over 1,000 tonnes since the start of June when the inflows began."
And then just last week, Bloomberg reported that "holdings in silver-backed ETFs surged 818.8 tonnes on Tuesday, the biggest daily increase in data compiled by Bloomberg since 2006."
Critical News: The richest nations on earth have invested over $500 billion into the largest tech trend in history. Shareholders are expecting its brand of wealth to last generations. Click here to claim your stake.
Commodities brokerage SP Angel commented, "Investors added to silver ETFs for a 12th straight day, bringing total known assets to a record 18,315 tonnes."
I believe this is the "smart money," likely consisting of larger institutional investors and fund managers. And odds are, the sellers were smaller speculators who had finally reached their "puke point."
It's very impressive to consider that at the end of May, silver traded below $14.40, and by July 30, it was $2 higher and trading at $16.50.
A Very Attainable Silver Price
Back in December, when I made my silver price prediction for 2019, I presented the following chart: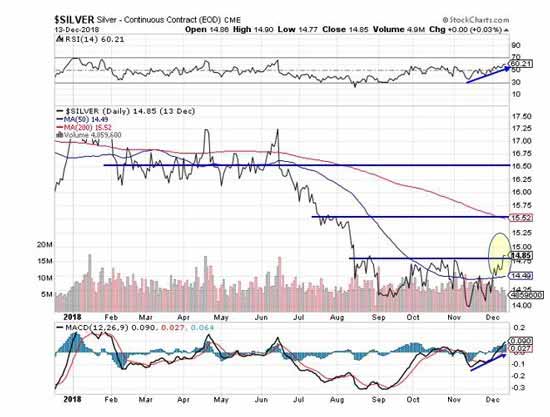 At the time, silver was trading at $14.85. I predicted that it could reach $16.50 in Q1. Okay, okay, so it didn't happen until July, but it was only a few months later. Then I went on to say that silver could reach as high as $18.50 in H2.
Here's why I think that could still happen.
At 86 (meaning it takes 86 ounces of silver to buy one ounce of gold), the gold-to-silver ratio is still near a historical extreme. Going back to the late '80s, the average gold-to-silver ratio was 67.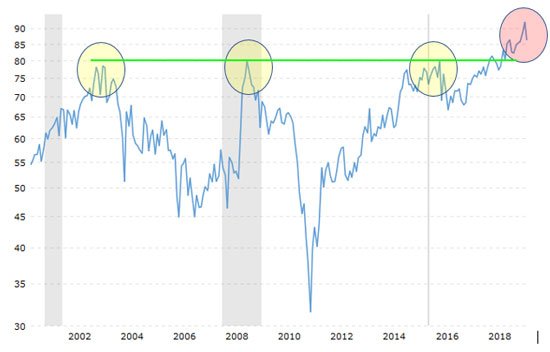 Since the secular precious metals bull market began in 2001, this ratio peaked three times in 2003, 2008, and 2016.
It approached 80 each time and then reversed. Following the 2003 ratio decline, silver gained 61% over the next nine months. The 2008 ratio reversion boosted silver by a whopping 128% in just 11 months. And the 2016 ratio correction helped silver rally 28% in as little as four months.
You Don't Have to Choose between profits and stability; you can have both. This 5G stock is offering what can be IPO-like gains and blue-chip peace of mind. Click here for more details...
I believe the ratio has peaked recently just above 93, and has already dropped back to 86. If gold were to stay near its current $1,430 and the ratio dropped to 80, that would mean silver would sit at $17.85.
If gold can rise to $1,500, a level that I think is very attainable this year, then a gold-to-silver ratio of 80 would imply $18.75 silver.
Undervalued Silver Miners Could Mean Big Profits
Silver stocks do a great job of leveraging silver prices. That's because as silver rises or falls, silver miners' profits follow along, amplifying those moves.
In February of last year, I told you about SilverCrest Metals Inc. (CVE: SIL). At the time, shares were trading around 2.35 Canadian dollars. They've just touched CA$7.15 for a better than 300% return since then, while silver's been essentially flat.
After such a hefty gain, I suggest you look at these two undervalued silver miners.
This $6 Stock could make you billions. But when the tech moguls find it, you may never see these shares at this price again... Click here to act before it potentially takes off.
MAG Silver Corp. (NYSE: MAG) owns 44% of the flagship Juanicipio Property in Mexico along with Fresnillo Plc., which owns the remaining 56%. Juanicipio is somewhat of a freak of nature, with exceptionally high-grade ore at a whopping 600 grams of silver/ton, plus gold, lead, and zinc.
MAG Silver is a $1 billion silver company with no debt and $129 million in cash, and shares are widely owned by institutional investors and fund managers. The silver/gold Juanicipio project should see completed construction by late 2020. Total annual average production is expected to be 11.7 million ounces of silver, 43,500 ounces of gold, and an initial mine life of 12 years.
Beyond this, considerable upside potential exists through further exploration in the license area. Positive results from exploration could allow for a scaling up of operations in the future. In fact, Juanicipio's after-tax internal rate of return is forecast at a robust 44%.
Overall, MAG Silver is still about a year and a half from production, which means there's at least medium risk until it has a couple of producing quarters under its belt.
But MAG Silver has some further potential upside tied to the fortunes of my next recommendation...
Defiance Silver Corp. (CVE: DEF) is much higher up on the risk scale. Defiance Silver is a CA$38 million market cap silver explorer and developer. Its flagship is the San Acacio Deposit located in the historic Zacatecas Silver District, home to over 700 million ounces of historical silver production.
The company acquired MAG Silver's (same as above) Zacatecas silver district holdings back in June 2018 for 5 million shares. Defiance Silver got full interest in the Lagartos Project, including the San Acacio Silver Deposit and a significant database.
San Acacio is 16.9 million inferred ounces of silver, grading 182.42 grams/metric ton. The acquisition by Defiance Silver included concessions adjacent to their existing land holdings, helping to consolidate and enhance San Acacio to district-scale potential.
Historic production at San Acacio is estimated at 750,000 to 1 million metric tons with grades exceeding 1 kg/metric ton silver. Larger silver miners with neighboring operations could become interested as Defiance continues to explore and advance San Acacio.
Defiance also has the Tepal gold-copper project, boasting over 4 million gold equivalent ounces. Great infrastructure access, plus a 2017 preliminary economic assessment, values Tepal at $169 million after tax, with an internal rate of return at 24% and a 2.3 year payback period, with a 10-year estimated mine life and low all-in cash costs.
Silver has finally awakened. and conditions are ripe for a lot more upside. With its considerable leverage and still being historically cheaper than gold, now's a great time to allocate to the silver space.
We're Letting You In on a Secret Cannabis Investing Strategy
Less than a year ago, Wall Street opened up Cannabis Lots - but that's not something that anyone will be knocking down your door to tell you anytime soon.
That's why we've partnered with one of the top experts in this field to spill the details on this investing phenomenon - he's even been called America's No. 1 Pattern Trader!
Using his patented system, his data has shown more than 10 times larger payouts than ordinary stock trading.
To get this sort of profit power for yourself, check this presentation out now.