On July 24, Coca-Cola heir and Greek billionaire Alkiviades David launched the Swissx Bank of Cannabis. It's the first cannabis-focused bank, cryptocurrency, and hemp exchange in the world.
We're already bullish on the cannabis industry, but an initiative like this one is the kind of catalyst we love to see for four big reasons...
First, CNN says most banks won't work with cannabis firms because it's still illegal in the United States (and most of the world). Swissx Bank of Cannabis helps businesses deal with this by creating a stable SWX Coin cryptocurrency backed by $750 million worth of hemp seeds to store and exchange their money.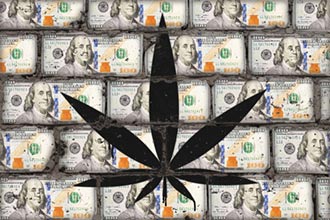 Second, the Swissx Bank of Cannabis offers secondary transactions. These secondary transactions are provided through its Swissx Hemp Exchange, including futures trading on cannabis and hemp prices. This is yet another trade American exchanges won't make. Cannabis businesses can use futures to hedge against cannabis and hemp price swings. This helps them remain profitable even if cannabis prices decrease.
Third, the fact that someone as big as Alkiviades David is pouring so much money into such an ambitious cannabis-focused company is interesting within itself. He not only has the know-how for operating in the cannabis industry but also has more than enough money, success, connections, and a stockpile of hemp seeds to build this venture up.
Both his family-run company, Leventis-David Group - which owns the Hellenic Coca-Cola shipping and bottling company - and his CBD manufacturing company, Swissx, put his net worth at $1.9 billion.
THREE STOCKS: Any one of these cannabis companies could potentially deliver a 1,000% windfall. Click here to learn more...
Finally, the Swissx Bank of Cannabis could become a real authority in the industry with its list of big-name backers. In fact, Globe News Wire says the CEO of non-profit Global Lifestyle Group and former Prime Minister of St. Kitts-Nevis, Denzil Douglas, is a member of Swissx Bank of Cannabis' board.
Even Mike Tyson, Dave Navarro, Scott Disick, Donatella Versace, Jonathon Rhys Meyers, Tommy Chong, Lil Wayne, Chief Keef, and Snoop Dogg have endorsed the bank.
And these reasons make this new bank, exchange, and cryptocurrency another potential boon for cannabis stocks. And just one more reason The National Institute for Cannabis Investors says 2019 is turning into the biggest year yet for cannabis stocks.
In fact, by 2025, Statista says the legal cannabis market alone will be worth $24.1 billion in the United States. Meanwhile, CBD stocks are expected to grow over 3,623% over the next three years according to the Brightfield Group.
This potential growth and the Swissx Bank of Cannabis is exactly why you need to consider cannabis stocks now. In fact, it's why we've been telling you for years that we're all in on the cannabis industry.
And it's only the beginning. America's green gold rush is just getting started, and you can claim your stake right now.
At this very moment, big investment firms and members of the Fortune 500 are building enormous war chests.
They're preparing to push billions upon billions of dollars into the cannabis market - and they could strike at any moment. So right here - right now - you have a once-in-a-lifetime opportunity to beat them to the punch and stake your claim
Follow Money Morning on Facebook and Twitter.
About the Author
Daniel Smoot is a Baltimore-based editor who helps everyday investors with stock recommendations and analysis. He regularly writes about initial public offerings, technology, and more. He earned a Bachelor's degree from Towson University.