So, here we are: The first Fed rate cut in 10 years is in the history books, and the markets have completely changed... right?
Nope. The markets instead took everyone for a roller coaster ride down - selling the news.
But there are still a TON of opportunities out there worth your hard-earned capital, and I'm going to show you the best moves to make when the markets open tomorrow.
We just have to re-focus our attention on the earnings calendar - it's the key to making money this week...
[mmpazkzone name="in-story" network="9794" site="307044" id="137008" type="4"]
Earnings Season Is Far from Over
As a matter of fact, earnings reporting is just hitting its stride. This week will see more than 1,500 earnings reports in total. Fifty-four companies from the S&P 500 will report, but this is the time of the season when sectors start to shine.
Watch Now: Robert Herjavec is helping everyday Americans discover the next Airbnb. Click here now...
The table below displays the top sectors for earnings announcements, each with their own story.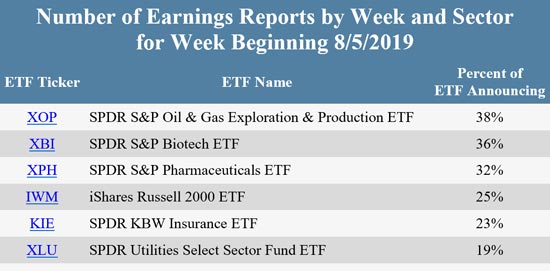 Here Are Three Stocks to Buy Today...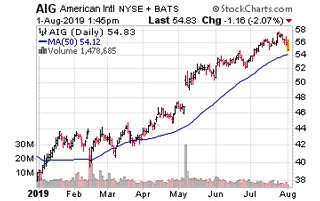 American International Group Inc. (NYSE: AIG) - that's right, this name best known for... the 2008-2009 financial crisis... is making a technical comeback, and this week's earnings look to give the shares a boost.
The insurance sector has been one of the most favored by my Best in Breed ranking model, and AIG is among the top 10% in terms of projected performance.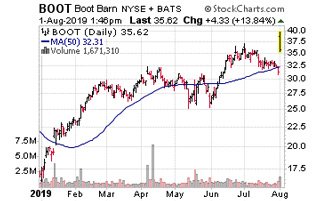 Boot Barn Holdings Inc. (NYSE: BOOT) has been setting things on fire all year. I was asked about the stock during my monthly Roundtable Conference Call with my Night Trader subscribers. I mentioned we should see some weakness as earnings approached. That was the case, but earnings have set the shares on fire again. Grab this stock as a longer-term hold.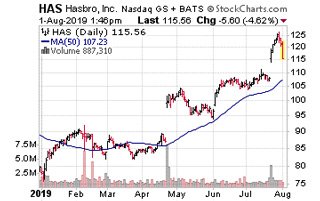 Hasbro Inc. (NASDAQ: HAS) - This iconic toymaker is so much more now, and the Street is finally catching on to what it's been missing.
Hasbro shares are seeing a lot of "sell the news" action after their last report, which puts this stock firmly in the "buy the dip" column. Even at $117, this is a strong buy.
... And Here Are Three to Avoid or (Even Better) Short...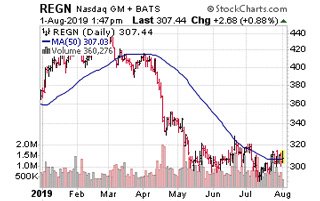 Regeneron Pharmaceuticals Inc. (NASDAQ: REGN) - The pharma universe has been struggling for the last year, and things aren't going to get much better.
Regeneron has a mixed history with its earnings, but the overall trend and rankings from my Best in Breed model targets another 5% to 10% decline coming for the stock. Capitalize on that and turn it into a double-digit profit or better with near-the-money put options with Sept. 20, 2019, expirations.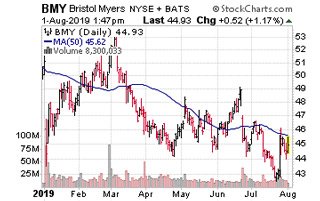 Bristol-Myers Squibbb Co. (NYSE: BMY) is another short-side candidate.
Shares of Bristol Myers got a nice boost after their earnings results. Honestly, I'm still scratching my head about the lift, but that's irrelevant: The data and trends are still forecasting lower prices. Near-the-money puts expiring in September or even December are the way to play this company's swan dive.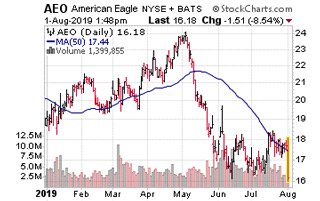 And then we have American Eagle Outfitters Inc. (NYSE: AEO). The company is trying, but it ain't working. This retail clothier has been trying to reboot its apparel lines with mixed reviews and response. We've been short the name in the Night Trader model portfolio (to the tune of 50% gains now), and the outlook hasn't improved much as we head into the all-important "back to school" season. Near-the-money puts expiring between September and November will probably put some cash in your pocket as this company struggles through what should be a gangbusters season.
Anyone Can Become an Angel Investor with as Little as $50
Angel investing used to be off limits to the average American... but Shark Tank's Robert Herjavec said it best during this live broadcast: "The walls have finally come down. You no longer have to be rich, famous, or powerful to become an angel investor!"
Congress has now made it possible for you to take advantage of these life-changing deals.
By becoming an angel investor, you can be right there - one of the first to invest in the next Steve Jobs, the next Bill Gates, or the next Elon Musk.
And because you're there at the beginning, the upside is infinitely greater.
For so long, regular folks have been locked out... but not anymore. Click here for details...
Follow Money Morning on Facebook and Twitter.
About the Author
Chris Johnson is a highly regarded equity and options analyst who has spent much of his nearly 30-year market career designing and interpreting complex models to help investment firms transform millions of data points into impressive gains for clients.
At heart Chris is a quant - like the "rocket scientists" of investing - with a specialty in applying advanced mathematics like stochastic calculus, linear algebra, differential equations, and statistics to Wall Street's data-rich environment.
He began building his proprietary models in 1998, analyzing about 2,000 records per day. Today, that database, which Chris designed and coded from scratch, analyzes a staggering 700,000 records per day. It's the secret behind his track record.
Chris holds degrees in finance, statistics, and accounting. He worked as a licensed broker for 11 years before taking on the role of Director of Quantitative Analysis at a big-name equity and options research firm for eight years. He recently served as Director of Research of a Cleveland-based investment firm responsible for hundreds of millions in AUM. He is also the Founder/CIO of ETF Advisory Research Partners since 2007, noted for its groundbreaking work in Behavioral Valuation systems. Their research is widely read by leaders in the RIA business.
Chris is ranked in the top 99.3% of financial bloggers and top 98.6% of overall experts by TipRanks, the track record registry of financial analysts dating back to January 2009.
He is a frequent commentator on financial markets for CNBC, Fox, Bloomberg TV, and CBS Radio and has been featured in Barron's, USA Today, Newsweek, and The Wall Street Journal, and numerous books.
Today, Chris is the editor of Night Trader and Penny Hawk. He also contributes to Money Morning as the Quant Analysis Specialist.