Most stocks are not good investments.
It's a sad truth, but market-beating stocks are a small minority. That's why many investors are up day and night trying to find the next winner.
Fortunately, that doesn't have to be you. Our research revealed one of the best stocks to buy now expects 177.9% earnings growth on the year.
Here's the sad truth: Most professionals can't help you find those market-beating stocks.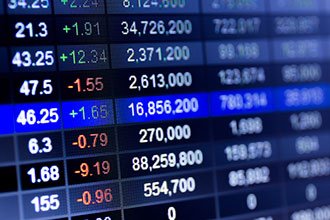 You think Wall Street bankers and analysts are somehow "better" at beating the market? What if we told you that 81% of active fund managers don't beat their benchmarks?
You see, one study showed that 70% of global stocks can't even beat one-month Treasury bills in returns.
So in that case – and in most cases – risk-free cash is a better option.
Think about that for a second.
Bank of America Merrill Lynch did a study in 2018 showing that if we took the "FAANG" stocks – Facebook Inc. (NASDAQ: FB), Amazon.com Inc. (NASDAQ: AMZN), Apple Inc. (NASDAQ: AAPL), Netflix Inc. (NASDAQ: NFLX), and Alphabet Inc. (NASDAQ: GOOGL) – out of the S&P 500, the index's return would have been negative for the first half of the year.
In 2019 so far, more than 20% of the S&P 500's returns have come from just four top stocks – Microsoft Corp. (NASDAQ: MSFT), Apple, Amazon, and Facebook.
Live Now: Robert Herjavec is helping Americans find new ways of investing to create generational wealth. Click here to watch…
That's why pundits might tell you to just buy an index fund and passively ride the growth of these superstars.
But is that really your best bet?
Right now, it looks like your options are: a) cash, b) mediocre gains from an index fund, or c) try to wade through the thousands of publicly traded companies on your own to find the few winning plays.
If none of this sounds like a winning formula, here's the great news.
We've developed a powerful algorithm that analyzes the best stocks on the market and ranks them based on their breakout potential.
We'll even say we found one of the best stocks on the market without breaking a sweat.
With 713.60% surprise earnings this quarter, this has been one of the best stocks to buy for almost a year now.
And just like the FAANGs, it's plugged into one of the biggest economic catalysts in the United States: the Internet.
And the stock is primed to keep leading indexes higher. Here's how we know…
How We Found the Best Stock to Buy Now