Not all cannabis stocks are winners. However, our pick for the top marijuana stock to watch right now has the potential for a major breakout.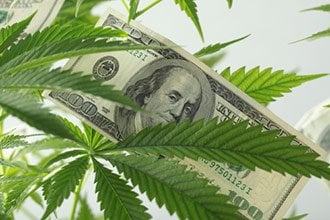 Cannabis is unquestionably one of the hottest sectors in the economy right now. But that also means many companies are trying to cash in and make a quick buck based on hype alone. This is a recipe for losing money if you're an investor.
Instead, investing in companies with the right business model, leadership, and growth prospects will help you grow your money as this sector catches fire.
That could happen in a hurry when the U.S. cannabis prohibition ends.
And our top cannabis stock to watch right now could be one of the biggest winners when it does...
This Marijuana Stock to Watch Is Poised for a Breakout
Our pot stock to watch is Neptune Wellness Solutions Inc. (NASDAQ: NEPT).
This is a Quebec-based health and wellness company that focuses on the development and sale of various science-based products.
THREE STATES just legalized marijuana, and these three stocks could potentially see a 1,000% boost. Click here to learn more...
Money Morning first took a look at Neptune at the end of 2018, and it was much different than the picture we see today. Last year, we saw a company that had been in business for 20 years that was still having trouble turning a profit.
The company specializes in nutraceutical oils derived from marine animals, such as krill and cod. Extraction is its core competency, but it provides this service primarily as a third-party, with few branded products of its own.
In the past five years, the company has only raised about $76.6 million in proceeds from inventory sales, the sale of intellectual property, and equity offerings. It hasn't had many profitable years, but it began to re-focus its efforts in 2018.
Neptune started focusing its extraction expertise on the cannabis sector last year, producing extracts made from marijuana. While it was off to a slow start, the growth so far this year has been anything but tortoise-like.
Since the beginning of 2019, the NEPT share price has soared 123%, and it has gone up nearly 40% since July 9.
These are fantastic gains for what has become a hot weed stock, but they are only the beginning. Now that the company has announced a major leadership shake-up and some new deals with big players in the marijuana industry, this stock is positioned to skyrocket in the coming months.
Here's how high it could go...