To start the month of August, the market had its worst day of 2019 - the Dow Jones Industrial Average lost more than 700 points.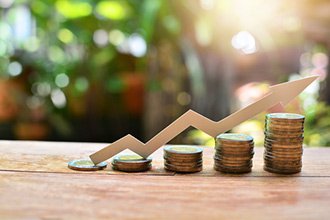 But that's actually an opportunity for you.
In fact, an up-and-down market like this is nothing but good news for the top penny stocks to buy in August.
On Saturday, August 3, President Donald Trump announced that the United States will place an additional 10% tariff on $300 billion worth of Chinese imports.
Bonus:
Want to know how to find penny stocks with the most profit potential? Download our quick tutorial, 5 Steps to Penny Stock Trading Success – it's free! click here now.
Once the markets opened on Monday, the Dow Jones Industrial Average lost 767 points, and the S&P 500 closed nearly 3% down.
Wall Street has flocked to the selling floor amid these growing trade tensions. But, oddly enough, global uncertainty has made a number of penny stocks more attractive.
And here's why.
The CBOE Volatility Index has jumped nearly 75% since last week.
You see, penny stocks thrive in volatile market conditions - their low share prices can create huge percentage gains on small movements. Volatility doesn't mean stocks are only going down, it means prices are expected to move rapidly. And that's perfect for penny stock investors.
When an event like the trade war spikes volatility on Wall Street, there's no better time to seek the penny stock that's to generate triple-digit returns.
Watch Now: Robert Herjavec is helping everyday Americans discover the next Airbnb. Click here now...
But with over 2,000 penny stocks trading on the nation's major exchanges, it can be incredibly difficult to determine which penny stocks belong in your portfolio.
That's why we use the Money Morning Stock VQScore™ system to identify the best penny stocks to buy right now.
The VQScore analyzes thousands of stocks and ranks the ones with the highest potential to breakout.
And this month, the VQScore found three top penny stocks that could pop as the trade war sends volatility higher.
Two of them have the absolute highest VQScore possible.
Our best penny stock, in fact, could jump over 240%...
Top Penny Stocks to Buy in August, No. 3: ASE Technology
Our first penny stock to buy, ASE Technology Holding Co. Ltd. (NYSE: ASX), is an international semiconductor manufacturer based in Taiwan.
Reports show that growing demand for both self-driving cars and global 5G network coverage is going to push semiconductor demand through the roof.
According to market research firm Technavio, the global semiconductor market is expected to grow 9% over the next four years.
And ASE is perfectly positioned to profit from this demand. Between 2015 and 2018, the firm grew its profits by 37%.
This kind of profit growth is a sign ASE is capitalizing on the explosive demand for semiconductors and will keep raking it in over the next few years.
ASX currently trades for $4.33, but analysts say it could jump as much as 27% in the short term as semiconductor demand continues to grow. Analysts also give it a long-term earnings growth projection as high as 34.2%.
That's a respectable jump. But you can bank even more gains with this next penny stock, a 76% gainer with a perfect 4.9 VQScore...
Top Penny Stocks to Buy in August, No. 2: On Deck Capital
On Deck Capital Inc. (NYSE: ONDK) is a global online lending company that caters to small businesses.
With offices across the United States, Australia, and Canada, On Deck Capital has a wide reach that allows it to assist businesses on a global scale.
The firm has grown its net revenue by 178% in the last five years, from $73 million to $203 million. And they've gone from netting -$19 million to annual profits of $25 million in that same time.
This is thanks to a series of lucrative partnerships with some of the world's largest companies.
In June 2016, On Deck Capital entered into a partnership with JPMorgan Chase Co. to provide an online lending platform to JPMorgan's small business customers.
In addition to JPMorgan, On Deck Capital has a refer relationship for its lending services with the nation's largest personal accounting and finance firms. These include Quickbooks, Wave Accounting, and CreditKarma.
This broad exposure to the small business and personal finance market has paid dividends for both On Deck Capital and its shareholders. The company's revenue has jumped double-digits every year since 2013, and sales are up 56% since 2015.
And On Deck Capital doesn't show any signs of slowing down.
Analysts say the ONDK stock price of $3.40 is on track to jump up to $6 as the company continues to grow its exposure and global footprint. That's 76% growth.
More than a 70% gain is nothing to laugh at. But this stock's perfect 4.9 VQScore means that projection could be too modest.
At the very least, it affirms the projection, telling us the company's financials are solid and that there is growing demand for its shares.
But our top penny stock to buy in August puts a 70% return to shame.
This next pick is an energy firm on the verge of tapping into an industry boom in the near future.
In fact, the company's stock could gain over 240%.
And it's only trading for $4.39...