The National Institute for Cannabis Investors says 2019 is turning out to be the biggest year yet for CBD firms. And that's precisely why we're bringing our readers the top CBD stocks to buy today.
The CBD industry's market value is already $591 million since the U.S. Congress legalized it in December 2018. But its valuation is forecast to skyrocket even higher, to $22 billion, over the next three years, according to the Brightfield Group.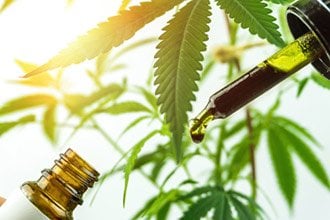 That's an absolutely insane growth rate of 3,623%...
This level of growth is exactly why you need to invest in the top CBD stocks to buy. And it's yet another reason why we're so bullish on the marijuana industry.
But before we show you our top CBD stock to buy today, here's why the cannabis sector is shooting through the stratosphere.
What's Driving CBD Stocks?
One of the biggest growth catalysts for the top CBD stocks to buy today was the December 2018 Farm Bill. The bill legalized the cultivation and selling of industrial hemp for the development of CBD.
This is extremely important for the industry. Hemp is the easiest plant to extract CBD oil from. And since CBD was legalized in the United States, it's become a mainstream hit across the country.
And the No. 1 reason it's grown so rapidly over the last few months is the fact that it offers incredible health benefits. In fact, Healthline says CBD oil can treat stress, pain, anxiety, and inflammation by targeting the pain receptors in our bodies.
Because of this, major retail companies and online stores are stocking up on CBD oils, edibles, beverages, lotions, gummies, and even salad dressings.
Companies like Amazon.com Inc. (NASDAQ: AMZN) and Walgreens Boots Alliance Inc. (NYSE: WBA) have already begun to capitalize on CBD oil's potential. And whether you're shopping online or in person, you can find a variety of CBD products just about anywhere.
And that's precisely why we're showing you our top CBD stocks to buy today.
The Top CBD Stocks to Buy Today, No. 3: Cronos Group Inc.
Our third best CBD stock to buy today is Cronos Group Inc. (NASDAQ: CRON).
Founded in 2013, this is a Toronto-based cannabis company that is considered one of the best up-and-coming cannabis firms in the industry.
In September 2018, Cronos expanded its cannabis operations to include CBD. During this expansion, it partnered with Ginkgo Bioworks through a $100 million deal to develop a series of unique CBD strains and products.
This deal ultimately pushed Cronos' CBD production in a different creative direction. Rather than cultivating hemp and other cannabis products to create CBD, Cronos and Ginkgo now use cannabinoid DNA sequences and yeast strains to create CBD oil through fermentation.
As a result, the company now produces high-quality, pure CBD oils on an industrial scale without the need to expand farming operations.
But this is just one reason that Cronos is one of the top CBD stocks to buy today.
THREE STOCKS: Any one of these cannabis companies could potentially deliver a 1,000% windfall. Click here to learn more...
In March 2019, one of the world's leading tobacco firms, Altria Group Inc. (NYSE: MO), invested $1.8 billion into Cronos.
This wave of cash enabled Cronos to acquire other firms and increase CBD production all around.
And even if you haven't purchased shares of Cronos stock, you still have plenty of time to see a potential windfall of profits.
In Q1 2019, the company's year-over-year growth was 120%. And it currently has a massive $5.5 billion market cap in anticipation for its huge CBD rollout in Canada.
But Cronos isn't stopping there. It also plans to penetrate the U.S. market by the end of this year.
Cronos Group stock currently trades for $13.44 per share. But with a target price of $19.46, it could increase by as much as 45%.
The Top CBD Stocks to Buy Today, No. 2: Canopy Growth Corp.
Our second best CBD stock to buy today is Canopy Growth Corp. (NYSE: CGC).
Founded in 2013, this is yet another Canada-based (Ontario) cannabis company. And it's one of the biggest cannabis companies in the world. But don't worry; you haven't missed your chance to profit from this CBD firm.
Just use Microsoft Corp. (NASDAQ: MSFT) and Amazon as an example. Between 1997 and 2000, Amazon's stock soared 3,240%. Between 2000 and 2009, Microsoft stock rocketed 700%.
This could also be the case with Canopy Growth. If this major cannabis firm continues to innovate and stay ahead of the industry, it could have a long future of growth ahead.
Plus, it helps that major celebrities see Canopy Growth's potential as well. Its high-profile partners include Snoop Dogg, Seth Rogen, and Martha Stewart.
And Canopy Growth continues to make moves to secure its position. In April 2019, Canopy Growth bought Acreage Holdings Inc. (OTCMKTS: ACRGF), the biggest marijuana operator in the United States.
This acquisition provided Canopy Growth operations in over nine states and a dominant position in the growing CBD market.
The company's market cap is already $14 billion operating in nine states. But once cannabis is legalized across the United States, it could soar even higher.
This top CBD stock currently trades for $32.11. And with a target price range of $78, it could explode 143%.
But our top CBD stock to buy today could shoot even higher to 188.2%. Check it out below.