On Sunday (August 11), Goldman Sachs Group Inc. (NYSE: GS) released a report suggesting the U.S.-China trade war will lead to a global recession.
And believe it or not, this is great news for our top penny stocks to watch this week.
In fact, it could mean a 158% gain for our very best penny stock.
Bonus:
Want to know how to find penny stocks with the most profit potential? Download our quick tutorial, 5 Steps to Penny Stock Trading Success – it's free! click here now.
According to Goldman's chief economist, Jan Hatzius, "fears that a trade war will trigger a recession are growing" in the wake of increased trade tensions.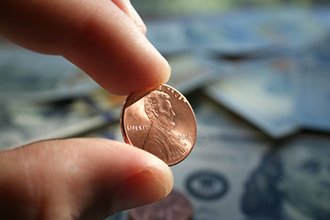 That means Wall Street is on edge, and investors are throwing their money at safe havens, bonds, and cash.
But you need to remember that these conditions open a world of opportunity for stock pickers with a higher risk (and reward) tolerance.
Sign up for SMS so you never miss special events, exclusive offers, and weekly bonus trades.
If you know which stocks are going to survive - even thrive - in a downturn, there's no need for panic. Even under the worst economic conditions, there are still winners. You just have to look.
And you'll find that, despite signals of recession, some penny stocks are still ready to jump immediately. The only difference is there isn't a mad rush to buy. And that's just fine.
It was the same situation with last week's top penny stock, Arcadia Biosciences Inc. (NASDAQ: RKDA). The market was panicking, and it still shot up 123%.
You Have to See This to Believe It: America's favorite "Shark" debuts the Angels & Entrepreneurs Summit. Watch now...
But that wasn't even the only penny stock with strong gains.
Here you'll find several other top penny stocks that broke out last week. But read on, and we'll show you our 158% gainer...
Penny Stock
Current Share Price
Last Week's Gain
Arcadia Biosciences Inc. (NASDAQ: RKDA)
$4.65
123.27%
Corindus Vascular Robotics Inc. (NYSE: CVRS)
$4.28
79.08%
Yangtze River Port and Logistics Ltd.

(NASDAQ: YRIV)

$0.49
66.12%
Owens & Minor Inc. (NYSE: OMI)
$2.70
61.81%
T2 Biosystems Inc. (NASDAQ: TTOO)
$0.94
54.22%
TherapeuticsMD Inc. (NASDAQ: TXMD)
$3.10
53.47%
Paratek Pharmaceuticals Inc. (NASDAQ: PRTK)
$4.65
50.97%
iFresh Inc. (NASDAQ: IFMK)
$1.66
46.07%
CannTrust Holdings Inc. (NYSE: CTST)
$4.40
39.65%
Iconix Brand Group Inc. (NASDAQ: ICON)
$1.10
37.50%
Now, here's this week's pick - a penny stock that stands to benefit from a growing industry this year...
It's a natural gas company raking in huge returns from a rise in demand. And now it's about to surge 158% higher.
But you can pick it up right now for only $2.71...