The trade war is the biggest story affecting Wall Street this year, but investors may not realize just how tied their wealth is to it.
Today, we'll show you five ways the trade war affects your money and what you can do to protect it.
Last Monday (August 5), President Donald Trump announced the United States would impose an additional 10% tariff on $300 billion of Chinese goods by Sept. 1.
That's the latest in a year-long flurry of trade blows between the United States and China. But it's not the last.
In fact, what happens next might gravely affect your portfolio.
President Trump's announcement was made quickly after China devalued its currency past 7 yuan per U.S. dollar - and the Dow Jones Industrial Average responded by closing 767 points in the red.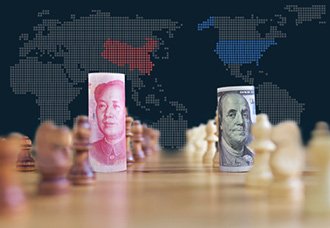 That was the Dow's biggest loss of the year so far. The thing to remember, though, is that it could get much worse.
And as the trade war ramps up, protecting your portfolio starts with acknowledging the larger, global economic picture.
To help you stay one step ahead, these are the five biggest ways the trade war is impacting your portfolio.
Some of these might be familiar to you, or they might give you good reason to adjust your strategy.
But watch out - that last one is a doozy...
Trade War Impacts, No. 5: Global Market Indexes
In the wake of the White House's announcement, global markets pulled back as traders hit the selling floor in search of a safe haven for their assets.
The pan-European STOXX 600 tumbled 1.9% - a six-week low.
Meanwhile, the S&P 500 dropped nearly 3% last Monday, while the Dow Jones Industrial Average had its record-low performance of 2019.
You Don't Have to Choose between profits and stability; you can have both. This 5G stock is offering what can be IPO-like gains and blue-chip peace of mind. Click here for more details...
In addition, U.S. Treasury bond yields fell as investors started pouring money into government-backed bonds for safety from market turmoil.
And things were even worse for Asian markets. Japanese index benchmarks fell over 2%, while Korea's KOSPI index fell 2.2%.
These index numbers show the trade war has impacted market sentiment around the globe.
But more importantly, when American, European, and Asian indexes are all down at the same time as the U.S. bond market, you know trouble is brewing. It's almost like there are no safe havens.
And this has a lot to do with an unresolved back-and-forth between American and Chinese officials...
Trade War Impacts, No. 4: Potential Escalation
According to President Trump, the latest round of tariffs is a response to China's seeming inability to agree to American trade proposals.
But it turns out China, on the other hand, might be intentionally protracting the trade war. In a speech made earlier this year, President Xi Jinping famously alluded to the "Long March" in reference to China's economic outlook.
The Long March of the 1930s was a year-long retreat by China's Red Army from the Nationalist Party. It was a period of austerity for the Red Army as Mao Zedong gradually recruited for his movement and rose to power.
President Xi Jinping's mention of the Long March essentially means, regarding the trade war, that the country is in it for the long haul.
This is something largely ignored by the western media, according to Money Morning Chief Investment Strategist Keith Fitz-Gerald. He points to a difference in foundational ethics between the East and West.
"China's negotiating tactics," he says, "often include endless delays and tactical changes intended to see the other side - in this case, the United States - give up or capitulate because our negotiators are simply worn down or too tired to object."
Time has only made this disagreement on terms more obvious. Shortly after the White House's tariff announcement, President Trump said he believes President Xi Jinping "wants to make a deal, but frankly, he's not moving fast enough."
In a later statement, Trump suggested he was open to raising tariffs beyond the 25% levy the white house has placed on $250 billion of imports from China.
That would put immense pressure on the world's second-largest economy. But it doesn't look like it will bring China to the bargaining table anytime soon.
In fact, China has found a way to stand its ground without even saying a word...
Trade War Impacts, No. 3: Currency Manipulation
Last Monday (August 5), the People's Bank of China allowed the nation's currency to weaken, driving it to its lowest rate of exchange with the U.S. dollar in nearly a decade.
And since then, the exchange rate has remained beyond the dangerous and "psychologically important" 7-1 yuan-to-dollar ratio.
By driving down the Chinese renminbi, the government made its goods cheaper to buy in other countries, undercutting both the impact of tariffs and China's global competitors.
In the face of aggressive fiscal moves by China, the U.S. Treasury responded by labeling China a global currency manipulator, the first time it's done so since 1994.
But that only scratches the surface of China's suspected foul play. The United States has also blacklisted a major Chinese company in cahoots with Beijing.
And here's how this could affect your holdings through the trade war...
Trade War Impacts, No. 2: Commercial Bans
Back in 2018, the U.S. Department of Justice warned the Senate Intelligence Committee that technology from China's Huawei Technologies Co. Ltd. was a national security threat.
Following that, several government and commercial entities including Alphabet Inc. (NASDAQ: GOOGL), Facebook Inc. (NASDAQ: FB), Microsoft Corp. (NASDAQ: MSFT), Qualcomm Inc. (NASDAQ: QCOM), and Intel Corp. (NASDAQ: INTC) have broken ties with Huawei in one way or another.
President Trump later delivered an executive order placing Huawei on the U.S. "entity list," which would require American companies to have a license before working with Huawei.
Huawei has argued that American tech companies need its help to stay current - in the 5G rollout, for example - though analysts are split on the matter.
At the other end of the trade war, China has banned American produce and livestock.
Chinese businesses were instructed by the government to stop purchasing American farm goods - a move that could have severe consequences for the American agricultural industry.
So, with both sides of the trade war digging in, it's not clear when the conflict may come to an end.
Because it's on a global scale, with so many moving parts, market sentiment is increasingly negative. And as a result, there have been several indications of a recession in the near future.
But here's the trade war escalation no one's talking about that could make matters a lot worse...
[mmpazkzone name="in-story" network="9794" site="307044" id="137008" type="4"]
The Next Level of Trade War - and What You Can Do
This is the unspoken question on Wall Street's mind right now: Is the trade war escalating into a game of chicken?
Beyond U.S. tariff threats and China's passive devaluation of the yuan, the countries could begin manipulating each other through bond purchases.
In the same way China can negotiate simply by releasing control of its currency, the United States also has a manipulative tactic at its disposal.
The question is whether it's worth using. And by the look of things, as the trade war is prolonged, we're getting closer to that point.
As inflation increases in China, casting ripples around the globe, the United States could respond by buying large amounts of Chinese government bonds.
This would force China's currency to rise in value no matter what the Chinese government does.
But in response, China could then buy U.S. Treasury bonds, forcing up the value of the dollar. This move could hurt the American export industry, as a higher dollar makes goods more expensive to buy.
Whatever the response - with a stalemate in negotiation and a lack of trust between corporate entities, it's certain that the U.S.-China trade war is here to stay.
This will raise global uncertainty in the markets for the long term.
But there's a way to hedge your bets and keep your portfolio protected. In fact, this industry is trade-war-proof...
Silicon Valley Venture Capitalist Proclaims the Advent of the "4th Industrial Revolution"
This leading authority in tech startups has been behind some of the biggest IPO breakouts in history.
He was behind the scenes of Intel, Bitcoin, Twitter, Lyft, and much more...
And now he's found the "breakthrough of the century" - a tech advancement that could mint the world's first trillionaire.
There's still time for you to lock in a ground-floor opportunity before this $6 stock takes off.
Click here to read the full story...