For the first time ever, the S&P 500 passed 3,000 points in mid-July, and the Dow Jones Industrial Average hit an all-time high on July 15.
But U.S. stocks posted their worst day of the year only a month later, on Aug. 14. The Dow lost 800 points, the S&P 500 lost 3%, and now, signs are pointing to the next stock market crash.
We know of at least three stock market crisis signals you should watch right now. And we're going to share those with you today.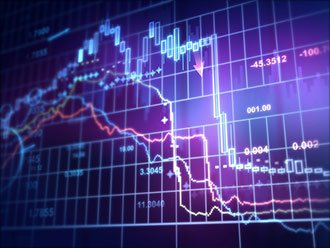 Now that the market is showing how volatile it can be, a stock market crisis is a real concern.
But the good news is that there are ways to protect your investment dollars and even make some money on the heels of a stock market crash if you are prepared.
YOU KNOW IT IN YOUR GUT: Look at how things are going. Financial turmoil is coming just around the corner, maybe just a few months away. Click here…
So here's the first warning sign. We'll run through these, then show you how to protect your investment dollars – and even make some money – on the heels of a stock market crash if you are prepared…
Next Stock Market Crash Indicators, No. 3: Inverted Yield Curve
A probability model to measure the likelihood of a recession was created by the New York Federal Reserve. In July, that figure shot up to its highest level since 2009.
It registered at 32.9% in June, a 4% increase over May. The New York Fed is understandably alarmed about this latest jump.
Since 1960, whenever that figure has passed 30%, a recession has followed shortly after.
These projections are based largely on the yield curve, which is the difference between the three-month and 10-year treasury bond yields.
When long-term yields drop below short-term ones, the Fed views this a warning signal of a stock market crash.
There has been a flattened and inverted yield curve before every financial crisis in the last 60 years. And for the first time since 2007, it's happening again.
This is a signal that investors are seeing the economy as increasingly weak. Because of this, they are favoring long-term bonds over short-term ones.
And this isn't happening in just the United States. Short-term yields are dropping across the globe, which is a troubling sign that a worldwide economic crisis could be on the horizon.
What is happening between the United States and China is even more concerning.
Next Stock Market Crash Indicators, No. 2: Economic Slowdown in China
In mid-July, China's economic numbers revealed it was experiencing sluggish output. This is cause for alarm, considering it's the world's second largest economy, which could cause ripples on a global scale.
The country's gross domestic product has dropped nearly 0.5% over the past quarter, which represents the lowest GDP figure for China in over 27 years.
China says that a big reason for this drop is the current trade war with the United States. So far, there have been $250 billion in tariffs imposed on Chinese goods, and there is the threat of an additional $325 billion, which could start on Sept 1. China has imposed $110 billion in tariffs on U.S. goods.
On Aug. 5, China devalued its currency by setting the lowest daily reference rate for the yuan since last December. By doing this, the country is retaliating against the tariffs, as the weaker currency helps its manufacturers offset the costs of those penalties.
Back in May, the global chief investment officer of Guggenheim Partners, Scot Minerd, said these ongoing trade tensions have the ability to cause a stock market crash if there isn't an agreement reached.
This seems like a prophetic statement, considering what happened with the markets this week.
Going even further, Minerd speculated that the markets could even reach new lows this fall if the two countries don't settle their differences.
But there's one more stock market crash signal that might be even more pivotal…