Bloomberg's New Energy Outlook says clean energy investments will be worth $10 trillion by 2050.
In fact, both wind and solar energy costs are now lower than coal costs in the United States.
That's giving one of the best renewable energy stocks to buy now a major catalyst to push share prices even higher.
You see, as technology advances, renewable energy gets even better. And cheaper. For example, we now have more efficient batteries with greater power storage which will only continue to advance and make renewable energy even more useful.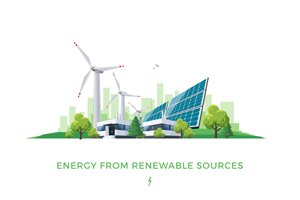 That's exactly why we're bullish on some of the best renewable energy stocks to buy now. Especially right before they completely skyrocket.
The renewable energy sector is a bull market in the making.
Because of this, we're giving you five renewable energy stocks to buy now to benefit from clean energy's insane growth potential.
Why Should You Invest in Clean Energy?
One of the renewable energy stocks we've talked about before is NextEra Energy Inc. (NYSE: NEE). According to a study by NextEra, we could have 50% renewable electricity within 11 years.
NextEra will be a major player making that happen.
That's because NextEra has been a massive name in the electrical industry since 1925, with over 5 million customers.
In fact, it's become the biggest wind and solar energy generator in the world. And the S&P Global Ratings gives NextEra a best-in-class rank for the firm's environmental, social, and governance evaluation.
So, once renewable energy stocks really take off, NextEra stands to be one of the top contenders on the market.
And it's just a matter of time until it is. According to Bloomberg's New Energy Outlook, wind, solar, and battery investments are going to be worth $10 trillion by 2050.
Plus, NEO also revealed that for over two-thirds of the world, wind and solar have become the cheapest energy options of additional power. That's on top of the fact that they say coal's contribution to global energy will drop from 37% to just 12% by 2050 as well.
Critical News: The richest nations on earth have invested over $500 billion into the largest tech trend in history. Shareholders are expecting its brand of wealth to last generations. Click here to claim your stake.
Within the decade, NEO lead analyst Matthias Kimmel says the materials needed to generate renewable energy will decrease in cost. In fact, solar photovoltaic modules, wind turbines, and lithium-ion batters are predicted to go down 28%, 14%, and 18%, respectively, each time their installations around the world double.
That'll certainly impact the amount of global energy generated from gas and coal. And lower production costs for solar power will exponentially increase demand for manufacturers.
And the rapid advancements in solar power systems will increase efficiency and further push down costs while driving up demand as well.
In fact, our Resource Specialist, Peter Krauth, recommended NextEra Energy back in April. Since then, its shares have grown 15.5% and are currently trading at $218.83.
But if you want even better upside, we've got four of the best renewable energy stocks to buy now.
The 4 Best Renewable Energy Stocks to Buy Now
[mmpazkzone name="in-story" network="9794" site="307044" id="137008" type="4"]
Vivint Solar Inc. (NYSE: VSLR) is a renewable energy company that installs and owns solar systems used in residences, commercial establishments, and businesses nationwide. We when first talked about Vivint, its stock was slightly over $4. Now, it's trading at $7.91 per share. That's a 97.8% increase.
But don't worry; you haven't missed out on Vivint stock. In fact, many analysts are bullish on its continued growth.
And in April 2019, Money Morning rated JinkoSolar Holding Co. Ltd. (NYSE: JKS) as a top renewable energy stock. Our proprietary Money Morning Stock VQScore™ even gave it a score of 3.9. That makes it a buy. But if it goes up to a score of 4, you'll absolutely want this stock in your portfolio.
Jinko is a Chinese company and the No. 3 global producer of solar wafers and photovoltaic cells. So, its VQScore combined with this company's sheer size and its fantastic 8.2 price/earnings (P/E) ratio in comparison to the industry average of 15 still make this an excellent renewable energy stock to own.
Another renewable energy stock is Sunrun Inc. (NASDAQ: RUN). Sunrun produces the Sunrun Boxbright - a battery with solar storage that enables consumers to make saving energy much easier through the firm's proprietary software. And with aging power grids, Brightbox could be a huge help.
For consumers who can't afford a solar power system or don't want to pay all the costs immediately, Sunrun leases out its products as well. And it's been doing so for over two decades. So, leasing could be a popular option among consumers.
Our last renewable energy stock is SolarEdge Technologies Inc. (NASDAQ: SEDG). SolarEdge has an extremely solid balance sheet. And its stock has climbed enough in 2019 that its P/E ratio is 27 while its forward P/E is a reasonable 17.
SolarEdge creates solar equipment that helps make solar panels more efficient. Plus, it also has advanced inverters, battery storage, and platforms for "smart" monitoring. The company's systems are installed throughout 130 nations across five continents.
Beyond that, the company has a nice return on equity of 19% with profit margins of 11.2% and a manageable debt of $59 million.
Since Peter Krauth recommended SolarEdge in April 2019, its shares have grown 122.6% to $84.04.
But as the renewable energy sector continues to grow, SolarEdge is poised to trend higher along with it.
Silicon Valley Venture Capitalist Proclaims the Advent of the "Fourth Industrial Revolution"
This leading authority in tech startups has been behind some of the biggest IPO breakouts in history.
He was behind the scenes of Intel, Bitcoin, Twitter, Lyft, and much more...
And now he's found the "breakthrough of the century" - a tech advancement that could mint the world's first trillionaire.
There's still time for you to lock in a ground-floor opportunity before this $6 stock takes off.
Click here to read the full story...