The American semiconductor sector just won't be able to grow until the trade war between the United States and China ends. At least, that's the conventional wisdom. But the conventional wisdom is wrong.
We're showing you three chip stocks that are plugged into one of the biggest tech catalysts we've seen.
In fact, there's a 152% growth opportunity for one of our best chip stocks.
You see, the rollout of 5G technology will "enable more than $12 trillion in global economic output" by 2035, according to The Hill. And our stock is plugged directly into that windfall.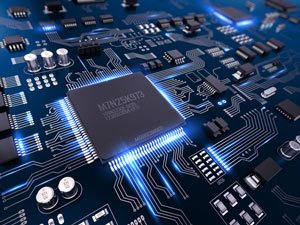 Of course, fears surrounding the trade war are not unfounded. Chip companies like Broadcom Inc. (NASDAQ: AVGO) and Micron Technology Inc. (NASDAQ: MU) get 50% of their revenue from China, according to Market Realist.
And on the supply side, companies like Qualcomm Inc. (NASDAQ: QCOM) and Intel Corp. (NASDAQ: INTC) have lines of production in China - these are gradually obstructed by tariff increases.
But the losses in China are still nothing compared to the growth coming from the worldwide semiconductor industry of the future.
This Under-the-Radar Tech Stock could mint trillionaires - yes, trillionaires - with its game-changing 5G network. Just click here to learn more.
Even the best semiconductor stocks might have been on a roller coaster ride this year, but investing in this industry is about much more than buying rumors.
More precisely, this is about the future of chip stocks, not a temporary dent in their profits.
5G is still poised to double gains for American semiconductor stocks.
And here's why.
Why 5G Will Boost Chip Stocks
5G promises to move huge amounts of data between devices, at 100 times the speed of its predecessors.
It's the fifth generation of wireless communication, and it's the most disruptive.
That's because it's not only going to enhance the experience of wireless communication; it's also going to open the door to a new world of technology when paired with driverless cars and newer, smarter, AI-powered healthcare equipment.
5G operates at such high frequencies, however, that it requires more repeaters and base stations to carry the signal. That means more infrastructure is required to roll it out.
And that's where the semiconductors go.
Trade war or not, there will be no shortage of demand here. Top chip-makers will be sought out by global telecom giants like Ericsson (NASDAQ: ERIC), Sprint Corp. (NASDAQ: S), Verizon Communications Inc. (NASDAQ: VZ), AT&T Inc. (NASDAQ: T), and others to assist with their 5G rollout.
Verizon, for example, has already started its 5G network in cities like Chicago, Minneapolis, Atlanta, Detroit, Indianapolis, and Washington, D.C. And it keeps growing.
But in addition to new infrastructure, chips will be needed to power the growing pool of 5G-connected devices - not just phones and computers, but wearables, cars, home assistants, and much more.
So 5G isn't just an emerging sector - it's actually something that's going to permeate every sector of society.
That's why these three chip stocks are poised to break out with the shift toward 5G.
There's already plenty of hype around the first two. But our last stock has room to grow 152% within the year.
This first one is poised for 33% growth - not huge like our best chip stock, but not something you want to pass up...
Best Chip Stocks, No. 3: Skyworks Solutions Inc.
One of the biggest reasons to buy Skyworks Solutions Inc. (NASDAQ: SWKS) is that it serves Apple Inc. (NASDAQ: AAPL).
In the first quarter of 2019, Skyworks reported that it generates 73% of its revenue from the mobile market. It was also reported that 47% of that revenue came from Apple.
That's because SKWKS has chips in more than 80% of Apple iPhones. It also means a large portion of this company's success hinges on Apple's success.
So it's a good thing Apple's not slowing down.
In fact, Apple has a promising future in the expanding world of IoT (Internet of Things) devices.
CEO Tim Cook is quoted saying healthcare will be Apple's "greatest contribution to mankind." And part of this will no doubt be the expansion of an IoT for medical purposes. More than just heartrate monitors and step counters, a medical IoT will consist of insulin pumps and pacemakers connected to the cloud through Bluetooth or Wi-Fi.
As Apple's IoT expands, more devices will require chips from Skyworks. And that's why this stock is poised for a 33% jump to $100 from its current $75.45.
By 2020, SWKS expects total revenue of $4.06 billion, up 20% from $3.38 billion this year.
Last year, the company took in net profits of $214 million. So the baseline is healthy on SWKS stock.
But Apple is also a client of our next company - and this stock expects to add 64%. Not bad for being our No. 2 best chip stock to buy...
Best Chip Stocks, No. 2: Qualcomm Inc.
Qualcomm Inc. (NASDAQ: QCOM) is one of the most prominent chip makers in America.
This company has been around since 1985, but since the early 2000s, it's been researching and developing products related to the IoT. The most noteworthy of these is Qualcomm Snapdragon, a chip suite predominantly used in Apple and Android phones.
QCOM ran into some trouble with the Federal Trade Commission in 2018, when it was accused of being a monopoly and abusing its market power through unfair licensing practices.
Apple Inc. (NASDAQ: AAPL) was among the customers complaining. The controversy sent Qualcomm stock down to $49.52, a 46% drop from its six-month high of $72.03. But Apple and Qualcomm arrived at an agreement on April 1, 2019, and the stock immediately shot up to a five-year high of $86.13.
Now that 5G is really catching steam, Qualcomm is ready to climb even higher.
QCOM stock trades at $70.73 right now, but analysts say it could skyrocket to $115 within a year - that's 64% growth.
But that's still a modest gain compared to our best chip stock right now.
Our top chip stock has a 152% growth projection, and it has a perfect 4.9 Money Morning Stock VQScore™ to back it up.
A high VQScore tells us its price is ready to jump at any minute. Here's our 152% gainer...
Best Chip Stocks, No. 1
[mmpazkzone name="in-story" network="9794" site="307044" id="137008" type="4"]Vishay Intertechnology Inc. (NASDAQ: VSH) is a worldwide semiconductor manufacturer selling shares at only $15.98 a pop.
This company was founded as a small startup in 1962, but it's made a number of acquisitions since then and grown into one of the largest electronics equipment manufacturers in the world.
Unlike our other two chip stocks, this one focuses on electrical conservation in electronic devices.
Vishay offers a line of metal oxide semiconductor field effect transistors (MOSFETs) for this purpose.
The MOSFET market is expected to see growth of 8.12% between 2018 and 2025. This will be thanks to growing demand for improved efficiency of electronics devices.
And a 4.9 VQScore means Vishay is well positioned to benefit from this growth.
The stock's price/earnings (P/E) ratio is 7.83, which is the lowest of its peers and not even half the average for the industry.
For instance, Micron and Qualcomm both have P/E ratios higher than 20. And with an industry average P/E of 19.74, VSH is severely undervalued.
In fact, with its current P/E, VSH has room to grow to $40.27 if the semiconductor sector takes off as projected.
And with that 152% upside, Vishay Intertechnology is the most promising bang for your buck as semiconductors start to pop.
Silicon Valley Venture Capitalist Proclaims the Advent of the "Fourth Industrial Revolution"
This leading authority in tech startups has been behind some of the biggest IPO breakouts in history.
He was behind the scenes of Intel, Bitcoin, Twitter, Lyft, and much more...
And now he's found the "breakthrough of the century" - a tech advancement that could mint the world's first trillionaire.
There's still time for you to lock in a ground-floor opportunity before this $6 stock takes off.
Click here to read the full story...
Follow Money Morning on Facebook and Twitter.
About the Author
Mike Stenger, Associate Editor for Money Morning at Money Map Press, graduated from the Perdue School of Business at Salisbury University. He has combined his degree in Economics with an interest in emerging technologies by finding where tech and finance overlap. Today, he studies the cybersecurity sector, AI, streaming, and the Cloud.