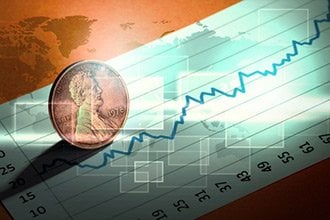 August has been a wild month for stocks, but that's the perfect fuel for the best penny stocks to buy in August 2019.
First, the Dow Jones Industrial Average dropped over 700 points from the latest tariff news - making it the worst day for the market this year.
Then, within the first week of August, the Chicago Board Options Exchange Volatility Index skyrocketed 75% as investors scrambled to unload stocks.
And while Wall Street was panicking, we knew it could be a massive opportunity for penny stock investors.
Bonus:
Want to know how to find penny stocks with the most profit potential? Download our quick tutorial, "5 Steps to Penny Stock Trading Success" – it's free! Click here now.
You see, penny stocks can create big returns on small share price moves. With markets moving up and down so much it's a prime opportunity to capture triple-digit gains from penny stocks.
Since there are thousands of penny stocks to choose from, we've leveraged our Money Morning Stock VQScore™ to find the best penny stocks to buy in August 2019.
In fact, our top penny stock just received our highest score - meaning it's a great breakout candidate.
And analysts are projecting gains of over 300%...
Best Penny Stocks to Buy in August 2019, No. 3: ASE Technology
Our third-best penny stock to buy is ASE Technology Holding Co. Ltd. (NYSE: ASX).
Founded in 1984, this is a Taiwan-based semiconductor company with over 91,000 full-time employees throughout Asia, Europe, and the United States.
Reports show the rising global demand for 5G coverage and self-driving vehicles is going to cause semiconductor demand to skyrocket.
Watch Now: Serial entrepreneur Neil Patel reveals how to achieve the American Dream... for as little as $50. Click here...
And ASE is in the perfect position to capitalize on this growth. Between 2015 and 2018, the company's profits jumped by 37%.
This sort of growth is a signal that ASE knows how to capitalize on the booming semiconductor demand and will continue to be a global leader over the next several years.
This penny stock's shares currently trade for $4.39, and analysts predict it could jump by as much as 29%. Earnings are predicted to go up as well to 34.2%.
But our next penny stock to buy has a potential upside of 81.3%.
Best Penny Stocks to Buy in August 2019, No. 2: On Deck Capital
Our second best penny stock to buy is On Deck Capital Inc. (NYSE: ONDK).
Founded in 2006, On Deck is a New York-based online lender that focuses on helping small businesses achieve their financial goals.
In the last five years, On Deck has grown its revenue by 178% from $73 million to $203 million. Its annual profits have increased from $19 million to $25 million over the same period.
New to Money Morning? Click here to find out what we have to offer you...
This growth is in large part due to a series of partnerships with some of the biggest companies in the world. In 2016, On Deck collaborated with JPMorgan Chase & Co. to deliver an online lending platform to the small business customers of JPMorgan.
On Deck also has agreements with U.S. finance firms such as CreditKarma, Wave Accounting, and Quickbooks.
This company's broad reach across the personal finance and small business market has been lucrative for both On Deck and its shareholders. In fact, since 2013, its revenue has increased by double-digits annually, and sales have increased by 56% since 2015.
Its growth is also expected to continue.
This penny stock's current price per share is $3.30, but analysts think it could go as high as $6. That's a potential 81.3% upside over the next 12 months.
But our top penny stock could go even higher. In fact, it has a perfect VQScore and a whopping potential 325% upside...