The Dow Jones today is expected to jump by triple digits after a Tuesday quote from U.S. President Donald Trump suggested lowering the capital gains tax, and other tax cuts. The president also continued to put pressure on the Federal Reserve to lower interest rates further.
More on this below.
Also: Earnings reports from Target Corp. (NYSE: TGT) and Lowe's Cos Inc. (NYSE: LOW) are showing signs of a healthy U.S. economy...
Here are the numbers from Tuesday for the Dow, S&P 500, and Nasdaq:
| | | | |
| --- | --- | --- | --- |
| Index | Previous Close | Point Change | Percentage Change |
| Dow Jones | 25,962.44 | -173.35 | -0.66 |
| S&P 500 | 2,900.51 | -23.14 | -0.79 |
| Nasdaq | 7,948.56 | -54.25 | -0.68 |
Now, here's a closer look at today's Money Morning insight, the most important market events, and stocks to watch.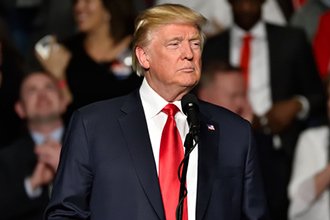 The Top Stock Market Stories for Wednesday
President Trump called out the central bank again this week. The 10-year U.S. Treasury bond has fallen under 1.6%, which is well below the central bank's benchmark level. Investors are getting excited about reports that the White House could push for a payroll tax cut in order to spur economic growth. Trump said the White House is looking at "various tax reductions," a day after his administration denied any truth to those same reports.
Today, the Federal Reserve will release minutes from its recent meeting. Then, the central bank will head off to Jackson Hole for its annual seminar and the Group of Seven summit. Markets will be looking for clues into what the Fed and its counterparts around the globe plan to do in order to spur economic growth. At the moment, the markets have priced in a 16% probability of a rate hike in September. The meeting comes a day after DoubleLine Capital CEO Jeffrey Gundlach raised concerns about the central bank. The prominent financier said that the Fed had lost control of interest rates and cited the recent 2- and 10-year bond rate inversion as evidence. That inversion has predicted every recession of the last five decades.
In geopolitical news, Alibaba Group Holding Ltd. (NYSE: BABA) will delay its IPO on the Hong Kong Stock Exchange. Although the Chinese e-commerce giant already trades on the U.S. market, it has considered a second listing that may raise up to $15 in Asia. However, its plan to list this month has been delayed by "the lack of financial and political stability" in Hong Kong. The company is reportedly exploring October as the month for a listing.
Oil prices ticked slightly higher in pre-market hours. WTI crude added 1% to hit $56.69 per barrel, while Brent crude gained 1.5% to hit $60.92. The gains came thanks to a weekly drawdown in U.S. crude stocks, according to the American Petroleum Institute. The private watchdog cited a cut of 3.5 million barrels of domestic inventory. That was nearly double analyst expectations. Look for the official inventory report today from the Energy Information Administration.
Stocks to Watch Today: TGT, BA, LOW, HD
America's Favorite Angel Investor Shows How Easy It Is for Anyone to Invest in Ground-Floor Startups
You've probably seen stories about this person or that person making an absolute fortune from some unknown startup suddenly becoming a household name... like Uber, Airbnb, SpaceX, or Bird.
Now, it's your turn.
Shark Tank's Robert Herjavec is showing how easy it is for anyone to turn as little as $50 into what can be life-changing windfalls... all from investing in startups.