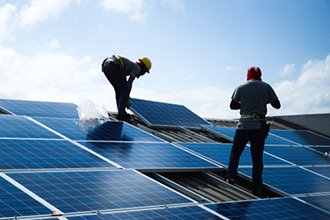 Solar energy isn't just for tree huggers and ESG investors. It's one of the fastest-spreading renewable energy sources in the world. In fact, it's now the third most prevalent renewable energy source behind hydropower and wind power. Experts forecast solar stocks to spike in value going forward. And that means investors are fighting to get a piece of the next big solar stock.
Investors like to go where the growth is. In the solar energy space, rapid growth is already underway. Check out these statistics:
According to the Solar Energy Industries Association, a new solar project was installed every 100 seconds in 2018.
Total solar capacity in the United States is projected to double in the next five years.
According to the U.S. Energy Information Administration, solar powered electricity generation will grow by 17% in 2020.
Americans across the board support solar energy. In fact, 76% of them believe their electric utility should invest more in solar. Widespread support for solar means you should be keeping an eye on solar stocks.
With solar energy on an upward trend, now is the perfect time to invest in solar stocks. The Invesco Solar ETF (NYSEArca: TAN), which is made up of 22 leading solar energy companies, is up 61% year to date. The future is bright for solar energy, but it is especially bright for these top four solar stocks.
First Solar
One of the biggest problems solar manufacturing companies face is keeping a healthy balance sheet. First Solar Inc. (NASDAQ: FSLR) has a balance sheet that any company would be enviable of. With solar technology rapidly developing, it can be difficult to stay ahead of the curve without going into debt. In order to remain competitive, solar manufacturers must heavily invest in new technology. That is an expensive process.
First Solar is one of the best solar stocks around because of its ability to manage debt. It expects to end the year with $1.7 billion to $1.9 billion in net cash. This top solar stock can generate cash revenue, avoid debt, and offer industry-leading technology.
Plus, First Solar's healthy balance sheet positions it to invest in new technology or acquire new assets. All solar stocks are vulnerable to global solar interest or competitors' new technology. But with First Solar's large amount of cash, the company can stay in stride with the competition. This is a bullish solar stock with great growth potential.
SolarEdge Technologies
SolarEdge Technologies Inc. (NASDAQ: SEDG) shares are up 132% year to date. This red-hot company specializes in power optimizers and solar inverters. Essentially, SolarEdge's products convert the DC power from solar panels into the AC current used by power grids everywhere.
Despite competition from other big solar companies, SolarEdge remains an industry leader through diversification and strategic expansion. SolarEdge dominates the solar inverter and power optimizer markets. But it's looking to expand into the power supply and energy storage markets.
In 2015, SolarEdge collaborated with Tesla Inc. (NASDAQ: TSLA) to provide an inverter solution that will allow for grid and photovoltaic integration. In 2018, the company announced the acquisition of Kokam. This foray into energy storage gives SolarEdge a possible lead into the lithium-ion cells and battery space. In 2019, the company acquired SMRE, which is another electric vehicle company.
This solar stock is diversifying into other markets, which should excite investors. SolarEdge continues to grow its specialized solar business into a broader solar powerhouse. This is a solid solar stock option for growth investors.
Vivint Solar
In the United States, residential solar is growing in popularity. Vivint Solar Inc. (NYSE: VSLR) is catering to that growing residential solar market with easy-to-install and -operate solar panels. The company is having a great 2019 with shares up 115% year to date. That could be a result of Vivint's decision to offer its solar panels in large retail stores like Costco, Home Depot, and BJ's Wholesale.
Many solar companies are content with just a digital sales presence. For example, Tesla Solar and SunPower's products are only available online. However, Vivint is taking a different approach. It wants its product on the shelves. This obviously comes at a cost.
Vivint reported its highest marketing and sales expenses yet in the first quarter, jumping from $0.84 per watt to $1.16. Those expenses negatively affected the company's financials. But CEO David Bywater quelled investor concerns, explaining this is an "investment period."
The good news is that Vivint's installation expenses fell $0.08 from last quarter. With lowered installation costs and increased visibility to customers, Vivint is in a great position to dominate the residential solar market.
SunPower
SunPower Corp. (NASDAQ: SPWR) is a San Jose--based company that designs and manufactures solar panels. SunPower's stock is red-hot this year with shares up 160% year to date. That could be a result of Goldman Sachs upgrading its shares to "Buy" earlier this summer.
Additionally, SunPower will benefit from a new California law mandating all new three-story or fewer residences use solar panels. SunPower controls 50% of the market share in new-home solar installation. Plus, California alone represents 40% of the entire country's residential solar market.
SunPower has struggled with its balance sheet. But its recent expansion has led to its increased profitability. When it comes to solar companies, it's all about scale. And SunPower has found ways to cut costs and manufacture more solar panels. With SunPower beginning to scale successfully, the company has raised its full-year earnings estimate from $100 million to $110 million.
SunPower is progressing rapidly, and it could be a solid investment opportunity for growth investors.
Follow Money Morning on Facebook and Twitter.