The Dow Jones Industrial Average (DJIA) sank over 700 points in early August. It was the market's worst day of the year. But that doesn't mean all stocks are down.
In fact, one of our best penny stocks to invest in right now could still bank you a 336% profit. And we're going to share our three top penny stocks with you.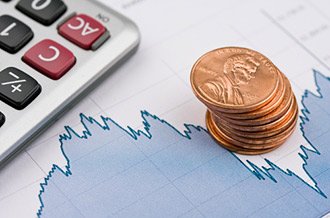 Volatility can be excellent news for some penny stocks. Upward movement on the CBOE Volatility Index (VIX) can cause penny stocks to gain in the double, triple, or even quadruple digits in just one day.
And big news tends to drive volatility.
In early August, U.S. President Donald Trump said that more tariffs will be placed on imports from China. The following day, both the DJIA and the S&P 500 suffered major losses. The latter ebbed 3%.
But only a few weeks later, the market is headed upward again. The DJIA gained 200 points on news that the White House may be planning tax cuts, and that the Federal Reserve might still cut interest rates.
Bonus:
Want to know how to find penny stocks with the most profit potential? Download our quick tutorial, 5 Steps to Penny Stock Trading Success – it's free! click here now.
The markets are still waiting for an answer as to whether we're headed toward recession or if the bull market will keep flying. That's put the VIX up 12.6% for the month.
But this is the kind of uncertainty and volatility that makes penny stocks rise in attractiveness.
You see, penny stocks sell for $5 or less, so very small moves can drive the share price up by a large percentage. Up-and-down movement in the markets, then, can create enormous potential gains for investors in the top penny stocks.
So while many investors might sell their stock in fear of a trade war, smart investors look for penny stocks that can potentially rise 100%, 200%, or even 300% or more from volatility.
The hard part is choosing the best profit opportunities from more than 2,000 publicly traded penny stocks.
We created the Money Morning Stock VQScore™ system for that reason.
The VQScore scans thousands of equities and ranks them by breakout potential. We then screen for those trading at penny stock levels.
For August, the VQScore picked the three best penny stocks to invest in. Two of them have the highest possible score of 4.9.
The top penny stock to buy now could soar more than 336%.
But we'll start with this one - it has a perfect VQScore...
Best Penny Stocks to Invest In, No. 3: ASE Technology
Taiwan-based ASE Technology Holding Co. Ltd. (NYSE: ASX) is an international semiconductor manufacturer.
Semiconductors are needed in many new and evolving technologies, such as autonomous vehicles and the worldwide 5G wireless network and its devices. As a result, demand for semiconductors is likely to go through the roof over the next year.
In between 2015 and 2018, ASX profits rose 37%. And though that's backward-looking, a recent growth in profits that fast means ASE can capitalize on the rocketing demand in semiconductors - which means profits may keep growing exponentially over the next several years.
You Have to See It to Believe It: Claim your stake in this 1,000x market phenomenon with just $50. Click here now...
ASX shares currently sell for $4.40, but analysts expect it to climb up to 24% over the short term because of rising demand for semiconductors. Long term, analysts expect more than 34% growth in the share price.
But this next top penny stock looks set to rise even further, with another perfect 4.9 VQScore...
Best Penny Stocks to Invest In, No. 2: On Deck Capital
On Deck Capital Inc. (NYSE: ONDK) operates globally as an online lending company with a focus on small business.
Its offices in the United States, Canada, and Australia position the company to provide small business services with a scale that's global.
In the past five years, its net revenue has increased 178%, to $203 million from $73 million. During the same period, net profits have grown from a loss of $19 million to a gain of $25 million yearly.
This stellar growth has been fueled by some of the biggest companies in the world.
In mid-2016, ONDK began a partnership with JPMorgan Chase & Co. (NYSE: JPM) so that the latter's small business clients could be offered an online platform for lending.
That's not all. Some of the biggest accounting and finance companies in the United States have a referral relationship with their clients for ONDK's lending services, including Quickbooks, CreditKarma, and Wave Accounting.
The company's wide exposure to the small business and finance markets have allowed robust growth. Revenue has soared in the double digits annually since 2013. Sales have climbed 56% since 2015.
That growth doesn't look to be only in the past. Analysts expect it to continue in the future.
Currently, the shares trade at $3.34, but Wall Street forecasts it will advance to the $6 level - that's more than 79%.
But the perfect 4.9 the company achieved on the VQScore might mean the forecast isn't capturing potential growth enough.
Still, that doesn't even compare to this next penny stock. Here's our pick for 336% growth...
Best Penny Stocks to Invest In, No. 1: Antero Resources Corp.