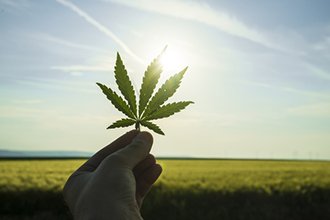 Risk on, risk off. Who cares?
The market can't seem to make up its mind these days, and that is fine by me.
The volatility is creating opportunity in my favorite sector to own for the long term: cannabis stocks.
One of my top cannabis stocks, Canopy Growth Corp. (NYSE: CGC), took another leg lower during the recent spate of selling on Wall Street.
In the last week alone, shares have dropped nearly 25% after reporting disappointing earnings.
The only problem is the market already knew the news would be disappointing. And besides, owning Canopy is not about today. It's about tomorrow.
Nothing in the story changed with earnings, yet investors today can buy this top cannabis stock at an extreme discount.
In total, Canopy is down more than 50% from those highs.
THREE STOCKS: Any one of these cannabis companies could potentially deliver a 1,000% windfall. Click here to learn more…
Looking forward, there is nothing but catalyst after catalyst for Canopy and other cannabis stocks.
Where cannabis has been legalized, demand is through the roof.
In Ontario, Canada, the government conducted a lottery to award 42 new cannabis stores in the province. A whopping 4,800 people or companies applied.
The odds of winning a coveted license to operate were slim, but that didn't deter those trying.
Why?
Because cannabis is a moneymaker, and it will only get better.
Extending legalization across the border in the United States has been a slog; there's no denying it.
But the tide is changing one state at a time, and that only bodes well for top cannabis stocks like Canopy.
Now one of the largest states, Florida, looks to be next.
It was in 2016 that the sunshine state legalized medical marijuana.
There appears to be a ton of momentum for full recreational use legalization next.
A political action committee, Make it Legal Florida, has already formed in support of recreational marijuana in the state.
The key will be getting it on the ballot for 2020.
Advocacy group Regulate Florida has some 83,000 signatures gathered proposing legalization be placed on the 2020 ballot.
That's enough to get the ball rolling. To get on the ballot officially would require over 700,000 signatures.
There certainly seems to be enough grassroots effort to make that happen.
In 2016, the medical marijuana amendment passed with 71% of the vote.
It would seem that the only hurdle in front of full legalization in Florida would be politicians, but even their resistance seems to be fading.
It is not a matter of if Florida becomes the next domino to fall in the move to full legalization of pot, but when.
And when it does happen, what an opportunity for top cannabis stocks like Canopy.
And these are the cannabis stocks that will be best positioned to profit…
These Top Cannabis Stocks Will Soar Following Florida's Legalization