The price of silver has enjoyed a tremendous run over the past three months.
After bottoming in late May around $14.40 per ounce, silver has tacked on a breathtaking 18.9%.
That has silver currently trading around $17. And yet, by numerous measures, this precious metal remains extremely cheap.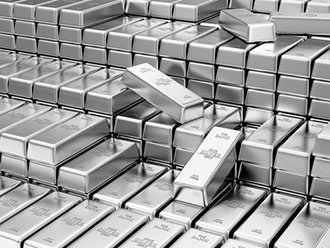 Clearly, participants have been added to the silver market, bidding up its price. But the buzz around silver remains subdued. And that means it could continue to climb higher before becoming temporarily overbought.
Meanwhile, silver futures traders may be providing a temporary counterweight to silver's upside.
Silver futures speculators have piled on lately, suggesting that silver might face a bit of near-term upside resistance.
But the macro picture continues to look very supportive of silver prices in the medium and longer terms.
Why the Price of Silver Faces Some Resistance
With silver breaking out to a new 52-week high, it's easy to understand why some market participants have become bullish.
The most excited of these have to be speculators in silver futures. Recent data from the Commitments of Traders reports shows speculators holding long silver contracts at levels last seen in late 2017.
But speculators tend to be very bullish near price tops. So as a contrarian indicator, the price of silver has a good chance of correcting or at least consolidating near its current level. That said, speculators could remain bullish for some time and help push silver higher still from here.
Watch Now: Serial entrepreneur Neil Patel reveals how to achieve the American Dream... for as little as $50. Click here...
Looking at silver's action over the past two years helps provide some perspective on just how important its recent move actually is.
Shown in the chart below, silver's mid-July rally saw the metal slice through its February high near $16.10 with little effort, and only a very short pause. Since then, silver has risen to test $17.25 in mid-August, even momentarily reaching as high as $17.45.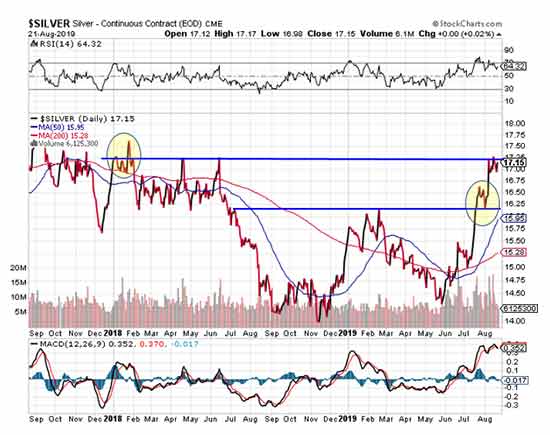 Over the past two weeks, silver has mainly been trading in a range between $16.85 and $17.25.
The sudden run-up, followed by a move sideways since early August, is very similar to the action silver enjoyed starting in mid-July, shown in this chart: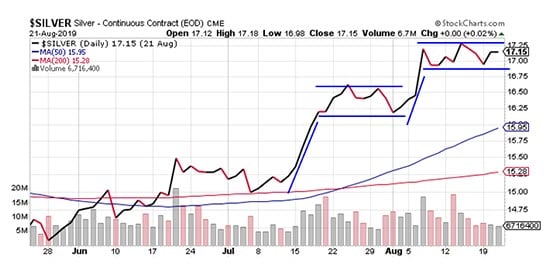 In fact, this is all very reminiscent of gold's price action between 2001 and 2011. Essentially, it was shorter and longer periods of climbing, followed by periods of sideways consolidation.
It's something I call the "Golden Staircase," and a similar pattern emerges for silver on both short- and longer-term bases as well.
The thing is, when these metals are in bull markets - which I thoroughly believe they are once again - this pattern can be incredibly valuable to help in timing trading moves.
If we look at this next one-year chart, we can see that the first "step" in silver's staircase pattern was back in late May: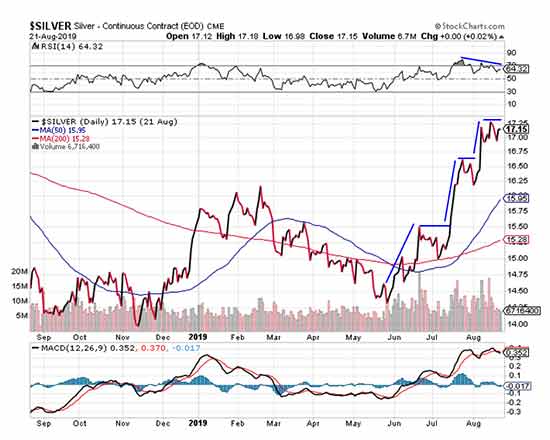 The other thing that's worth noting since then is how trading volumes have soared as well. Higher volumes on positive price action suggest plenty of strength in the rise.
Despite this recent strength, or perhaps because of it, I think the price of silver could start to either correct or at least consolidate further from here.
As I mentioned earlier, silver futures speculators are extremely bullish, and that could signal near-term price pressure. Technically, if we look at the relative strength index (RSI) momentum indicator, it's been trending downward for the past month. That's a negative divergence, suggesting silver prices may struggle before resuming their climb.
But here's where the price of silver could get some assistance...
How the U.S. Dollar Could Boost the Silver Price
Looking at action in the U.S. dollar, it's interesting to note that it remains relatively strong.
Last month, I highlighted that the USD had formed a bullish inverse head-and-shoulders pattern. Sure enough, it broke out to a new 52-week high shortly after, remaining strong and above its 50-day moving average since: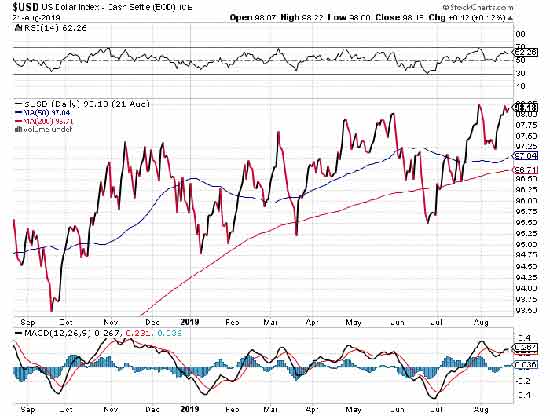 I think new record levels of negative-yielding sovereign debt reaching a mind-numbing $17 trillion has pressured many major currencies against the USD. For now, U.S. bonds are still positive-yielding, making the dollar look better relative to its peers. And so the dollar remains relatively strong.
But if the Fed now embarks on a series of rate cuts, along with a slowing U.S. economy and ongoing trade wars, the U.S. dollar could soon get its turn to weaken. That would almost certainly be great for the silver price.
Meanwhile, the gold-to-silver ratio has given back a little, but its action remains muted.
You'll see in this chart, although silver rose between mid-July and mid-August, gold's gains have essentially outpaced those of silver. But the ratio is now below its 50-day moving average near 90 after coming up to "test" that level earlier this month. The 50-day moving average seems to have topped in mid-July as well, and it's now beginning to trend downward.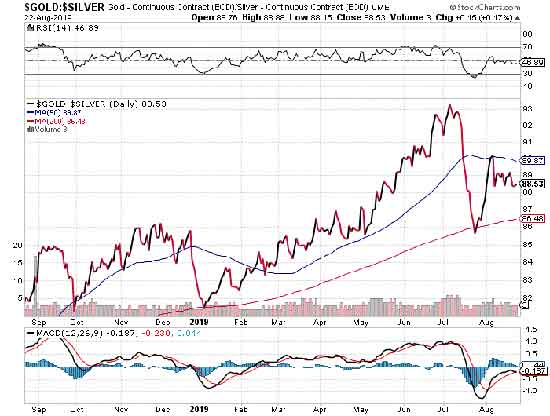 These are also bullish indicators for silver. If gold continues to climb, as I believe it will, and the ratio continues to fall, then silver is in for a lot of catching up with gold.
But it's poised to catch up nonetheless, from looking at sliver stocks.
Here's what silver stocks are doing - and a couple picks that should see some growth within the year...
What This Means for Silver Stocks
Join the conversation. Click here to jump to comments…
About the Author
Peter Krauth is the Resource Specialist for Money Map Press and has contributed some of the most popular and highly regarded investing articles on Money Morning. Peter is headquartered in resource-rich Canada, but he travels around the world to dig up the very best profit opportunity, whether it's in gold, silver, oil, coal, or even potash.