If there is one hard lesson many investors have to learn, it is that cheap stocks can get even cheaper. That has been the case with the fallen blue-chip angel General Electric Co. (NYSE: GE).
But by using the right options trading strategies, you can profit no matter which direction the stock turns.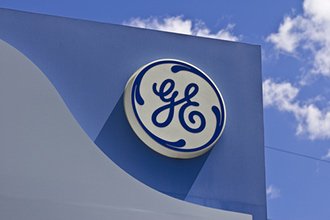 It seemed that after its fall from grace, which included getting booted out from the Dow Jones Industrial Average as the last remaining original member, the stock was finally cheap enough to buy. Or so some people thought.
More seasoned investors will remember when GE was a company to admire. They likely had GE appliances in their homes, flew in jets with GE engines, and maybe even had a medical scan in a GE machine. The company's reach was inescapable.
But the company was knocked off its pedestal during the 2008 financial crisis. The GE Capital financial unit nearly took the company down, and while it was able to right the ship, GE was never the same. The stock lagged the broader market during the entire bull run starting in 2009.
In early 2017, the wheels finally came off the cart.
The latest decline led the company to shed assets, cut its dividend to conserve cash, lay off thousands of workers, and install new management to hopefully lead a turnaround. But the days of General Electric being a reliable growth and dividend stock suitable for "widows and orphans" were over.
This Could Be the Most Profitable Dollar You Ever Spend: Tom Gentile's Cash Course covers all the essential trading ideas you need to know to potentially make thousands in extra income every week. Get access for $1…
And just as the stock started to rebound a bit after new Chief Executive Larry Culp started rebuilding the company, it was hit by a new scandal. GE stock gained almost 50% between its 2018 lows and 2019 highs before a bombshell accusation sent the stock plunging nearly 25%.
That's creating a prime opportunity to use an options trading strategy to lock in a big gain when the stock moves again.
Here's what happened to GE – and how we can bank a profit on the uncertainty of what's coming next by trading options…
The New GE Scandal Is an Opportunity
On Aug. 15, a Bernie Madoff whistleblower named Harry Markopolos released a 175-page report claiming that General Electric is a larger accounting fraud than Enron.
The accusation sent the stock tumbling 15% in a day and had many analysts wondering if the company could recover at all. If the accusations are true, it could mean a serious blow for the business, if not the end of it.
But other experts looked at the report and saw a paper-thin attempt to manipulate the share price.
In fact, Money Morning Behavioral Trading Specialist Garrett Baldwin thinks there is a big problem with Markopolos' accusations. And he is skeptical about the anonymous backers on whose behalf Markopolos made these allegations.
GE's corporate boondoggle is well known. From financial missteps to losing sight of its core engineering pedigree, shareholders certainly paid the price. But one thing management did not do, according to Garrett, is commit fraud.
He should know. He wrote the book on corporate fraud.
And he has one key question to ask. What are the executives involved actually doing?
Whereas Enron executives were unloading their shares of company stock, over the past three weeks, GE executives have actually been buying their stock.
In fact, CEO Lawrence Culp bought nearly $3 million in stock earlier this month. After the fraud accusation (and the 11.3% drop in price), he bought another $2 million worth.
And company directors and vice presidents also bought hundreds of thousands of dollars' worth of stock, too.
That's certainly not something a CEO would do if he knew the company was about to go out of business.
We can capitalize on that – and the general uncertainty around the situation – by following this options strategy.
How to Make Money Trading Options on GE