Getting started trading options is easier than you think. As soon as we show you how to get approved for options trading by your broker, you'll be buying, selling, and exercising options in no time.
Don't let nervous Nellies talk you out of it, either. Options are simply different financial tools, and they can actually help you control risk.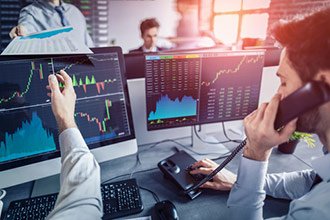 But before we get into the how, let's talk about the why.
It's no surprise that with all the financial craziness these days – from tariffs to tweets to inversions – you need flexibility in managing your money. No longer can you find a quality stock to buy and lock it away in your portfolio. You need to hedge against volatility. And you need to boost your returns with additional income or, when you get more comfortable, with leverage.
Here's how to get approved to trade options…
First, you have to decide which broker you want to use. If you already have a stock trading account, all you will have to do is fill out one more application and answer a few questions.
These questions will make you think about your goals and your risk tolerance. Are you very conservative? Or do you like to swing for the fences every once in a while? And how much money can you dedicate to your options account?
Many options accounts require certain minimums, too, so be aware as you set yours up. Nearly all online options brokers will let you open an account with a minimum deposit of $5,000, and some will let you in for as little as $2,000.
However, with accounts of that size, the types of options trades you can do will be limited – usually restricted to the buying of a stock, outright purchases of plain-vanilla "call" or "put" options, the sale of "covered calls" (which we describe below), or the positioning of basic bullish or bearish "option spreads." Don't worry, these fancy names are still simple options trading strategies to use.
Learn How to Trade Like the Pros: Tom Gentile just recorded all of his most potentially lucrative trading secrets in America's No. 1 Pattern Trader Cash Course. This could set you up for life – and it'll only cost you $1…
Most brokers will also ask you about your investing and trading experience. While it is obviously better to be a very experienced trader, anyone can execute simple options strategies that limit the risk you take on any one trade.
Finally, while it's not a part of the approval process, most brokers charge commissions and fees – so it's important to consider your options. NerdWallet found that options trading commissions typically fall between $3.00 to nearly $10.00 for each trade. Contract fees usually fall between $0.15 to $1.25 or above.
Remember, all brokers set their own levels of risk allowance, dollar minimums to have in the account, and commissions charged.
There is one broker, called Robinhood, that actually has free commissions. Launched in 2015, it started as an app for stock trading. With no commission fees and a very convenient mobile interface, it's become hugely popular. In 2017, it moved into options trading with zero commissions.
Here are the steps to open an options account at any broker:
Fill out their application: usually online on their website.
Add money to the account for options trading. If your options account is tied to your stocks account, you should already have money at the ready. If not, you can transfer money directly from your bank or stock brokerage account, so you don't have to mail in a check. Your broker will have the form for bank transfer online, as well.
Find your stock or index options. Remember, we can help with this part.
Determine the right options contract to buy or sell. We can help with this part, too.
Make the trade.
Track its progress with the online tools provided by your broker.
Pretty simple, right?
Your Account Is Set, Now What?