The image associated with startup investing tends to be that super-rich Silicon Valley genius doing transcendental yoga on the porch of his third vacation home.
But that's not reality.
Today, anyone can be an angel investor. In fact, you can do this fairly easily without being a millionaire – and without yoga.
We'll show you how. But first, what is an angel investor?
An angel investor is someone providing initial capital investment to a company at the ground level, typically looking to share in that company's profits.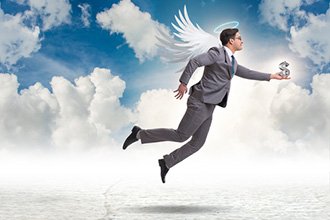 An angel investor sees promise in that company and will fund it, either with a loan or cash in exchange for partial ownership.
Angel investors fund startup companies. That's it. They don't (have to) drive Ferraris, they don't (have to) live in gated mansions, and they don't (have to) vacation in Tahiti.
They don't necessarily have to read a book a day, either (though that couldn't hurt your chances in life).
Those things are peripheral. An angel investor, purely and simply, is someone who helps a company scale in its early days, before it potentially trades on the stock exchange.
But the reason so many known angel investors can dabble in luxury is that the return on their investment can be huge.
You Have to See This to Believe It: America's favorite "Shark" debuts the Angels & Entrepreneurs Summit. Watch now…
We wrote last week about how Ashton Kutcher's net worth skyrocketed after he began angel investing.
Though he had already made some millions, it was nothing compared to what he would gain as a part owner of Skype – going from under $40 million net worth to over $200 million in less than 10 years.
But again, you don't need $40 million, and you don't have to be a famous actor to get into angel investing. You can start small – with just $50, in fact…
Becoming an Angel Investor
Join the conversation. Click here to jump to comments…
About the Author
Mike Stenger, Associate Editor for Money Morning at Money Map Press, graduated from the Perdue School of Business at Salisbury University. He has combined his degree in Economics with an interest in emerging technologies by finding where tech and finance overlap. Today, he studies the cybersecurity sector, AI, streaming, and the Cloud.