If you're going to invest in Bitcoin, you have to be prepared for the volatility.
The Bitcoin price action over the past week has been a prime example of Bitcoin's roller-coaster nature.
I'm going to go over what happened and offer a bit of advice about how to handle these sharp, sudden changes in price.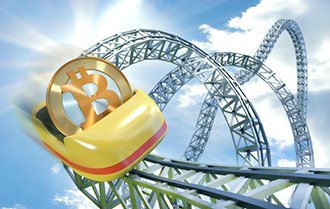 On Wednesday (Aug. 28), BTC was trading at about $10,250 on the Coindesk Bitcoin Price Index. That was down from about $12,000 as recently as Aug. 7.
Just 30 minutes later, the Bitcoin price had plunged $600, or about 4.5%. For context, an equivalent drop in the Dow Jones Industrial Average would slice nearly 1,200 points off the index.
Bitcoin continued to fall into Thursday, eventually shedding about $890, or 8.7%, in less than 24 hours. (Imagine a one-day drop in the Dow of 2,265 points!)
If it were anything but crypto, that would have been a scary moment. But as we've seen so many times before, Bitcoin investors didn't have to wait long for a rebound.
It started Sunday as BTC climbed up off its lows. Then it shot up $610 in 14 hours, back over $10,000 to $10,354 – a 6.26% gain.
Over the next 48 hours, the rally continued, taking the Bitcoin price as high as $10,741. It represented a jump of $1,381 in five days for a gain of 14.75%. The Dow equivalent of that would be a one-week gain of 3,600 points.
In crypto-land, though, it's just another day at the office.
Self-styled crypto analysts tried to make sense of it all, offering up a variety of causes that all probably had some part in moving BTC prices.
A likely cause of the sell-off last week was the looming expiration of CME-traded Bitcoin futures on Friday (Aug. 30). Futures expiration dates are known to cause volatility and higher volumes in the stock markets.
It appears the Bitcoin market is no different.
Watch Now: Serial entrepreneur Neil Patel reveals how to achieve the American Dream… for as little as $50. Click here…
It's also possible that some "whale" traders were making moves to position themselves in advance of the start of Bitcoin futures trading on the Bakkt exchange Sept. 23. Those futures will differ from CME in that they will be settled with actual bitcoin.
Whales looking to position themselves ahead of the Bakkt launch new may have taken advantage of lighter trading volumes last week to push prices down as they add to their holdings.
As for the rally, it's possible that the whales positioning for Bakkt started buying back in.
There were also several positive news announcements, including Bitfinex announcing two new Bitcoin-based derivatives with up to 100x leverage and Binance acquiring crypto exchange JEX, which offers options and futures trading in Bitcoin and Ethereum.
In addition, Argentina imposed capital controls Sept. 1. Because Bitcoin can move seamlessly between borders, it's popular with citizens seeking to circumvent capital controls (one of the reasons Bitcoin remains popular in China despite government restrictions).
But whatever the immediate causes of the Bitcoin price fluctuations, the larger lesson here is that it's unwise to focus on these short-term gyrations unless you're a trader who knows what they're doing.
Long-term Bitcoin investors are best served by ignoring these price fluctuations. I continue to believe the Bitcoin price will rise over the next couple of years to $100,000 or more.
It's not worth sweating over moves of a few hundred dollars here and there.
Now let's move on to a news item that involves a whopping $4 billion worth of bitcoin and a man who would like you to think he's Bitcoin creator Satoshi Nakamoto…
Craig Wright Is Not Satoshi